Golden Kuker International Animation Film Festival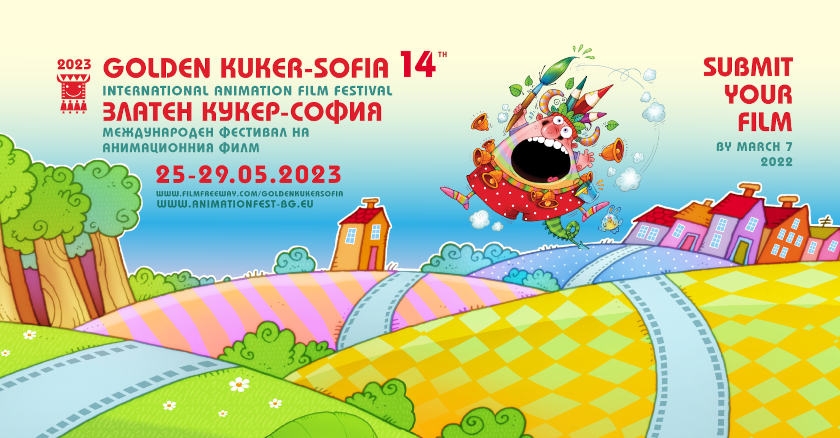 Category
ANIMATION & FILM FESTIVALS
Deadline | Event Dates (period)
07 June 2024
-
11 June 2024
Email
This email address is being protected from spambots. You need JavaScript enabled to view it.
Final submission deadline
2023-03-07
Submission/Registration Fee
Yes
Festival Description:
The International Animation Film Festival (IAFF) Golden Kuker- Sofia run for the first time in October 2010 in Sofia. Named after Proyko Proykov (legendary Bulgarian animator) it is the first animation festival from the new century. One of the most attractive events in the arts calendar of Bulgaria takes place every spring in May. It is organised by the Bulgarian Association of The Independent Artists and Cartoon Animators an NGO chaired by Mrs. Nadezhda Slavova (cartoon artist, director, filmmaker and author of numerous animation films). The Association aims to connect animators, support their networking and create long lasting relationships within the cartoon industry.
The mission of the IAFF Golden Kuker-Sofia is to contribute to the development of Bulgarian art, to help Bulgarian and foreign animators get in touch and to support young professionals and students. The animation festival attracts not only children but large audience from different generations. IAFF Golden Kuker-Sofia has achieved high-level of professional performance, large number of international appearances, and variety of great animation works. Throughout the whole year people have the opportunity to attend master classes led by world known directors and animators, visit contemporary art seminars and exhibitions, and join interactive lectures. Environmental contest, Sofia's children day and travelling festival are other festival's post- events. After the festival international guests have the possibility to travel around Bulgaria, to discover wonderful spots and explore historical places with the tourist packages offered by IAFF Golden Kuker-Sofia.
IAFF Golden Kuker has been supported by the Ministry of Environment and Waters (Operational Programme Environment 2007-2013), Sofia Municipal Council, Sofia Municipality, National Culture Fund, National Film Center, Bulgarian National Television, Bulgarian National Radio, American Embassy, Czech Cultural Centre, Hungarian Cultural Centre, Polish Institute – Sofia, French Cultural Institute and many others who became our partners.
2023 Call for Entries (Archive)

Eligibility criteria:
Any frame by frame animated video or film made for cinema, television and/or the Internet may be entered. Any frame by frame or computer-assisted animated film made for public broadcast, television or Internet may enter. As The International Animated Film Association (ASIFA) definition applies: The art of animation is the creation of moving images through the manipulation of all varieties of techniques apart from live action methods.
Only works completed

after January 1st, 2020

and never previously entered at IAFF Golden Kuker – Sofia will be accepted.
Competitive categories:
 Works must be registered in one of the following categories in order to compete:
a) short films (up to 1 min, 1 - 10 min, 10 – 45 min)
b) feature films (over 45 min)
c) student films
d) animation eco films
e) music videos
f) film for kids
g) TV series (episodes that have not previously been screened at the festival)
Awards
Grand Prix «Golden Kuker» for Best animated film
Special award «Proyko Proykov» for Best Romantic film
Best Super short animated film award (about 1 min)
Best Short animated film award (up to 10 min)
Best Short animated film award (from 10 to 45 min)
Best Feature animated film award (over 45 min)
Best Student animated film award
Best Short film made for kids award
Best Episode from TV series
Best Music video award
Best Animated eco film
Best Animated advertisement film
There is an entry fee - 15 USD standard fee and 10 USD for students.
NB: 2024 Festival Dates are tentative
Event Dates
From

07 June 2024

to

11 June 2024