Shorts
Between Us Two by Tan Wei Keong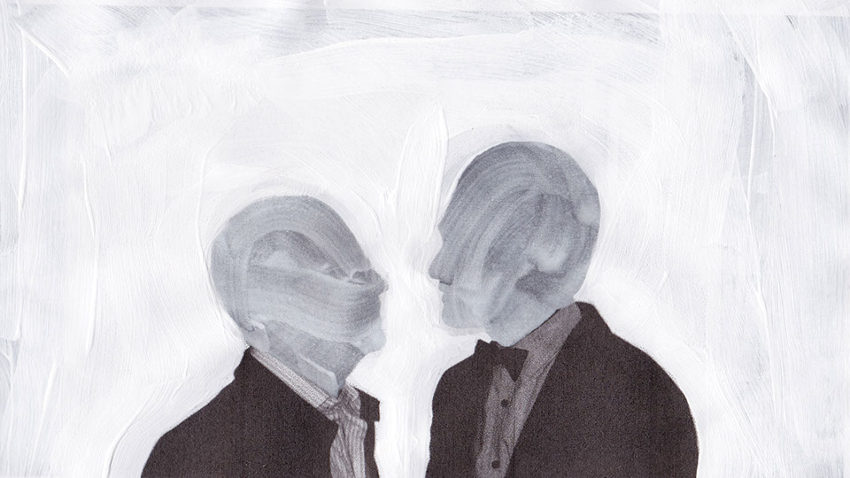 An animated documentary of a queer persuasion by Singapore-born, US-based Tan Wei Keong. Between Us Two participated in a number of festivals, and won the Documentary Short Grand Jury Prize (2018 Outfest Los Angeles) and even Best Singapore Short Film (2017 Singapore International Film Festival).
In a country whose legislative section 377A (since 1930) still criminalizes consensual sex between men, Tan Wei Keong's film becomes more than a personal statement and even less of a polemic, but rather of an animated present archive to watch.
Watch Between Us Two by Tan Wei Keong
ZF: Was it always your idea to mix both the memories of your mother and your own marriage in a single film? And was it an easy film to make?
TWK: The idea became apparent after many years. The initial idea was about a conversation between my husband and his mother by using a string of hand-written letters and photographs. There wasn't much 'urgency' to that approach and after sitting on it for a while, I realized it is more interesting to speak to the past and reveal very private thoughts in a very public medium i.e. film. An idea or image takes time for me to recognize the weight of its meaning and I learned to leave it alone and come back another day to fully understand the significance and reason behind it before starting the project.
It is emotionally hard to make this film. After watching a few times at film festivals to check the film's colour and sound, it is painful for me to watch because it brings back memories and I beat myself over the things that should-have and could-have been done. But that's a perfectly natural reaction and that's the thing that I hope the viewers would resonate with. Technically, it is as simple as it should be. Anything fancier would distract the subject matter.
ZF: You have your own recorded material (from the wedding), but how did you actually make the research concerning your mother?
TWK: One of the voices in the aquarium visit was my mother's. The film's intro came from a video clip retrieved from my mother's phone. After a person has passed, there usually is the process of consolidating his or her life's possessions, packing and archiving them which are usually photographs, clothes and personal belongings. I hold a lot of value to the images shown on-screen: It has to mean something, and much so within the animation medium that's created from a blank slate. I went back to look at her 'archive' in search to reconstruct her 'spirit and personality' and this is the only voice recording that I have of hers. The other voices are my father and younger sister.

ZF: You used photocopies and photos in your film as well. How important is authenticity for you?
TWK: It depends on the project. Animation is deeply inspired by reality, or at least uses reality as a base or springboard for imagination, and that's why I use a lot of photograph stills and timelapses to narrate and represent the passing of time. Most times, I change an existing photograph to suit my needs - like how memories mutate in our minds.
ZF: What's the situation now in Singapore regarding LGBTIQ+ people?

TWK: There still remains a law in Singapore that criminalises consensual sex between men. The recent constitutional challenges against Section 377A have been dismissed on March 30, 2020. And there is a response from Pink Dot SG, a non-profit LGBTIQ movement in Singapore (read the statement here).
Film Review (Vassilis Kroustallis)
A quiet sense of dissolution permeates the wistful and still inviting Tan Wei Keong's Between Us Two. Could be the mixture of faceless people with their own photos juxtaposed, could also be the sea waves that bridge the distance between a homophobic Singapore state and more liberal US practices. And it works, as an elegy (strings attached) that brings forward the personal drama ('what are the things you never told your parents') in an environment that also notices the communal aspect.  Wedding and death, cross-cultural practices alternate and signify transitions, whereas narration brings us closer to the subject of the film: a son needing to be accepted, forgiven and relieved. Between Us Two (BUT) has its own share of symbols, but its message is clear: past lives through the present, in the same universal space that also unites two different countries. It's our duty to dig into it and bring it into the scratchy, smudgy surface.
CREDITS:
Between Us Two, 2017
Photographs, Pixilation, Photocopies
 Director: Tan Wei Keong | Sound & Music: Darren Ng | Editor: Loo Zihan
About  Tan Wei Keong
Tan Wei Keong (b. 1984) is an animation filmmaker.  He has received international and local recognition with his highly acclaimed body of work that explores his identity through personal storytelling and fantasy worlds.  His latest film, Kingdom (2018), has been selected to compete at the Berlin International Film Festival and was the opening short film at the Singapore International Film Festival (SGIFF).  His films have achieved recognition on numerous occasions at SGIFF, including the Best Singapore Short Film Award for Between Us Two (2017), Special Mention for Hush Baby (2009) and the Special Achievement Award for White (2007).
Beyond independent animation, Wei Keong has a strong interest in merging his field of animation with new media art projects.  Foundin is one of the several installations he created to connect people in ways of seeing, hearing and finding one another.  It was exhibited twice to positive reception: in Singapore at the M1 Singapore Fringe Festival (2014) and in France at the Made in Asia Festival (2015). He was awarded the Young Artist Award by the National Arts Council of Singapore in 2019

SIGN UP: Want to read more free articles like this? Sign up for Our Newsletter
Read More About: