Shorts
Egg by Martina Scarpelli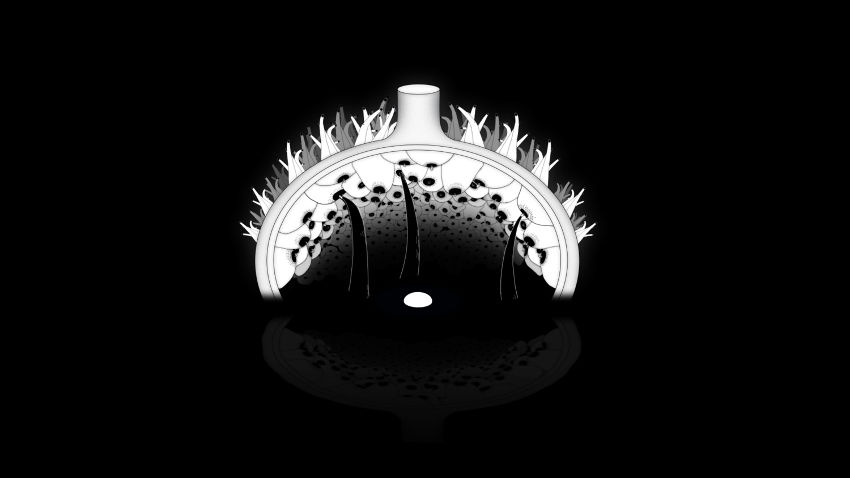 A woman is locked in her home with an egg. She eats the egg, she repents. she kills it. She lets the egg die of hunger.
The deeply personal Egg is competing among about hundred submitted films to go further on the Oscar's Shortlist for Best Animated Short. It is produced by Miyu productions (France) & Late Love Production (Denmark).
The drama had its world premiere at the Annecy International Animation Festival in June 2018 where it was awarded with the Jean-Luc Xiberras award for a First Film. Since then, it has been selected and screened at over 150 festivals around the world and received more that 40 awards and mentions.
I am happy to see that the audience has been receptive to the powerful storytelling about an increasingly poignant subject, as anorexia has unfortunately become - Lana Tankosa Nikolic, CEO and owner of Late Love Production
Martina wrote a first draft of the story in 2013 at a workshop organized by Centro Sperimentale di Cinematografia (Turin),  hosted by British acclaimed director and writer Joanna Quinn & Les Mills. Martina was asked to write about a turning point in her life, and wrote first an abstract script version. Three years later, she settled on a way to stage the narrative, and started animating.
I always wanted the film to be extremely clean and slightly disgusting. I sort of cleaned it. It is still uncanny and quite disturbing, but it became more personal, less serious, and a bit silly.-Martina Scarpelli
Watch Egg by Martina Scarpelli
The production of Egg, from the writing through to post-production took around 3 years. It was mainly hand drawn, animated frame by frame using a digital tablet, and the cube is animated in computer graphic by Lars Hemmingsen. From the very beginning there was a strong focus on sound. Martina started working with artist and sound designer Amos Cappuccio from the first draft of the storyboard, discussing voice-over, sound, and later music.
We ended up showing the film to kids, medical festivals, conferences, and eventually also to ED patients. I never thought people with ED ED would care about it. If you asked me back then to watch a film about my illness, I would have said no. But people proved me wrong - Martina Scarpelli
Film Review (Vassilis Kroustallis):
Egg is a film full of potent symbolisms. Even more geometrical than Martina Scarpelli's previous Cosmoetico, it showcases the detrimental obsession with form (in life, and perhaps in animation as well). A deeply engaging film at many levels, and personal to the core, it still feels like an experiment in self-power and self-abandonment (with sexual empowerment thrown in as a disguise tactic). With a stark black and white line design, and the most unadorned female character we've seen in years, it haunts and simultaneously constructs our experiences at the same time. Everyone is invited to this experiment from a first-person perspective, and that's the most impressive thing Egg does.

CREDITS
Director: martina scarpelli | Producer: Miyu productions & Late Love Production  |  Consultant scriptwriter: Hans Frederik Jacobsen2d animation: Martina Scarpelli, Emmanuel Lantam, Timon Chapelon, Annalea Hartelius , Sarah Rothenberger, Marta Dziedzic, Joel Stenback, Laura Konradi Brodersen, Maria Sandvig Nielsen, Emma Vasile  |  3d animation: Lars Hemmingsen |  Editing: Albane Du Plessix, Martina Scarpelli |  Compositing: Clément Courcier, Martina Scarpelli
Sound Design: Amos Cappuccino, Andrea Martignoni |  Music And Mix: Amos Cappuccio, Sofie Birch |  Voice Over: Martina Scarpelli | Sound Technician: Thomas Richard Christensen | Production Assistant: Louna Colleuille
About Martina Scarpelli
Martina Scarpelli (ITA - 1988) is an Italian filmmaker with a bachelor in Fine Art from the Academy of Brera in Milan, and a bachelor in Animation from the Experimental Cinematography Center in Turin. She participated at the European workshops ASF - Animation sans frontiers and ANIDOX. She was an artist in residency at Open Workshop in Denmark, and is currently board member of Viborg-based Art Collective, PLASTIC. Martina's short film Egg was awarded with a Crystal for First Film at Annecy, a Golden Dove at Dok Leipzig, a Golden Horseman at Filmfest Dresden, a Grand Jury Award at AFI Fest, and was nominated for best short film at the European Animation Awards 2018.

SIGN UP: Want to read more free articles like this? Sign up for Our Newsletter