Shorts
Musical Traumas by Miloš Tomić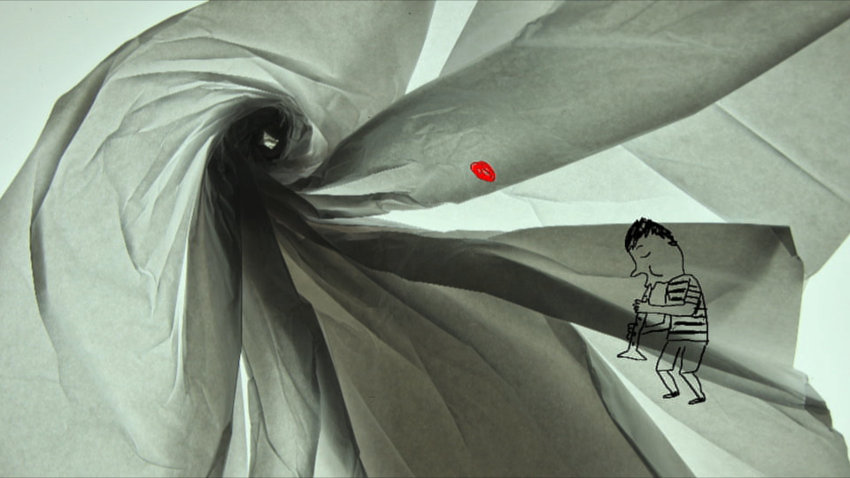 Music and animation is always a welcome (but not always winning) combination. In the hands of Serbian animation director Miloš Tomić, it can be something immensely liberating.
His 10-minute film Musical Traumas, which premiered at Animafest Zagreb 2018 (and went on to major festival, winning distinctions and prizes along the way)  is self-described as a rhythmic compilation of traumatic, but amusing confessions of former students, as well as an attempt to visualise music with scrumptious, hand-drawn animation.
It is a mixed aim, coinciding with mixed techniques within a documentary setting. It was not an easy production either. Financed by the Serbian Film Fund and the Czech Film Fund, it was produced by Dribbling Pictures (with both producer Iva Divjak and Miloš Tomić,needing to make personal sacrifices here). After an unsuccessful CNC application in France (x3 times), you can safely say that miracles in Balkan animation are what it takes to make an animated film. But the unparalleled enthusiasm and energy flow of Miloš Tomić really compensates for all hardships.
"For years, beside music clips, I've been making short dancing and musical collage films, Musical diaries, together with my son, Dren" Miloš Tomić tells Zippy Frames. Daily improvisation from noise to unnoticed moments in concerts backstage were all here collected.
Here's one sample piece:
Calling himself "an unfulfilled musician" 
Miloš Tomić was motivated and literally bumped into bizarre stories from musical education, which confirmed that reality is the best storyteller. "I interviewed many people during my travels. I sent many mails and open calls –received letters from friends and unknown people, and collected enough material for a small book. Just 7% of it ended up in the film".  Tomić collected over 50 (longer and shorter )testimonies in form of memories, reminiscences, or just episodes that stayed in memory. The whole stories were not edited in a linear process, but as fragments of a whole. His animation collaborators were J
elena Milunović ("very skillful and sensitive on movements and characters in animation"), Vuk Palibrk ("ifamous for his comic books, illustrations and gifs"), and  animators Marija Đorđević, Mario Kolarić and Katie Woznicky.
Watch Musical Traumas:
Making the film was both a narrative and a visual challenge. How do you make people concentrate on the mixed techniques while at the same time hearing different children musical stories? One of the early attempts was to have an English-audio description, so that the audience will not have to look on subtitles, but Tomić found it superficial in the end. Still, Tomić promises not to use voice in his animated films any more: "Each time someone tells something, most of the audience will have to look down to the subtitles and will miss the picture! All my effort, playful combination of animation techniques, vibrant, vivid, manic work will be overlooked just because someone told a  few words!"

But still he had to learn a lot from other people voices and experiences. Not all actors were the subjects of his film, but some of the voice actors had experienced similar traumas as the ones he visually narrates. 
The film has a very specific structure, from musical recruiting to teaching, rehearsals and recitals, and then abandonment. But not a perfectly linear script. "There was a script in form of voice over stories", Tomić  explains. "There were some visual ideas for shots, but I knew that most of good and exciting things will happen in the process. Figurative scenes that other animators did I had to define in advance but even there, after watching those first version being done, I could not resist asking them 'what if that could change a bit'. No wonder that this kind of process was more laborious but it gave its director more fun and space to improvise, an element essential in his own artistic process.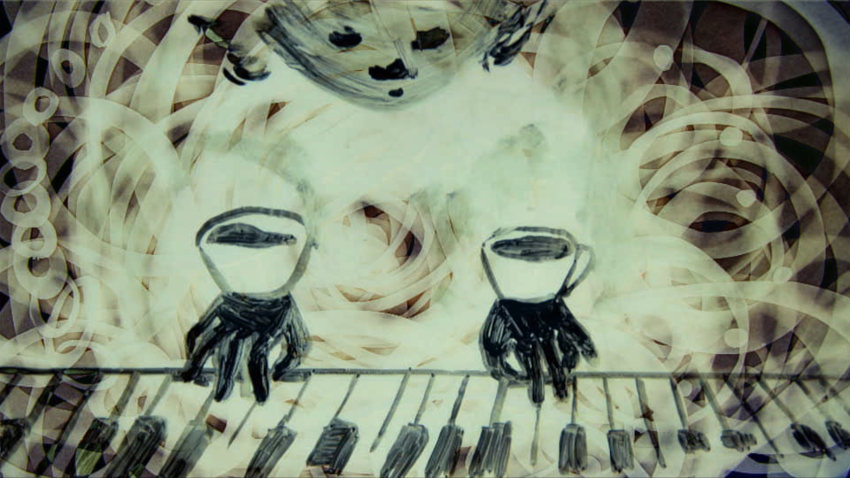 "In the beginning, I imagined that the film that could embrace in its structure all kinds of material" , Tomić  elaborates. "From personal and official video archives, stop trick scenes from actual musical schools, and time lapse shooting of classes, rehearsals and concerts, animation of musical instruments and books…up to figurative and abstract drawing animation and raw, child-like flip books animation on edges of real music books. Fijuuuu.-)"  Luckily, I calmed down little bit"
Still, a lot of different techniques (drawing on paper, paint on glass, cut-outs) were used in Musical Diaries. "I started to play with that method in Radiovision Of slaves and robots. I really liked way of editing in layers. It gave me freedom to follow my visual, rhythmic, color, texture…nerves, just with general direction that goes hand in hand with topic of the film or voice over". But  not all Tomić's work is this kind of mix - watch, for instance, Plastic bags.
The Serbian director had, of course, started with paper collages almost 26 years ago. "Musical diaries are very much symphonic editing. For a while I was making short poems made out of cutouts from newspaper titles.I like to collect various pieces, and put them together, hopefully  in new and surprising ways". Tomić''s first film layer was his semi-abstract stop-trick animation. He watched it together with his 2D animators,  in order for them to be able to add figurative elements to existing work (for instance, human figures entering abstract space and react to it). This way it made it more meaningful -and a multi-layered shot at the same time. 
And then there's a challenge, how to make one  polished part out of so much different shots. "When is the right time to stop, when is film good enough? I made one version of film but then I changed editor, made some new 8 minutes of animation and started again…it is nearly madness"  Tomić confesses.  "I thought that if I put more and more energy in film, then it will definitely be better and better, but it is not always going that way. Too much effort, and a visually too dense film won't give audience space to breathe. I knew this theoretically but I still continued to add and condense…stupid of me".
But, as the director himself says, "nothing goes to trash". Some four or five minutes of unused material, mostly abstractions but some figurative scenes as well, have already been used for music clips, festival trailers and more commissioned work. Animation helps recycling.
Apart from film festivals, Tomić screened the film as part of a Ring-Ring experimental music festival in Belgade (director: Bojan Đorđević), as an opening act before each band performs. ("It was a very good combination", he admits).  Musical Traumas was screened as the opening of Slovenian band Širom; they will become composers for his next film. "They liked the film, I really liked their music, so, we met and made the deal".
Musical Traumas could have been shown to musical schools as well, but it had some indicative feedback from a harp professor: "don't you ever show it to young souls". But, as the director himself says, "there are not so much juicy, bizarre and emotionally charged motifs in happy stories". And young souls could appreciate that as well.
Film Review (Vassilis Kroustallis)
It could have been a disaster, but it is actually a well-orchestrated journey of blobs, lines and unhappy musical faces. It is brave to make a film about music and animation, and not fall into the traps of musical harmony, or even music silently commenting on action.  Milos Tomić's Musical Traumas finely balances between visual anarchism and sad, bare-bones character design, throwing into the mix old school report cards and musical sheets for good measure. This bittersweet report of bad musical education would have been an unbearable exercise in a documentary mode; yet, the 10-minute film looks like a prime example of how a necessary distance between the actual events and their recreation actually leads to a better understanding. We need to to pay close attention to the colorful (and not so colorful) looks when watching Musical Traumas; it is our best passage to  actually get over them -and this is where the film's real contribution lies. 
About the director:
Miloš Tomić (1976) graduated in Film Directing from the Academy of Arts in Belgrade in 2001. He holds an MA in Animation from FAMU (Prague), class of Petar Skala. There, he also received a PhD with a thesis on discarded objects as material for film and photography. Since 2009, he has been living in Belgrade, where he teaches short video forms at the Singidunum University. In 2013, he represented Serbia at the Venice Biennale. He has filmed over 40 short fiction, documentary, experimental and animated films, which screened at numerous festivals, winning many awards.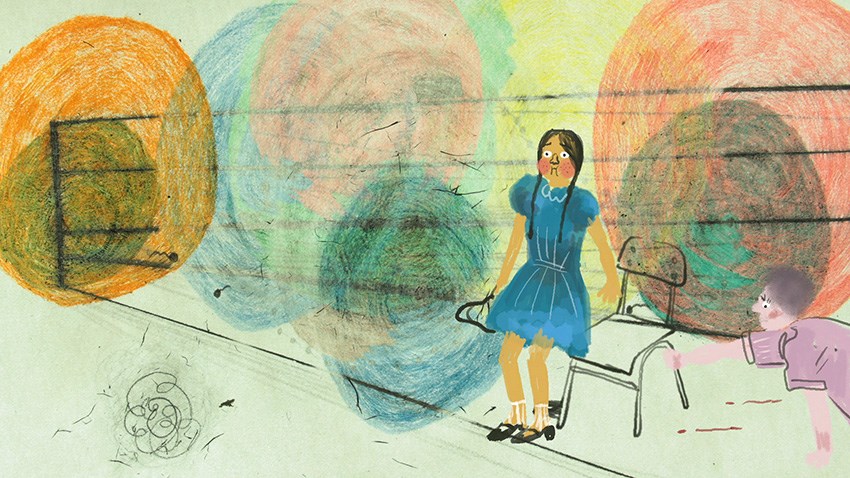 CREDITS:
Scriptwriters: Iva Brdar, Miloš Tomić
Director: Miloš Tomić
Animators: Miloš Tomić, Jelena Milunović, Vuk Palibrk, Marija Djordjević, Mario Kolarić
Editor: Marko Simić
Editing assistent: Marjan Rubeša
Image post-production and compositing: Marko Simić
Music: Vladimir Chab
Sound design: Mićun Jauković, Dako Puač
Cast: Vladislava Đorđević, Dimitrije Stojanović, Dobrila Ilić, Jelena Ilić, Đorđe Branković, Maja Bajić
Producer: Iva Plemić Divjak
Distribution: Bonobostudio
SIGN UP: Want to read more free articles like this? Sign up for Our Newsletter