Animation is Imperfection: Interview with Theodore Ushev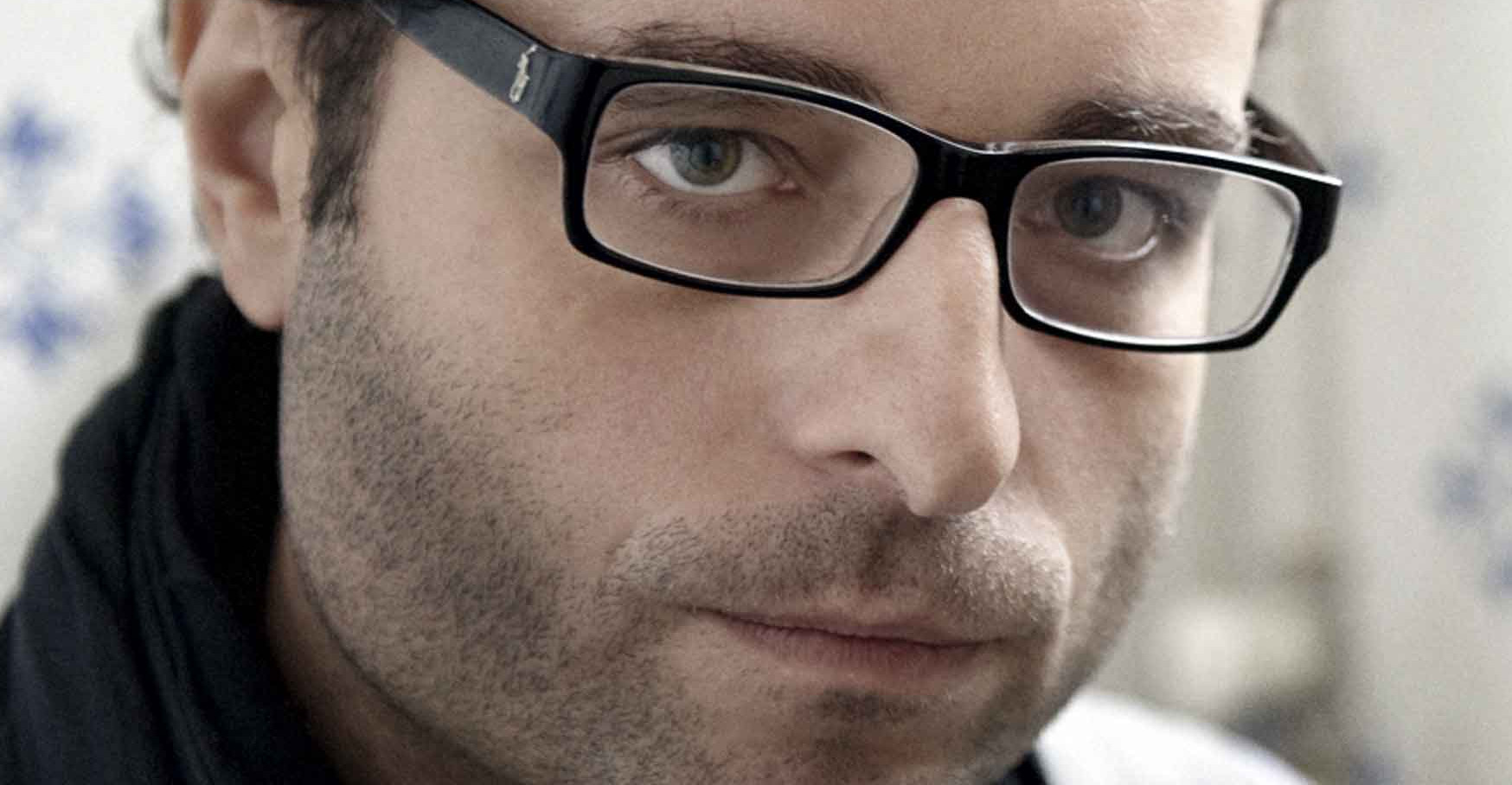 Being initially a poster artist in his native Bulgaria, Ushev left for Montreal in 1999, and soon became one of the major innovative forces of National Film Board of Canada. He has the Genie Prize in his armor (the Canadian equivalent of the Academy Award) for the animated portrait of troubled filmmaker Arthur Lipsett in Lipsett Diaries (2010),  and accumulates more awards each years during various festivals, including Ottawa International Film Festival, Annecy Festival -and an Annie nomination for Gloria Victoria (2014).
Theo Ushev is prolific (he makes one film per year), serious in his intentions, but also entertaining in the free play of his visual forms.
Fresh from his Jury Special Mention in Animafest, Zagreb, Theo Ushev was at 2015 Annecy Festival in competition for his new film Sonámbulo (The Sleepwalker, production: Unité Centrale, Canada), and talked to Zippy Frames.
ZF: How did you come about with the idea of Sonámbulo, your latest short?

TU: I don't know how I came with the idea. I was reading the Federico Garcia Lorca poem, on which the film is based, and I wanted to make a film in the tradition of surrealism. I didn't want to illustrate the poem, so I removed the text and made the film. I wanted the music by Kottarashky to tell the story, not the words.
ZF: How did you collaborate with Kottarashky?
TU: I called him and talked to him about my idea, he sent me some pieces of his own, which I liked enormously. After some changes, the piece went into their first album. I also made a video for them called Demoni.
I was working on The Sleepwalker for almost three years, in between projects. I also worked on Anca Damian's  The Magic Mountain, finished Gloria Victoria and so on. So, it seems that I did this film while I were sleeping [he laughs].
 ZF: The Sleepwalker comes as a most relaxed film, very Mediterrenean in spirit.
 TU: Absolutely. It has been the easiest film I've made, cheerful. Pure pleasure.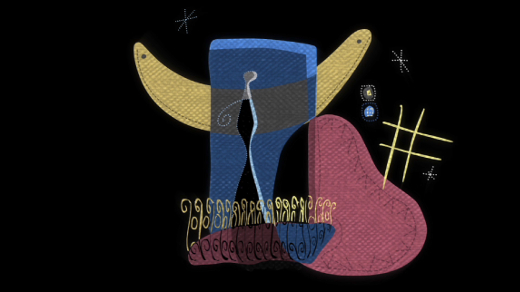 The Sleepwalker
ZF: What about the other, political films you made, Tower Bawher (2005), Drux Flux (2008) and Gloria Victoria (2010)? They are often classified as a trilogy, but did you consider them that way from the start?
TU: I just made the first one, the second one almost came by itself, and then I had the idea for the third one. Reading also philosophical books gave me this inspiration. For example, Gloria Victoria was written after I read the neoliberal book by Francis Fukuyama, The End of History and the Last Man.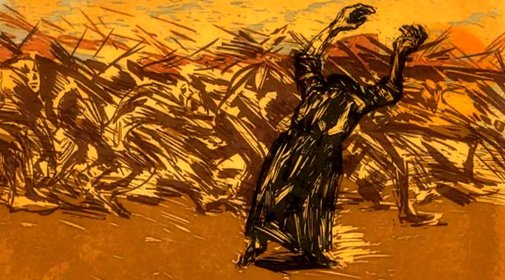 Gloria Victoria (2014)

Of course, this was not an illustration of the book, but its critical reading. Even after the end of the history, there will always be people who will miss history, who will feel nostalgic about the war. So, the three films talk about the individuals and the propaganda (Tower Bawher), the individuals and the industry (Drux Flux), and the individuals and the war (Gloria Victoria).
ZF: Do you plan to make a fourth fllm about artists who serve US Hollywood system?
TU: It is very tempting. I have this film in my head. But they are too close to me in time, but probably at the end of my career I could do this.
ZF: Your images, visual references and accompanying texts make you more like a critic, an artist who wants to guide his or her audience in the absence of a narrative.

TU: For me, making a film is like peeling off an onion. There is the first level of 'feeling good' with the images, but there is also a second level. The deeper you go, the less spectators you find and sometimes even my colleagues don't appreciate this.
It is strange, but my films are more popular with the critics or even philosophers, who use them as means of philosophical elucidation -there was an example of a philosophy class with my films accompanying a Marcuse lecture.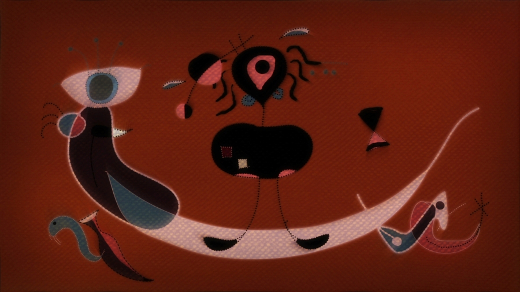 The Sleepwalker (2015)
In The Sleepwalker, I played with a Miro character, a Picasso character.  It's not just a music video or cut-and-paste animation, but something more than that.
ZF: Do you think your films could have a strong foothold outside the animation community? Some of your films could be easily described as experimental.
TU: The experimental film community is quite clerical and 'orthodox'. My films are to them too obviously entertainment. But I hate to put my films in any  such categories. I really want to do cross-genre films.
ZF: Is it this why you decided to work on Damian Anca's The Magic Mountain?
TU: When I first watched her awarded film Crulic at Annecy, she came in and told me that her animators were very much inspired by my Lipsett Diaries film, and also my  Tzaritza film. Jokingly, I told her to help her in her next feature, and this happened.
I really liked the story of Adam Jacek Winkler, a Polish political refugee in France, who fought in Afghanistan during the 1980s, after the Soviet invasion, with Massoud's army.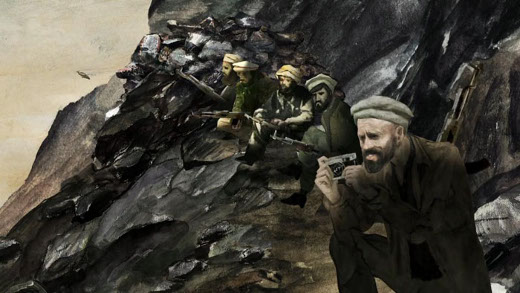 The Magic Mountain, Damian Anca
He was an anarchist, anti-communist, anti-establishment (he never had a bank account), a Don Quixote of his times. I had three months at my disposal and went to Romania; the storyboard took three weeks, and then came the character design in order to establish the many different styles of the film across times and countries.  For instance, the part in Paris we wanted to have the style of Jan Lenica, also a Polish refugee in France.
ZF: Did you have the time to visit Bulgaria? What do you think of animation in Bulgaria?
TU: I don't like what they're doing in Bulgaria. There is some hope with the revival of Varna Festival:  the spectators will have the chance to see films and trends from which they have been isolated for almost 25 years.
They are still some traces of the great Bulgarian animation of the 70s and the 80s, but sometimes these traces can be obstacles. It is absurd that they give funding for animation which is almost stuck to the 80s aesthetic. Only few people do contemporary animation which is cool, like the Compote collective, which made Father.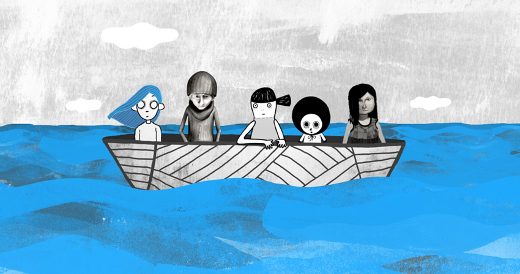 Father (2014), Compote Collective
The only country in Central-Eastern Europe that managed to keep its tradition alive was the Poland, for they fund animation. Czechs also destroyed less drastically, slowly their own school, and Russian animation has too much tradition. They have the best directors and artists, but their themes are very conservative. They urgently need an Eisenstein in animation.
ZF: Did you have the liberty to do all the films that you wanted at the National Film Board of Canada
TU: Absolutely. I am the most free artist of the world. Almost every project that I started with my NFB producers, first Marcel Jean and then Marc Bertrand, it had a lot of support. Essentially, I learnt to make animation by doing NFB films. My Bulgarian studies were in the Fine Arts fields; my college animation work, a 4-minute work won some award, but I didn't want to make more films in Bulgaria.
When I moved to Canada, I watched the films that I missed. I rented the Svankmajer films, the Brothers Quay films, Norman McLaren, the American avant-garde the from my local video club.
 ZF: But your latest film, The Sleepwalker, is independently produced.

TU: It is an independent film, produced by the Canadian Unité Centrale, and the Bonobostudio distributors did a terrific job with my earlier Nightingales in December. They are very serious people, trustful, and committed to what they do. I really want to make a film from the beginning to the end with them.
ZF: Maybe a feature?

TU: Not really. It is very difficult for my films to find a team of skillful animators who maintain the same artistic style of animation I use from the beginning to the end. I am a perfectionist, every frame counts to me. If something is not done right, I'll need to do it again.
ZF: In the last 5 years, you can see animation going back and merging with live-action (collage, photos, cut-out), and this comes in contrast with the studio practice of clean-cut, CGI movies. Is this a trend?
TU: I think it is mostly a reaction to 3D animation, and a nostalgic look to the age with no computers and imperfection. Big blockbusters polish every sentence, background, lighting and they leave nothing to chance.
Artistic animation is imperfection that works. Don Hertzfeld's World of Tomorrow is imperfect in every sense: stick figures that barely move, text recorded by non-professional actors, but it still works. What these films bring back is the soul of animation, just like cooking: when you cook at home, it does not smell so good as high-clientele restaurants, but still it is your own food
ZF: What do you think could be your next dish?
TU: My next film would be a very narrative story. It's almost like a fairytale, called Blind Vaysha.
It started with Olivier Catherin from Les 3 Ours, and a scriptwriting residency. But when the studio was disbanded, NFB came (previously a minority co-producer), and they literally saved the film. It will come out by the end of the year / beginning of 2016.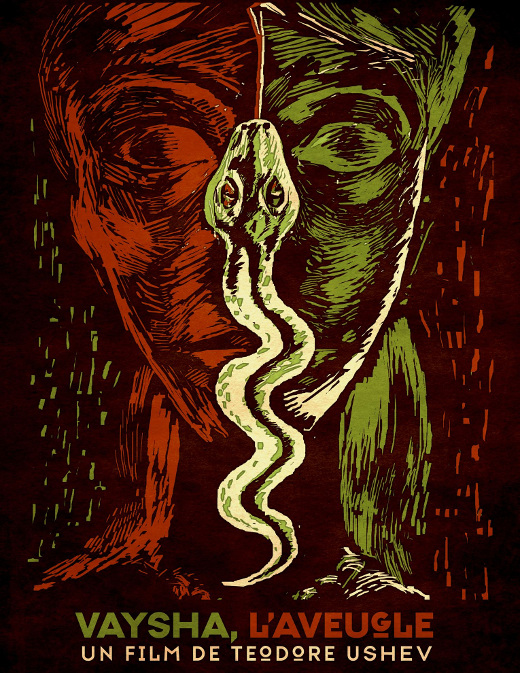 ZF: What do you think about animation festivals?
TU: Interesting question. When I go to many festivals, I say to myself: enough with the festivals, now I'm going to do some work. But at the same time, they fill the missing link between the artists and the public. Animators are quite alone; it is enough for them to stay on their studio and make the film.
But sometimes they need to go out and see what the public thinks. I don't want to suggest that you need to make films that the public likes, but, in any case, you have to go and see the reaction. Even a bad reaction to your film helps a lot. If everyone likes your film it is like fast food stuff.
 ZF: But there are many animation festivals around Europe. Some people might say it is an overwhelming situation.
 TU: There is a big number of festivals, but also a greater number of films around. It helps that more filmmakers are shown, be seen and talked about.  It helps establishing more names, and the students of future generations.
 I totally appreciate the number of festivals, and digital times make it easier to distribute a film to a festival -just send an online link to watch, and a digital file if the film gets selected. Festivals bring people outside the inner circle of animators, for whom animation was equated with Disney and Pixar films. These people can see something different, they can try different dishes.
ZF: Theo Ushev, thank you very much the interview.
TU: Thank you too.
Read More About: