Building a new Jordan animation from University of Petra: Interview with Tariq Rimawi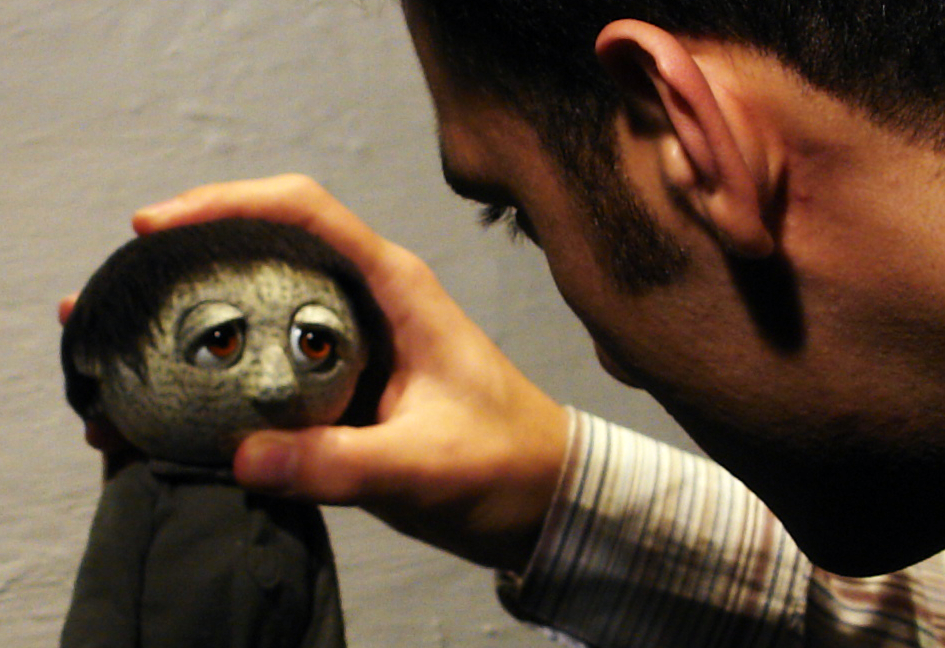 On October 15, the second year of the four year bachelor's degree program Animation and Multimedia Design - held within the Faculty of Architecture and Design- starts at the Amman based University Of Petra in Jordan. Experienced Jordan animator and filmmaker Tariq Rimawi leads the four-year course.
Zippy Frames interviewed Tariq Rimawi about his aim to rebuild a Jordan animation industry from the University of Petra and his view and aims on the Arab and Middle East animation industry.
Tariq Rimawi (1980, Kuwait) received his first degree in graphic design at the Jordan University of Petra in 2006. Two years later he received a scholarship to study animation at the Newport Film School in the United Kingdom.
The Jordan animator finished his PhD in animation at the Loughborough University, supervised by Paul Wells. In 2010 Tariq Rimawi graduated with 'Missing', an animated short which received 12 awards and was shown at over 100 animation festivals worldwide . In 2013 he finished his second short animated film 'Growing' with collaboration with Ma3mal612, and in 2016 he finished his third film 'Surprise' in collaboration with Cultural Recourses. 'Surprise' was selected to Animafest Zagreb in 2017.
PS. How did you get involved in the degree program at the Jordan University of Petra (UOP)?
TR. As soon as I finished my PhD. I came back to Jordan and the University of Petra. The board of UOP asked me to establish an animation department, because in Jordan we have very few institutions teach the art of animation. On the other hand, most universities focus more in teaching computer design and computer programming.
PS. The curriculum at UOP is much broader. It is exposing students to a variety of animation and multimedia design, such as understanding the process from pencil to pixel, 2D, 3D, Character design, environment design and all forms of multimedia design.
TR. Yes, we are trying to do the foundation for our students, to learn the basics for animation like anatomy drawing and frame by frame drawing. At this moment we are creating a lightbox studio for classical 2D animation, it will be the only studio in Jordan such kind. It is my believe to teach our students the best of animation, also in CGI. The plan of the degree program is the priority to teach character design, graphic design, 2D, 3D, mobile applications and game design, motion graphics and inforgraphics, classical and CGI. Students can express their needs in the four year program for the graduation project. They can do whatever they like and follow their passion.
PS. Do you have aims for the curriculum?
TR. For the curriculum I have looked what they do in the UK, USA, and Jordanian universities, and as I have learned at Newport Film School and Loughborough University in the UK, I also visited some institutions in the US such as New York Film Academy, School of Visual Arts, and UT Dallas to learn more about the American education system in animation course . In additional to that, I have been at Nanyang Technological University (NTU Singapore) in Singapore when I participated at the Society of animation studies conference (SAS) in 2016 in Singapore. Yes, I use the production and success of my first film Missing too in my curriculum to teach the students how to make short stop-motion films. The aims for the curriculum is to provide to the students a verity of different techniques and styles of animation in order to make interesting animation projects in the future.
PS. In the information of the degree program I read it must 'meet the needs in Jordan and the regional market and aims to enrich the domestic and regional marketplaces to become an important part of the creative industry in the Middle East'.
TR. That is correct. Most of our students come from Jordan, Iraq and from Gulf Area such as Saudi Arabia, the Emirates, Kuwait and Oman. After the graduate they will go back to their home countries to help build up their countries animation industry. In the countries named before there are animation programs, but only limited schools teach animation. But our university is recommended highly in the region and has a high reputation; The UOP is the first institution that obtained the Quality Assurance Certificate from the Higher Education Accreditation Commission in Jordan. The graduation studentss at my department will show what we can do: if the students choose to do CGI, there are number of studios in Jordan and in the Middle East where they can work with this type of animation. Some of them will find work in the game design industry in the region, like in Jordan. King Abdullah II of Jordan supports the game design industry and animation to become a platform for the region (news article 1 and article 2)
PS. Also Saudi Arabia recently announced it will invest heavily in the entertainment and the gaming industry, I read.
TR. Yes, you are right. Jordan, Saudi Arabia, the Emirates, Lebanon and Egypt are the top countries for the game and animation industry in the region. Syrian used to lead the industry before the war. Indeed, it was one of the capitals of animation. We hope to collaborate with universities from Arab countries and to exchange European students in the future through the European Erasmus Plus.
PS. How do you look back at the first semester year 2016/2017?
TR. We have a very good number of 50 students, who all have lots of creativity. The first year was to build a foundation, in this second year they start to do animation, drawings, learn to use Adobe programs such as Photoshop and Illustrator, basic software programs and mobile applications. At the end of this semester, we will produce some clips made in classical and 2D/CGI animation.
PS. Your first film 'Missing' is made in stopmotion, a form of animation not used much in Jordan. Do you teach stop-motion during your four year bachelor's degree program?
TR. Yes, among other forms of animation.
PS. The animation industry in Jordan became unstable, you mentioned to me. Many animation studios closed down or stopped making animation and are focusing on e-learning or gaming. Like the former large studio Rubicon, who was involved in animating Pink Panther and the 3D featured film version of Postman Pat in 2014. Rubicon recently closed a deal to work on a full length football game in co-production with the Japanese company Yasu.
TR. The owners and animators at studios in Jordan have no academic background in animation. They just see it was like a hobby or something they like, used their own creativity and high skills in drawing and animation, and started their studios. If we want to build a strong Jordan animation industry, we need to start with the universities to provide many graduates with skills in different techniques of animation to support the animation studios. That only will take the industry and increase the level of animation in my country to a higher level. It also will bring variety and creativity, something we are missing right now. A strong question is why does Jordan not producs animation for the international market. Most of our storytelling used to target the Arab audience, and I think this is not right. We have to target the domestic and the international audience, we have to make universal stories. We can achieve this by teaching the techniques in storytelling at Universities.
In a separate reaction to Zippy Frames, Zaidoun Karadsheh, founder and partner of the Amman/Jordan based animation studio Sketch in Motion, responsible for big Jordan animation hit TV series and featured films like Halwasat, Sehetak bel Denia, acknowledges like Rimawi the Jordan animation industry 'is getting slow for big series like Al-Masageel, as the Gulf region are cutting budgets, especially TV stations'.
PS. How would you define the current status of the Jordan animation industry?
TR. Like Zaidoun Karadsheh, I also see cuttings on budgets in our region at TV stations, but that is also happening in Europe and in the rest of the world. The current generation is building a history for the animation in the region. A recent success is Bilal, the first featured 3D animated movie in the Middle East, made by a Saudi producer Barajoun Entertainment. The story is by Ayman Jamal, with screenplay by Alex Kronemer, Michael Wolfe, Yassin Kamel and Khurram H. Alavi.This movie was seen in the competition in Annecy in 2016. Many people in the Arab region bought cinema tickets to see this film. It brought back trust for animation coming from the Middle East and Arab film makers The future, I see, will also come from the new generation of Jordan animators, who are in my four year program at University Of Petra. We hope to be a part of building a strong future in animation in Jordan. 
PS. From 2012, Jordan used to have the yearly animation festival JoAnimate, but it stopped. One time you were a jury member at the festival.
TR. Yes it is really sad that JoAnimate stopped due to the lack of sponsors. We hope from the University Of Petra to recreate an animation festival in Jordan in the future. Right now animation has a place at the Jordan Karama Human Rights Film Festival organized by Ma3mal612, the festival hold a special animation category this year.
The 2017 edition will be held between 5-10 December in Amman. In 2016 the German animated film 'In the distance' by Florian Grolig won the Karama Feather Award. In 2015 this award for best animated film was given to 'Dinner for Few', made by Greek/USA animator Nasos Vakalis.
PS. Many Jordan animators are independent, like Ahmed Saleh, Sandra Dajani, Mahmoud Hindawi and yourself. I read independent filmmakers do not receive governmental funding. What is their future?
TR. Yes, that is correct. However, we need to focus on the feature films from Jordan to be seen in cinemas in order to grow this industry. At this moment a team has plans to write a first feature film. As filmmaker myself, I can share the news my film 'Surprise' was bought by a TV station in Poland, but we also need distributors from Jordan to show out works in the Jordanian TV channels, in the region and international market. Most Jordan animators use YouTube and Vimeo to express their shorts.