Telling Stories and Tackling Deep Subjects: Interview with Élodie Dermange (Swiss Animation Portraits 2022)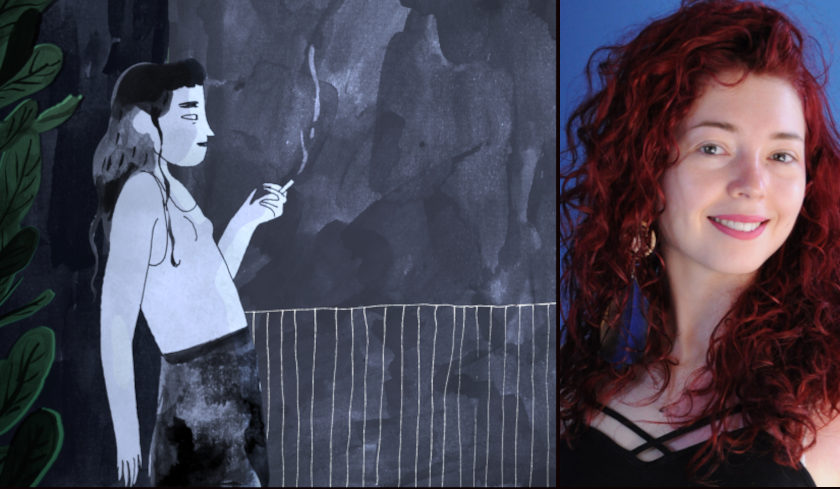 Geneva-born animation director Élodie Dermange has an affinity for handling situations easier depicted on-screen than actually said. She received her illustration degree from the Geneva School of Applied Arts, before getting her animation degree (2019) from the world-renown animation school La Poudrière school (Valence, France). In between, she turned her documentary about a porn actress into an animated one in 'Intimity' (2017). Her graduation film 'Inès' (2019), about a girl contemplating abortion, is both realistic and illusory at the same time, whereas her new animation documentary -mostly autobiographical- 'Armat' (2022) goes back to her Armenian roots and the collective memory retrieved.
Élodie Dermange studied comics and illustration, yet she always felt the sense of accompanying her drawings with music or voice sounds. 'Even if I was doing something on the paper, for me, it was really cinematographic, even if it wasn't on the screen. And I have a global view of everything, all the time'. She describes her process as self-immersive and hand-drawn at the same time (either on paper or on celluloid, like her soon-to-be-released 'Armat').
'I do everything by hand, and a lot of my inspiration actually comes from artists; painters, or sculptures'. The 2D medium was best suited for her own purposes, and she still keeps a very detailed catalog of drawings in her place ('you have to be really systematic with the way you clean and scan them anyway', she mentions).
The main character interviewed is a porn actress, who talks about her getting a grip on the adult industry business, after a period of feeling very uncomfortable with her own body. Empowerment comes in many, sometimes unexpected ways.
'It was initially supposed to be a live-action documentary, and it was recorded in Madrid. I wasn't satisfied with the pictures that I shot. That's why I decided to create my own picture. Her subject was open to her (they were friends), and charming on the camera -but the interview (more than 2 hours) had to be condensed into 4 minutes. The film needed to be completed in less than a year, and everything had to be prepared very carefully, yet this certain 'dream' sequence was more of an improvisation ('It was a kind of a breathing moment after all').
'You can tell so many stories, but you have to decide what you tell and have a knack for something happening'. But the technical aspect of the film also took priority. 'It was my first time making animation and making a film. So, I was discovering everything. I decided to do it with colored pencils and that took so long. If I knew how many drawings I would have to draw, maybe I wouldn't have chosen this technique', she laughs.
That said, the film splits between two parts, the second of which is the most abstract (and picturesque) with images of sexuality unfolding. ' I love to make the kaleidoscope part, and it was really easy and quick to make. When I had this idea of the kaleidoscope, it was more of a broken mirror; so, I was watching some pictures of broken mirrors, itself a kind of kaleidoscope'. One thing and drawing led to another to make the second part of 'Intimity'.
'I knew that what I wanted to tell was positive. And what I liked about this person is that she's free and she's happy about what she does. And I think it's something that also appeared in the movie', she will elaborate.
Personal events also motivated but did not define the content and the aesthetics of her graduation film, ' Inès'. 'My own story was different, but I promised myself to make something from it'. In the film, a young woman contemplates an appointment with her doctor, while she also needs to face her mother's visitation.
'It had to be a four-minute film, and we did a lot of meetings in the school -with scriptwriters and different directors'. But this was not a judgmental process on representation or subject suitability, but rather creative decisions to make, regarding shot list and structure; still, Élodie Dermange got the feedback that a 4-minute film on such a heavy-laden topic needs to avoid dialogue, as much as possible (and it did).

'It was a challenge to do a movie with no discussions -and I tried to avoid also like some basic words like abortion, babies or pregnancy', she explains. In the meantime, there's also a dream sequence in the film, another tapestry of objects and subjects put together ('In that film, I had more freedom to express myself and have fun'). The film needed to be completed in less than a year, and everything had to be prepared very carefully; yet this certain 'dream' sequence it was more of an improvisation ('It was a kind of a breathing moment after all').
Dermange is currently finishing animation for a live-action documentary by Mara Manzolini and Andrea Pellerani. When in La Poudriere, she finished 'Linette', a really enjoyable film that plays with genders and the questions of a little girl to her father.
'We had one month to make the film, and it had to be a children's film; the question of the year was: boy or girl, what is the difference?' She did this on the computer for broadcast TiJi and she enjoyed it. 'For me, it's adults who have a problem with it. So, I prefer to put the main character untroubled'; whereas adults hesitate and try to correct it.
Her affinities lie with artists that have their own way in aesthetics like Quebec animation director and artist Michele Cournoyer ('I love what she does') and French artist Florence Miailhe ('The Crossing').
Her 11-minute film 'Armat' is the next in the pipeline, and will have its festival premiere soon). It investigates Dermange's own Armenian roots, and key figures in her family and ancestors, again a Nadasdy Film production (after 'Intimity').
'For me, it's a question of about non-transmission through generations. She admits that, because of the very personal character of the film, it was a complicated film to make -also having to put herself as a character. Her characters, for instance, the 'Antoine' great-grandfather character, are really nuanced. This is not a trivial narrating of facts, and his character is not exclusively defined as a victim either. 'He's not loved by the other members of his family', she concurs. 'Antoine the unloved. But after thinking and writing a lot, I realized that even if he seems to be like, a suffering person actually, he had a really difficult life, and he was super traumatized by all that he lived; he had to carry those things with him'.
A fair amount of interviewing and recording took place for the still fictional film ('not everything is actual, but it's completely based on reality). 'Armat' started in the summer of 2018, with Dermange doing different things in between, including a Quebec artistic residency at La Cinémathèque québécoise in Montreal.
Waiting for her premiere, Dermange still thinks of festivals (she was selected, among many festivals, to Sundance Film Festival back in 2020), and she likes the audience-filled cinema rooms. ' We are lucky as directors to have a full audience in a dark room listening and watching something, it's super generous of them to listen to what the director wants to say. So, I don't want to waste time; but I don't also want to give an answer to them, but I prefer to ask questions and to have them think about the film after they leave the screening'.
Élodie Dermange returns to Annecy Festival this year with a special presentation of her 'Intimity' film at the Swiss Focus tribute of the French festival. Yet she prepares an animation feature as well (perhaps mixed with live-action); still at a concept stage, the film will engage with the perception of the body and the circus environment, an area that Dermange feels knowledgeable about investigating.
Her films always look like being outside the safe zone anyway. ' I like to talk about deep subjects and if I can't control this, I have less fun'. Let's start the animation fun, then.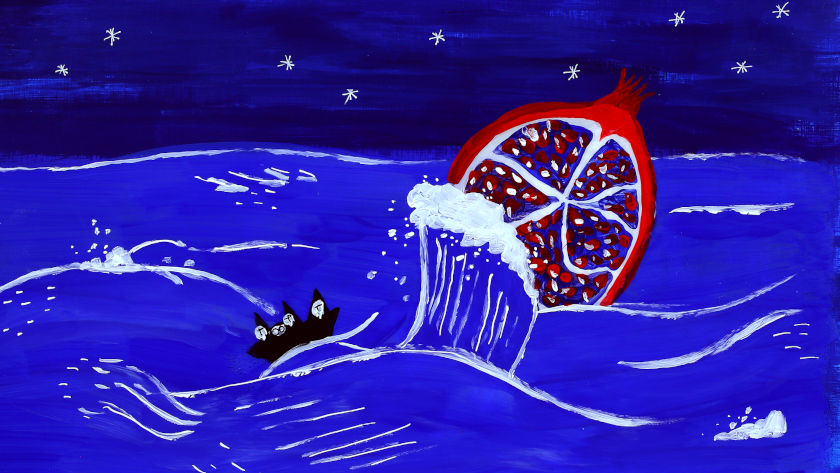 Armat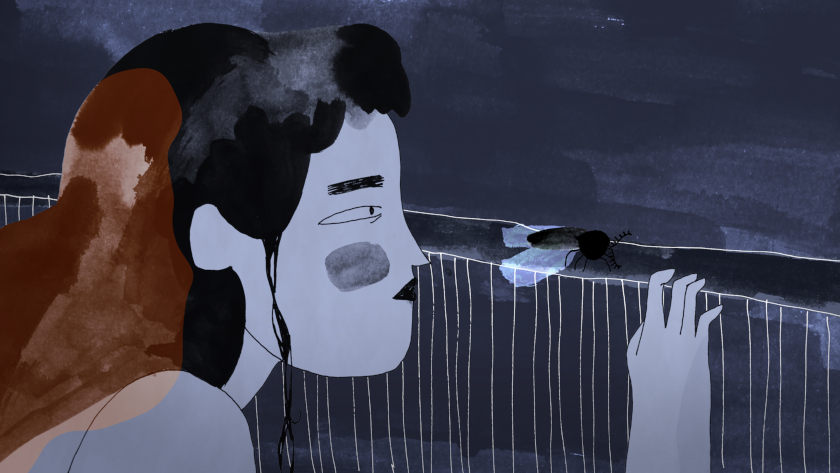 Ines
The Swiss Animation Portraits 2022 series is conducted in partnership with Swiss Films.
SIGN UP: Want to read more free articles like this? Sign up for Our Newsletter
Read More About: