Fritzi A Revolutionary Tale: Interview with Ralf Kukula & Matthias Bruhn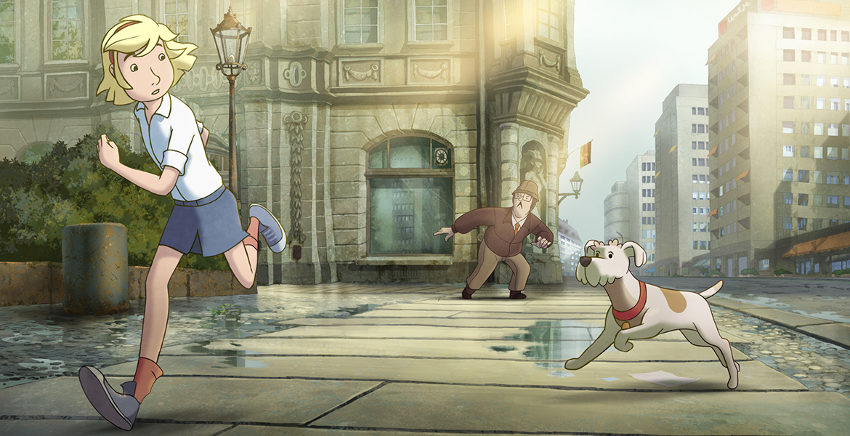 A tale of politics, friendship and courage has already been released in Germany and had its premiere in Czech Republic (9 Nov 2019).
ONLINE SCREENING 22-24 jAN 2021 Czech Centre London organizes, in association with Institut Francais du Royaume-Uni an online screening of Fritzi, The Revolutionary Tale, 22-24 Jan 2021. Check for more details.
Fritzi: A Revolutionary Tale is directed by Ralf Kukula & Matthias Bruhn, and tells the story of a 12-year-old girl Fritzi who lives in 1989 East Germany, taking care of Sputnick, the dog of her best friend Sophie. When Sophie doesn't come back from her holidays in Hungary, Fritzi and Sputnik set out in search of their friend. That adventures leads her into the Leipzig's peaceful demonstrations of Leipzig of the period.
Based on the novel Fritizi was dabei by Hanna Schott and Gerda Raidt, Fritzi is co-produced by Balance Film GmbH, Trickstudio Lutterbeck GmbH (Germany),  Doghouse Films (Luxembourg)  Artémis Productions (Belgium), and Maur Film (Czech Republic), a first for a Czech production experience in such a European animated project. 
Watch the English trailer
We talked with Fritzi directors Ralf Kukula & Matthias Bruhn.
ZF: Had you read the Hanna Schott and Gerda Raidt book beforehand? 
MB: My co-director Ralf Kukula discovered the book in 2009. He was in contact with the publisher at that time, and he had the chance to read the book even before it was published. He immediately reserved the rights, because he saw the potential for a series or short film at least. After working with screenwriter Beate Völcker for a couple of months, they decided that this story is big enough for a feature film. For a big project like this, Ralf wanted to have some help, so he asked Richard Lutterbeck and me if we are interested in a cooperation. I read the book, and we made a decision within one day: this is a story that has to be told! There was no children's film about the peaceful revolution in 1989 yet and we wanted to be the first ones to make one! After being published, the book got great reviews, but it was not a great success though.
ZF: Do you think it's safer to explore political issues if you have a child's story or perhaps it is more universal? What motivated you to actually commit to this old story? After all, doing a feature animation film involves a lot of commitment.
MB: We tell the story completely from Fritzi's point of view, a 12 year old girl. In the beginning she's quite naive and she knows nothing about politics. She only wants to bring the dog Sputnik back to her best friend Sophie, who has fled with her mother to West-Germany. But the more Fritzi knows about the political situation in her country the more she develops her own point of view, her own standing. She even stands up against her teacher, a representative of the 'old' system.
And yes, there's an universal touch to the historical events from 1989. If you want, you can see parallels to today's "Fridays for Future"-movement for example, that's fine with me. After a screening in Amsterdam, a woman from Hong Kong came to me; she was deeply moved, because of the obvious parallels to what's happening on the streets in Hong Kong at the moment.
ZF: Fritzi looks very strong and daring, but she also seems to be in need of a friend as well. How she develops throughout the film?
MB: You're right, even if Fritzi grows stronger throughout the movie she also realizes that she cannot do everything on her own. She finds a new friend – Bela – but she also learns about the strength of solidarity. Young viewers can totally identify with Fritzi, they are always at eye level with her. Despite of all the historical events this is an adventurous story as well. It's very important to me that viewers can emotionally connect to our story and characters. Children as well as adults.
ZF: Why the dog doesn't talk?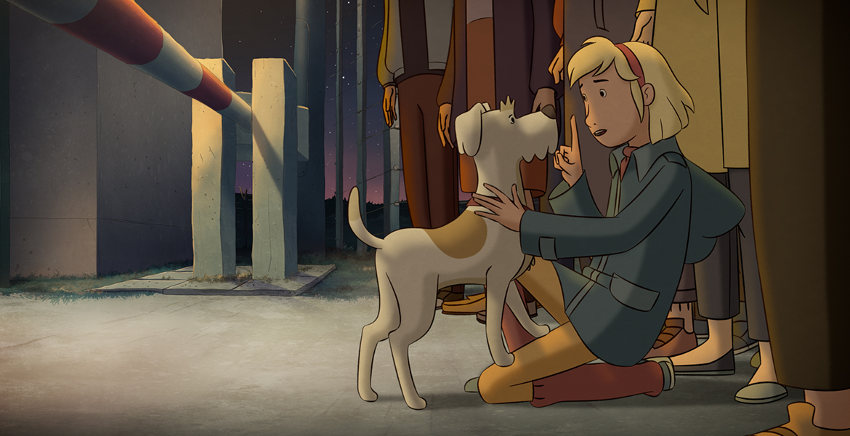 MB: This is not a Disney-Movie! Don't get me wrong, I love Disney-Movies, especially the old ones, but we have a more naturalistic approach to our characters. Sputnik is a very strong and important character in our movie, but he's still a dog. There was no dog in the original book, by the way. Sputnik is an idea from our scriptwriter Beate, he's only in the movie.
ZF: Can you tell us a little bit how the script writers Beate Völcker and Péter Pálatsik developed the story. For instance, was the book darker/ more violent than the film? Any characters that were omitted or added?
MB: The original book is a short novel and the Fritzi from the book is only an "observer" of the events around her. The book is based on Interviews Hannah Schott (the author of the book) made with "real people". All the events in the book have really happened in one way or another. For this reason, the book has a documentary touch.
When Beate started to work on the adaptation, it was clear that Fritzi has to be a stronger and more active character. Beate changed her age from 8 years in the book to 12 years in the movie. She added the story of Fritzi's best friend Sophie and her dog Sputnik. This is the emotional motivation for all her actions. Beate also invented Bela, the new boy in Fritzi's class. Actually, the movie is quite different from the original book. Co-author Peter was not involved in all the development work, he came in at the end of the scriptwork, to add some scenes and dialogues and do some polishing.
ZF: Balance Film has already contributed to Alois Nebel. How was it different to design and prepare for a film like Fritzi, which focuses on the same period, but in a completely different way?
RK: Alois Nebel is very similar in many ways to Fritzi: a political topic, hardly comparable films, a book on which the film is based. However, the two differ in technology. At Alois Nebel we worked completely with rotoscopy, and implemented the strict black and white design as in the graphic novel. Fritzi is realized in the traditional way as a 2D cartoon with 3D parts. What both films have in common is a very realistic approach to the story and the animation.
ZF: Did you want to represent the 1988 era in that way by using 2D animation?
MB: The 2D style perfectly fits to the subject of our movie. And you're right, it's also a kind of nostalgic reference to the good old 2D movies from the eighties. But if you take a closer look you will notice that we made a 2D movie with the latest digital technologies. The cars are 3D objects, some of the crowd-scenes are computer generated and in the compositing we added hundreds of digital fx to make the look of the late 80s as perfect as possible. But even if we used digital pencils and colors, the animation of the characters and the BGs are 100% hand-drawn. In contrary to many perfect CGI movies the "imperfection" of the 2D style adds an emotional warmth to our movie.
ZF: The trailer has a lot of documentary-like details. How much authenticity you wanted in the film, and did that lead to a lot of research etc.? Do you have any live-action segments (TV programmes etc.)?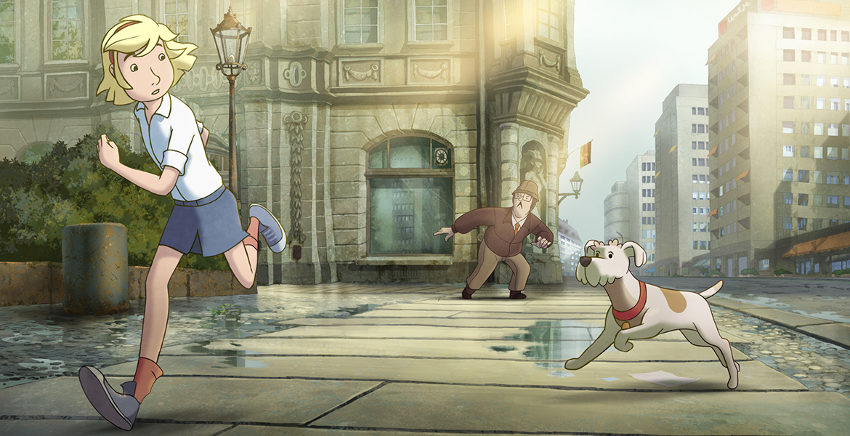 MB: Yes, we did a lot of research. Of course, the characters and settings in our movie are an artistic interpretation of the GDR in 1989. But all the details are correct! Our set designer lives in Leipzig and knows the city and all the buildings by heart. For those parts that have changed in the last 30 years he checked all available archives. This authenticity was very important for us. For this reason we also decided to use original footage from TV-News. Some of the scenes, e.g. Hans Dietrich Genscher on the balcony of the embassy in Prague, are part of the "collective memory". For the German version, we also used the original voices of Genscher or later, Schabowski.
ZF: Were there any major creative challenges you faced, and how did you both collaborate in terms of duty allocation? 
MB: Every step in this production was a challenge! But the animation production was the biggest one. It was not easy to find the right animators for the style we had in mind. Once we had the team in place (partly in Germany, partly in Czech Republic) we had daily Skype meetings with our animation supervisors to check the acting and animation scene by scene. For 13 months. This overlapped with other production steps, of course. It's almost impossible to direct an animated feature all alone without risking a heart attack. Ralf and I have never worked together before but we did very well. We developed the same vision of our movie so we knew we could rely on each other. For geographical reasons I took care of the compositing and sound design in Belgium (close to Cologne), while Ralf was responsible for the German dubbing. But we made all important decisions together.
ZF: What are you own experiences of the Fall of the Wall?
MB: I was studying in Düsseldorf in West-Germany at that time. I was far away from the action and I only followed on TV. I had no relatives or friends in the east part of Germany, all this was far away. I was emotionally touched, though. I think everybody was, in one way or another. It took some time until I realized, what really happened these days.
RK: At the time, I was working as an animator at the DEFA Studio for Animated Films. I experienced November 9th as described in our film. My wife and I argued whether the wall was really open or not. The next day I went to the train station in Dresden like thousands of others. But I didn't go to West Germany. I got visitors from the West!
ZF: Fritzi was first pitched in CARTOON Movie in Lyon (2015). Was it there that the international co-production team was formed? 
RK: The process of finding the co-production team took several years. Cartoon Movie was only one station such as the Animation Festival in Stuttgart, Cinekid in Amsterdam or the Film Festival in Montreal. Some potential co-producers from Hungary or Austria, who would have fitted very well to our film, did not get any financial support in their countries. But it was also a coincidence. Basically, one can say that our project was a lengthy process with an unpredictable result. But in the end we found a very good team, a happy ending like in a good movie.
ZF: How was the creative load between the 4 countries, in terms of development -production - post-production.
RK: We have decided this quite pragmatically. The development of the script, the animatics, the design was done by the two German producers. The animation was mainly shared by a German service producer (Studio Filmbilder in Stuttgart) and Maur Film in Prague. The backgrounds and the layout were mainly realized by DogHouse in Luxembourg. Artemis in Belgium was responsible for the compositing and the sound postproduction, which brought Mikros on board as service partners. The music composition was the responsibility of Doghouse. The music recordings, however, took place in Prague.
MAUR Film Czech studio was responsible for key animation (with experienced animators Marek Pokorný known for his comics Saint Barbara), Jan Saska (the Student Academy Award shortlisted Happy End), Jan Bohuslav, Michaela Večerková, Eliška Oz and others). Here is the excerpts from  Prague music recording.
ZF: Fritzi is a film about crossing borders, a topic that is more than hot in contemporary era. Do you also want to make a statement by doing the film?
MB: This is not an "old story", it's totally up-to-date. In times of growing nationalism and protectionism it's important to tell this extraordinary story of the peaceful revolution that changed not only Germany but also Europe and the rest of the world. Unfortunately most children and young adults don't know anything about this time anymore. If you have no idea what happened in 1989 you just have to join Fritzi on her journey.
ZF: The film is described as as art-house film for children, and it has already premiered in Germany, and now in Czech Republica (9 Nov). What is children's reaction to the film so far?
MB: We had screenings in Belgium, Luxembourg, Netherlands and many cities in Germany, east and west. No matter which country or language: reactions are always positive and sometimes enthusiastic. People are emotionally touched by our movie, old and young. I got so much great feedback from so very different people: that's the moment that justifies all the hard work.
Fritzi – A revolutionary Tale is an international co-production of Balance Film, TrickStudio Lutterbeck GmbH, Doghouse Films, Artémis Productions, MAUR film, MDR, KiKA, NDR, WDR, ARTE, RTBF (Télévision belge), VOO & Be tv, Shelter Prod, DEMA CREATIVE PRODUCTION.
CREW:
Director:Ralf Kukula & Matthias Bruhn
Script:Beate Völcker
Co-author:Péter Pálátsik
Music:André Dziezuk
SIGN UP: Want to read more free articles like this? Sign up for Our Newsletter
Read More About: