'I Enjoy Getting Characters Back On the Stage: Interview with Marjolaine Perreten (Swiss Animation Portraits 2022)
The Lausanne-born animation director and artist Marjolaine Perreten is a new driving force in Swiss animation, catering to the unacknowledged, the minute, and the natural. Being one of the creators of the Annecy Festival trailer (along with Team Tumult), she has been schooled in Switzerland (École Romande d'Arts et Communication) and France (La Poudrière).
Her first film was 'Balloon Birds' (2014), followed by 'Super Grand' (2014), 'Novembre' (2015), the Tatiesque 'Vent de de fête' (2017), the collective work '50:50' (2018), culminating in 'The Last Day of Autumn' (2019) - which world-premiered in Berlinale (production: Nadasdy Film).
We met Marjolaine Perreten as part of the 2022 Swiss Portrait Series, and she expanded her personal views on animation, style, and content.
ZF: You've made studies in design, art, and animation both in Switzerland and abroad (France). Can you tell us your experience of the different systems of teaching, subjects, or approaches?
MP: Switzerland is still developing animation studies, so I would say schools are mostly forming artists and directors, instead of technicians; this could potentially be a problem for our industries, as we are lacking animators and other good technicians. In France, most of the schools ask for a good level already, and students need the motivation to enter, as they are often confronted with internal competitions. Jobs are limited, and technicians sometimes struggle. So they have to give their best, and I think this way of thinking is a bit missing in Switzerland! But the French La Poudrière school I studied was forming and preparing animation directors, it's another way of thinking.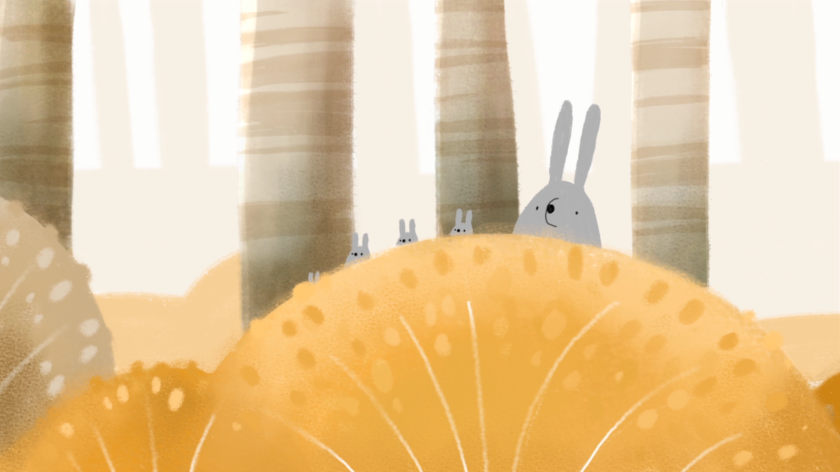 ZF: Was your involvement in animation a gradual one, coming from your design studies?
MP: I wanted to be in animation films since I was 16, discovering it was actually a real job, but my parents - who never discouraged me - motivated me to study something close to it as animation wasn't really a thing in Switzerland. That's why I studied Multimedia Design in ERACOM (Lausanne, CH). Then I managed to learn by myself and entered La Poudrière (Valence, F).
ZF: What attracted you to the world of independent animation? And did you actually watch films and certain directors that inspired you/made you follow that path?
MP: I watched a short film by Marina Rosset called 'Laterarius', at the La Nuit du Court Lausanne festival. She was here standing in front of the screen, saying she made this film by herself for years, and I told myself: that's what I want to do. I was just discovering independent animation films.
ZF: Both in November and The Last Day of Autumn you're dealing with preparations for a season that may be too harsh to bear. What intrigues you in this transition, from autumn to winter?
MP: I think there is something in me that feels like something is inevitably coming; even if you can't avoid it and it may be a hard time, you have to be aware and enjoy what is around you now, at this very moment. I don't really think I can control this thing in my films: it just happened, and then passionate people like you dig it out!
ZF: What is your ordinary process of working? Do you work on everything on the computer or do you have some sketches beforehand? Do you prepare a script and a storyboard before animating?
MP: Sometimes a story starts with words, sometimes with some watercolor sketches. But then I try to do the thing in regular order; script and storyboard, background and animation (on TVPaint). In short films, I used to do everything by myself but now on bigger projects, I appreciate working with talented people and learning to let it go!
ZF: You're also a book illustrator at the same time (Α Place for Pauline). Is the book writing and illustrating process an easier one for you, or simply a different task? Do you feel more relaxed when illustrating a book or is it just a project to be equal to be taken seriously?
MP: Pauline was an invitation to illustrate a scenario by Anouk Mahiout. The editor, 'Comme des Géants', found me on Instagram and asked me to work with them. We just finished the second comic from Pauline actually! But next to this 'pro' commission, I wrote a small independent comic 'Tanuki & Kappa' published by our collective 404Error; this was more fun for me to illustrate something I wrote myself, with no constraint at all (sorry Anouk I love 'Pauline'!). But it's no secret that the world of editing is tough and you can't live from that -compared to my work at Nadasdy Film, where I am a full-time director (luckily).
ZF: Your film 'A Festive Wind' looks different both in style, design, and narrative. You don't have animals there, but a community of people -and musicians. What did you think about making this film? Does it have a documentary background? There were some photographs during the end credits as well.
MP: Actually it had animals but the shots were cut during the editing! It is totally a documentary. This film happens in Savigny, the village where I grew up. And I used to play in a brass band as a percussionist (the pictures are from this). This brass band organized 2013 a huge brass band festival in Savigny. We didn't compete this time, but all musicians worked as volunteers, so it helped me get the two sides of the event. Almost all anecdotes from the film happened at the event, which was called 'Vent de Fête', as Wind is also a name for the wind instrument. It also resonates with my favorite director Jacques Tati, who directed 'Jour de Fête'. So this film is mostly an homage to my band and my village.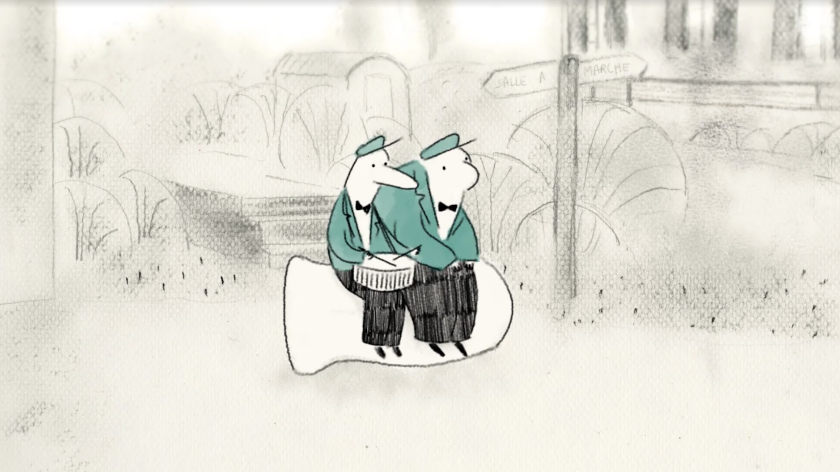 ZF: Do you like reworking your films and themes? I see some of the characters of November, for instance, in your very short animation films, like 'The Landing'. Are you in constant dialogue with your characters -so, it's not a one-off film process?
MP: I don't think I do it on purpose, but I think I enjoy getting them back on stage; sometimes short films could be a bit frustrating, and you feel like you didn't use all the potential of a character. But I should stop doing films about winter because people will classify me as the season girl!
ZF: How's your collaboration with Nadasdy film in terms of production and in terms of actual collaboration with your creative partners? And how do you proceed with the non-visual aspect of the film (music, sound design)?
MP: Nadasdy Film adopted me after 10 months of internships at their place (laugh)! Every single holiday I spent at their studio if they had jobs for me. I would do anything, even small tasks and I think that's how I learned most of the things. So when I came out of La Poudrière with a project, they agreed to read it.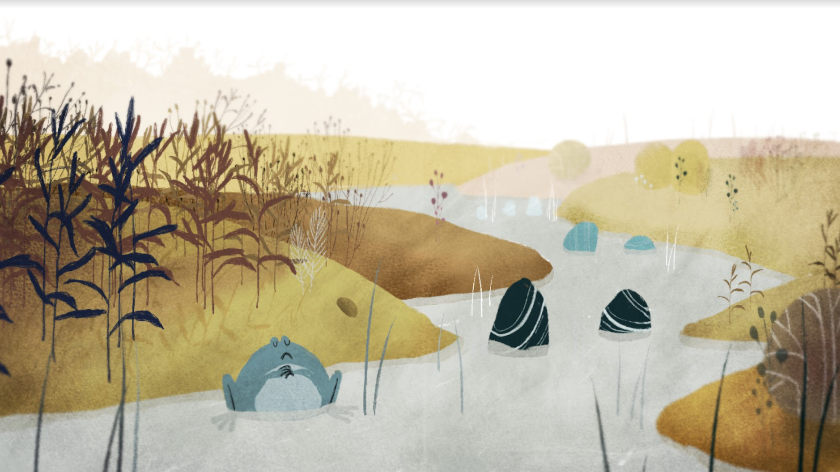 Now I am a full-time director there, under a permanent contract. Working there is really nice, they trust me on any project and push me forward, directing bigger things all the time. The creative part always was in my hands. About sound, as I am a musician too, it's pretty easy to communicate and put words to my ideas - and I could be a real pain in the ass for the sound people (laugh)! But I have a huge fascination for foley artists, I admit. Sound design is making 50% of your film so it can really save the picture!
ZF: You're both an animation filmmaker and now a festival director in Festival du film d' animation de Savigny. How did the festival get started, and how do you find yourself switching between the different hats (filmmaker and festival director)?
MP: It all actually started with 'a Festive Wind'! I wanted to screen it for the people of Savigny and discovered it was pretty expensive to rent a whole theater just for 9 minutes... So I first thought about making a one-hour screening with short films with the same theme... And then realized if you rent a theater, you have it for the whole day! So... I came up with the idea of a one-day festival and introduced the idea to the newspaper team I was working with at this time. We had no idea what we just started! I had struggles accepting to let go of some tasks, but now it's our 6th edition and I think we kind of found a balance.
I still have to make visual printings and the whole selection programming, which is still a pretty big task as we get more than 1800 submissions every year (and could only screen around 50 of them). But fortunately, it's just some rough months and not the whole year (laugh)! But I admit I have difficulties watching other international competition programs after Savigny (especially when I was also on the international selection team for Fantoche too).
ZF: Can you tell us how the Annecy Festival trailer commission came about, and some things about its making?
MP: Switzerland is the guest country. Nadasdy was offered to do it, as it is the biggest animation studio in Switzerland nowadays, and they thought about me. I proposed to do it together with Frederic Siegel (Team Tumult), from the Swiss-German part), as then it would make sense to have at least two of the Swiss linguistic regions. As we are also partners in real life, it was hard not to go on working on it during nights and weekends, but we actually had the idea pretty fast and found a way to match our style. It's a real premiere to work together and I think the couple survived!
ZF: In your films, the community is a big issue. Do you think that the Swiss and independent animation community is strong? And what do you wish for the independent animation community in general?
MP: The Swiss animation community is like a big family. Everyone knows everyone, jobs, and news fly really fast through the country, encouraging and full of good vibes. We are always happy to meet again, through apéro and screenings (mostly apéro). I wish Geneva wasn't so much at the very end of the country, to have more opportunities to collaborate with other studios and directors! And I also wish other directors full success, and see you in Annecy (at the swiss apéro)!
ZF: What comes next in your projects?
MP: I am finishing a 26' special TV called 'Pebble Hill', and will follow with the feature film project of Marcel Barelli, on which I will work as an artistic director. Then I have a project waiting already, which is the adaptation of the beautiful graphic novel of Eric Feres 'Sabre', which I really can't wait to start! And... between all this, if you plan to go to Annecy, you can jump the weekend before at the Savigny Animation Film Festival, the 11-12th of June 2022! I should have finished the selection by then!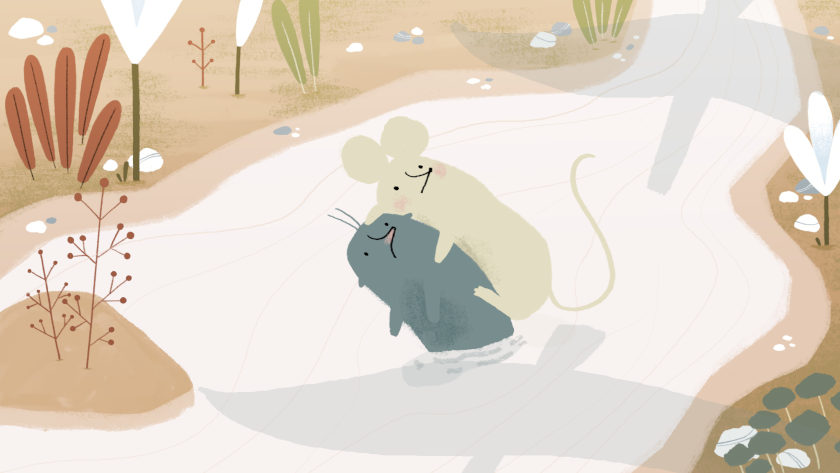 Swiss Animation Portraits 2022 series is conducted in partnership with Swiss Films.
Contributed by: Vassilis Kroustallis
SIGN UP: Want to read more free articles like this? Sign up for Our Newsletter