'I Walk My Own Paths': Interview with Mariusz Wilczyński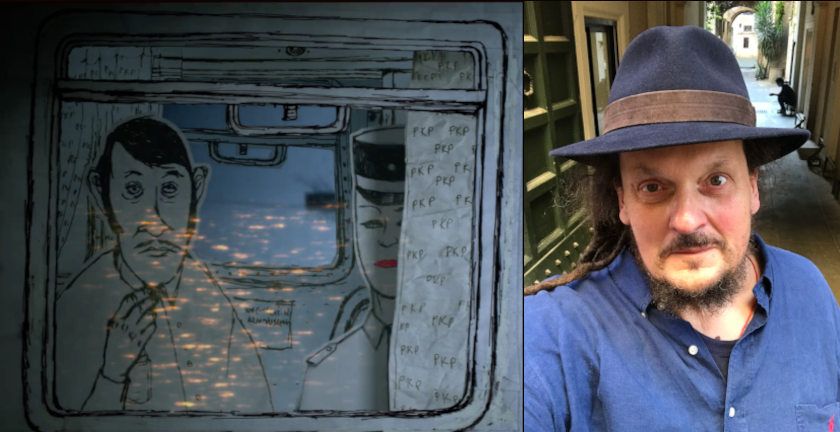 Surprisingly or not, 'Kill It and Leave This Town', of (still) a rather rare breed of truly auteur animated features – idiosyncratic to the extreme and almost enchantingly involving, with a strongly surrealistic feel and stylistic touch, and full of tangibly recognizable details of every day, a diary of dreams and a document of historical existence, all in one – became through the last couple of years a festival sensation of the first order. And its creator Mariusz Wilczyński, already known and respected nationally and in a narrower circle, but just so, almost overnight entered an international scene as a figure of keen attention, most talked about and with. All the while, he probably remains a fascinatingly enigmatic, or vice versa, personality – akin, no wonder, to his daringly personal major work to the day.
Right now, he sits on Etiuda&Anima jury. On this occasion, we tried to involve him, through correspondence by necessity, in a dialog of a broader scope, and he appears to be quite responsive and generously open in his answers. 
ZF: In the face of quite extensive and various discourse that had been already generated lately, through interviews, talks, and presentations, along with the phenomenal run and success of your feature 'Kill It and Leave This Town', to leave alone also rather substantial, if narrower, discourse before that, with regard on your earlier shorts, music video, performances, etc., we'll try to avoid most obvious repetitions and maybe to give you yet another window to reflect upon certain issues anew.
MW: If we succeed in that, I'd be very happy because since the premiere of my film at the Berlinale in February 2020, I have had nearly a hundred interviews and meetings, and it is becoming more and more difficult for me that I start talking about important, complicated and very intimate matters automatically, quoting myself, tracing what I've already said before... I don't feel good about it. While making my film, all the expressions of emotion felt pristine.
ZF: What's your take on the (sub)genre and today's status of auteur, 'personal' animated features, generally or in particular, – and perhaps on the issues of related spectatorship and perception?
MW: When in 2020, after winning an award in Annecy, 'Kill It and Leave This Town' won also in Ottawa, Chris Robinson [OIAF director] became interested in me and watched my short animations, which were almost unknown to anyone, and then in 2021 organized my retrospective and invited me to the jury. 'Kill it...' was already known in the world and that's probably why a lot of people were surprised that they didn't know that I had made a lot of short animated films before which I never sent to any festivals, but which were shown, besides other places, at New York's MoMA and National Gallery in London. As a self-taught and niche artist, I never had any expectations of my work's reception, and I did not think about a career. I was free from it all.
I was drawing because it's a fantastic adventure and a privilege to be able to materialize your imagination, and I think other artists who create their own films also have a similar situation. At least I think so, but I don't know, I'm a recluse, I walk my own paths and I live in the forest. But it's obvious that when you're an independent artist you cannot think of your creations in terms of producing a commodity.
ZF: With broad international exposure recently of your own feature of this kind, what have you discovered in global reaction(s), what in particular was surprising or just telling otherwise?
MW: Viewers from Eastern Europe were saying: "how well you captured this beautiful world of our youth which no longer exists…" Viewers from Japan, California, and the affluent Western world were saying, "you captured the hell of communism very well…". Across Europe, South and North America, Asia, and Australia, viewers were great at reading Bulgakov themes and symbols in the film - everywhere except, to a large extent, the United States. Antonia Lloyd-Jones, an outstanding English translator, predicted that it would happen. Antonia comes from London and has a family of professors. When I told her that my movie, translated by her, would be shown in the USA, she laughed and said – but they will not understand!
ZF: You talked repeatedly about the layered nature of your film, in its structure and meaning/connotations. Shall we assume that there must be also layers of comprehension; in general, and specifically, in terms of geography and culture(s), and also, in terms of generation/memory – could you give some hints on all that and on what you consider and expect to remain universal?
MW: It is obvious that my film was best understood in Poland, all the actors and artists who dubbed the drawn characters in my film are extremely important characters for Polish culture, often even milestones of Polish culture. I managed to gather nearly 20 such outstanding personalities. It was clear to me that this aspect would only be readable in Poland, and I was right. Only Andrzej Wajda and maybe Krystyna Janda were recognized in the world, and in Russia additionally Daniel Olbrychski. It is also clear that despite the excellent English translation by Lloyd-Jones, many linguistic subtleties abroad were simply unreadable. The same applies to all symbolic references in the sets, characters and their voices, dialogues, references to the Polish Film School, Wajda, Kawalerowicz, Has, to the history of Poland and Polish myths. But the main message of my film, reading reviews and talking to viewers, seems to have been read and understood, although I have also seen absurd descriptions that my film is a horror film, which in my opinion is some kind of pyramidal nonsense. My film has collected nearly 70 reviews worldwide, 90% of them were good or very good.
Most beautifully described it was in Italy, with real vivid poems, you can feel immediately that this is Dante's country. I am glad that many reviews praised the music of Tadeusz Nalepa, my great mentor at the beginning, and then a friend for nearly 30 years, who in his best period used to create when there was an iron curtain separating Poland from Western Europe and he had no chance to exist there. But the greatest reward for me was and is the audience's reactions expressed in meetings after the film screenings and in e-mails. People tell me and write that this film changed their attitude towards old parents and regarding very young people towards their grandparents. Not long ago a lady from Berlin wrote to me that after watching 'Kill It...' she went to her father, whom she had not seen for 10 years, and took him from the hospice to her home, where for the last 3 months of his life they were very close. I received a lot of such letters, and this is the greatest reward, and it gives me a deep inspiration for drawing my next film.
ZF: Don't you feel somewhat jealous that the wide acclaim, late in life, of your feature in a way, overshadowed your previous work, in film and beyond – or maybe, on the contrary, this sheds new light on your career as a whole?
MW: No! I feel like a fulfilled artist and it's great! I drew 'Kill It...' solely out of a personal imperative, I experienced a wonderful and very interesting artistic adventure during the long period of making the film, I communed and talked with the ghosts of people closest to me who are no longer there, I absolutely did not count on anything in terms of the reception of my film. Its success was a bit of a problem for me because it practically imprisoned me for 2 years - I couldn't do anything new and I was stuck since I had to keep talking about the film, 2-3 zooms a day around the world... But on the other hand, such appreciation is great, and thanks to it I'm now full of new energy. I'm 60 years old and I feel that I'm only at the beginning of my path, and to be honest, for half a year I have only been thinking about my new film, finishing the script, and it's the only thing that consumes me, and I'm trembling with emotion because it's going to be an emotional firecracker. Emotional nuclear bomb.
ZF: Must confess: of your early shorts, I was especially touched by 'In the Stillness of the Night' – was it directly conceived as your variation on the Christmas carol theme (albeit with Andersen's tale on the background)?
MW: I drew it just after my mother's death, I was crying while drawing it, if you look closely you will see traces of my tears on the stop-frames in individual drawings. I drew it during the Christmas period... it was the first Christmas without my mother... It's a special time in Poland, regardless of whether you believe in God or not. I felt like an orphan. This is a film for my mom.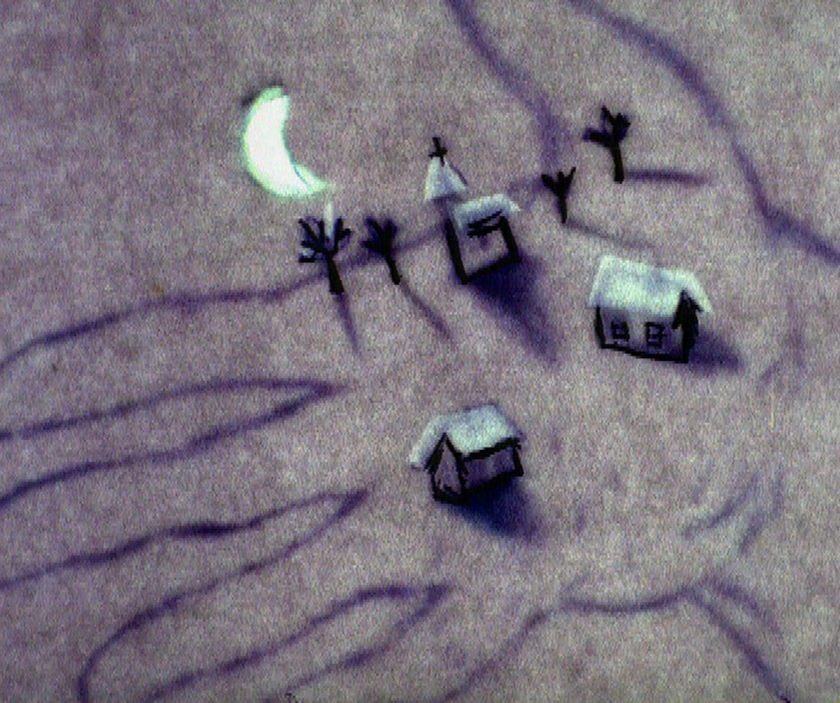 ZF: In your film, as you've already mentioned yourself, there are certain motifs, and even characters, related to Bulgakov's 'Master and Margarita'; you thought of making a separate film on it, even prior to or simultaneously with the work on 'Kill It…'. Are you still entertaining this idea? – especially given today's dubious reputation/status of the 'great Russian literature/culture'.
MW: I would have no problem with the fact that 'Master and Margarita' is Russian literature because Bulgakov himself was an anti-system writer and to a great extent a victim of the Stalinist system, and even Stalin himself. The bandit Putin and his hordes of Russian scum won't change that, for example, Dostoyevsky was a brilliant writer. But the fact is that for now, I gave up the idea of drawing my adaptation of 'Master and Margarita' even though I had been planning it for several years. Simply, the success of 'Kill It...' encouraged me to make another personal film, mine and mine alone, without the support of great literature. Already at the Berlinale premiere in 2020, just before Covid, where my film had 6 screenings in full halls for 1000 people, viewers came up and said that they wanted to see my next personal film, not an adaptation of 'Master and Margarita'... I don't listen to anyone when it comes to artistic matters, but I must admit that the success of "Kill It..." encouraged me to make another personal film.
ZF: How do you feel about the cultural situation and creative atmosphere broadly nowadays – would you share the mood associated with the classic Adorno's maxima, that the poetry/art is hardly possible/needed 'after Auschwitz', at least unless we deal directly with the tragedy of the historical moment?
MW: I do not agree with that! In the passing year 2022, I had an exhibition at the Zachęta National Gallery of Art in Warsaw, devoted to 'Kill it...'. It lasted from March 3 to June 26, i.e. at the time of Russia's invasion of Ukraine. The exhibition was seen by nearly 60,000 spectators, including many thousands of Ukrainians who found shelter in Poland. Special guided tours with Ukrainian-speaking guides were organized for them. For me, this is the best proof that people always need art, if only for comfort... without it, we would just become vipers.
ZF: You used to persistently call yourself an amateur, self-taught, and maybe an 'occasional' or 'accidental' animator-filmmaker. Now, when you became a widely recognized director, an established figure on the scene, would you still feel the same way?
MW: I have never said that I am occasional, 'Sunday' animator-filmmaker because I have never done anything half-heartedly; but I have always emphasized, emphasize, and will emphasize that I am self-taught and amateur - thanks to that I am who I am and have achieved what I have achieved. I have absolute artistic independence and I do everything only on my terms. I've never had any pressure to succeed... maybe that's why it came to me? However, the truth is that when I started working on a new film a few months ago, I confided in Paweł Pawlikowski that after the success of 'Kill it...', I feel a kind of pressure that after winning all the most important films awards in Poland and at the most important animation festivals in the world, I'm no longer anonymous and I'm a bit afraid of this... Paweł, who is an experienced director and Oscar winner, asked: for how long will you work on your new film? I replied that I planned for about 7 years, to which Paweł just smiled and said: don't be afraid, by then they will forget about you, they will forget... Hahaha, so I can still confidently say about myself that I am an amateur and self-taught.
ZF: An 'amateur' or just an industry 'outsider', you've been nevertheless teaching for years, and in one of the most reputable animation schools. Besides, some of your students, and/or younger colleagues were working on your feature. What are the pluses and minuses, and maybe specific approaches, in your position as a teacher and mentor, within the school or production environments?
MW: I like working with young artists, I also like teaching, especially the involved students; I approach each of them individually, taking into account their different ambitions and characters. I'm not sure if I'm their mentor, I don't think about it. I don't know if this generation has any mentors at all. You are right that most of the animators from the 'Kill it...' 10-person team were my pupils, they are simply great, and during several years of studies we get to know each other, so I also choose people in terms of their individual characters and predispositions - and this is very important to me. Now, assembling in my head a new team for the film I am currently working on I also think that in large part they will be my best students.
ZF: How can you characterize the specificity of Lodz school? And how does it stand in comparison with others?
MW: I believe that the Lodz Film School, and especially our Animation Department, is one of the best places in the world that is constantly and dynamically developing. When a few years ago I was invited to the famous Gobelins - School L'image in Paris, but also to several other well-known animation schools in Germany and Sweden, I saw that the level of vocational training of students in terms of learning techniques and technologies is fantastic there, and it's no wonder that graduates of these universities can find a job, for example in Pixar, but artistically, for me, it felt a bit barren. The School in Łódź, on the other hand, tries to combine both functions - it has experienced teachers, artists for whom pure art is the most important - e.g. Piotr Dumała and me, but it also has a great team, mostly young teachers who, apart from being often artists, dynamically and competently build the part of our Animation Department that trains in terms of professional skills, i.e. teaches old and new techniques, technologies, etc. Just a few years ago this distance was huge, but now it has become much shorter, I think that in a few years it will even out.
ZF: You must have had your personal history with the Etiuda&Anima festival through the years. What do you think about its unique nature as debuts and animation forum in one and its position/place on the wider festival scene?
MW: This festival has an atmosphere of youth immersed in beautiful old Krakow. I very rarely leave my forest and go to some festivals, but I will be at Etiuda&Anima for the second time, and if it wasn't for covid, it would be the third time because in 2020 'Kill It and Leave This Town' was the opening film! I was a juror here for the first time in 2013 and we made friends with the outstanding animation artist Dennis Tupicoff from Australia. We are two giants - I am 202 cm tall and Dennis is much taller. Cracovians looked at us with great respect :)
ZF: You admit openly that you're not very enthusiastic about watching much other's works in animation, or of being quite selective in this – probably, in nurturing your own unique vision, protecting it from unnecessary influences. But when you have to immerse in films, as on 'jury duty', do you have a specific approach to viewing and perhaps certain principles of your own in evaluating and judging?
MW: It's true, I don't watch animations if I don't have to. I have the rules of judging as with all other fields of art - a work must move me, for me the requirement of perfection of performance or even virtuosity is not important, the most important thing is whether the work will move me, teach me something, open some new doors, and in the case of the most outstanding works of art - will it cause any change in me, or in any way change me for the better.
(The interview answers were translated from Polish)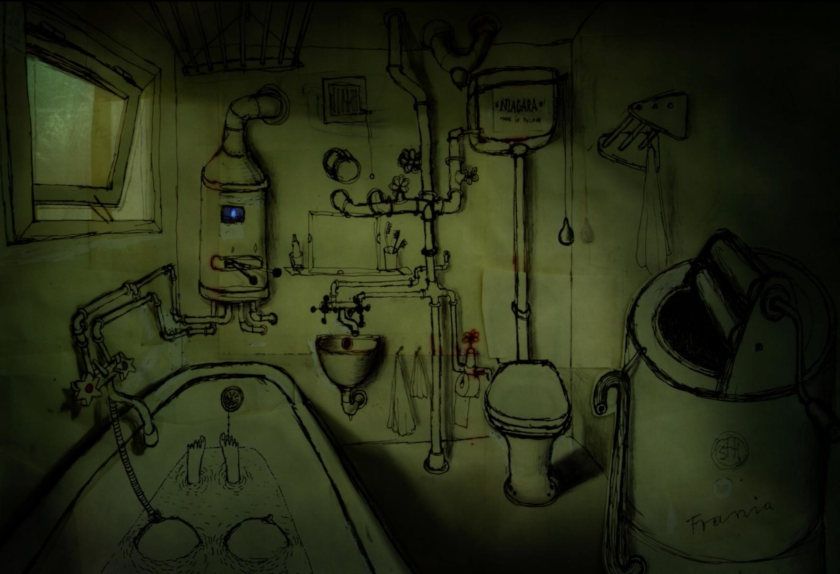 The 29th Etiuda & Anima Festival takes place in Krakow, from 29 November to 4 December 2022.
Contributed by: Mikhail Gurevich
SIGN UP: Want to read more free articles like this? Sign up for Our Newsletter
Read More About: