Our Lost Civilization: Marta Pajek On 'Impossible Figures and Other Stories I'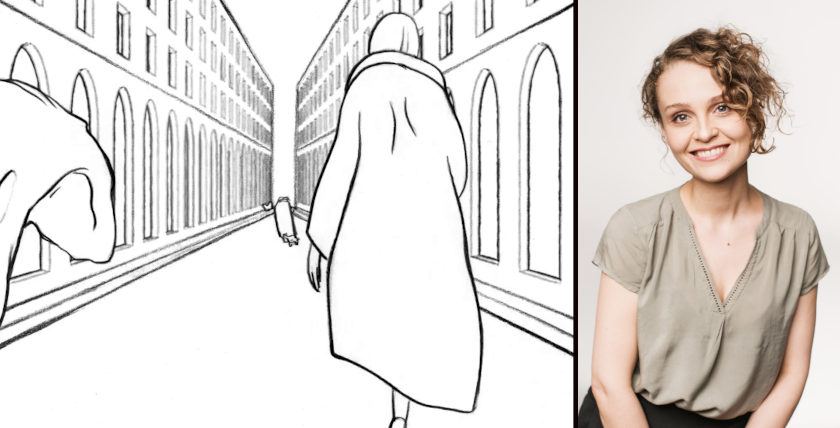 Polish animation director Marta Pajek has carefully (and sensitively) created her own line of work. Studying at the Krakow Academy of Fine Arts (under Jerzy Kucia) and briefly at the Turku Arts Academy in Finland (under Priit Pärn), she made her professional debut with Sleepincord (2011), and revealed both an eye for pertinent line movements and a care for subjects and topics that would later be labeled as 'gendered'; but to her it all came naturally.

The triptych Impossible Figures and Other Stories is based, according to the artist herself, on the notion of an impossible figure, "a figure that can be drawn according to all the rules of perspective but cannot be constructed in the real world". Pajek wrote the first treatment of each part together, then she elaborated, and chose to release them in semi-reverse order. 'Impossible Figures and Other Stories II ("the space within a house") came out in 2016; 'Impossible Figures and Other Stories III ("the space between two people") followed in 2018 with a Cannes Festival premiere. (Needless to say, many other festival awards followed).
The first part, 'Impossible Figures and Other Stories I'("the space within a city") has its world premiere at the 2021 Ottawa International Animation Festival. It is produced by Animoon (Piotr Szczepanowicz, Grzegorz Wacławek) and National Film Board of Canada (Maral Mohammadian). "I'm happy with the order, in which I made the films" Marta Pajek tells Zippy Frames. "At the beginning, I decided that this part [I] would best be done last. I felt that I needed more experience and time to do this film. I figured the older I am, the more I'll know, and this will eventually benefit the film".
Watch  Impossible Figures and Other Stories I
In 'Impossible Figures and Other Stories I', a massive explosion is followed by a scary aftermath and people running, only for the audience to be left with a (still elegant) elderly woman serving as our guide to deserted city streets. Even though the general structure of the film had already been written beforehand, some things did become more weighty with time, such as the haunting song and anti-war 1955 anthem 'Where Have All the Flowers Gone' by Pete Seeger.
"I can't imagine the film without the song now, but I guess I needed time to find a way to conclude the story". The film, which purposefully did not have the dramatic action of the other two parts, was supposed to be shorter (around 10-12 mins). " It is rather built from images, impressions and scraps of information, unlike the previous films; in the triptych, where one thing led to another; it turned out that the slowness and stillness also need time".
The 16-minute film has the air of a documentary, and of an archival material suddenly resurfaced and animated for us to view. "The previous two films were built around subjects that were more personal and intimate, so I could rely on my own observations. But in this case, I had to look for a wider context". Marta Pajek took in turn her inspiration from sculpture, art and architecture, and spent time (before the pandemic) in Warsaw, Moscow, and Vienna. "I received a three-month residency as an award from the Tricky Women festival in Vienna for my film 'III', and it was wonderful. Vienna is unique, because there's this tension between what is underneath, what is hidden, and what is outside and visible. So, you have all the beautiful art, architecture, history, culture, and then a lot of darkness and tension and history, which has never really been digested. It's still hidden a bit".
Pajek traveled also to Moscow ("the feeling of monumental scale wherever you go") and lived in Warsaw. But other references, especially the classical Greek notion of the body as something exalted—and its abuse by regimes such as Nazism (used for propaganda in the famous 1938 Leni Riefanstahl film Olympia)—were also taken into account. " This kind of beautiful, fit, muscular body, which can't be viewed uncritically anymore, together along with social realist sculpture, is what inspired me," Pajek explains.

And yet with all the monuments and buildings and young athletic bodies, it is the elderly lady who actually survives to guide us through the story, with long nails and makeup, similar to the one the other female main characters have in both her II and III films. "I did want her to relate to the other characters," Pajek notes. "Although I don't see her as the same character as that was in the previous films. They are separate stories— we can of course, use our imagination to combine them".
The elderly lady now signifies that all young people have gone, and is the barrier of information -and questions about the world and herself ("Who is she? Is she guilty or a victim?"). A more appropriate characterization for her might be one of a witch—not specifying if it's a good or bad witch. "I like that idea, because a witch is simply a powerful character and one which to me is beyond judgement".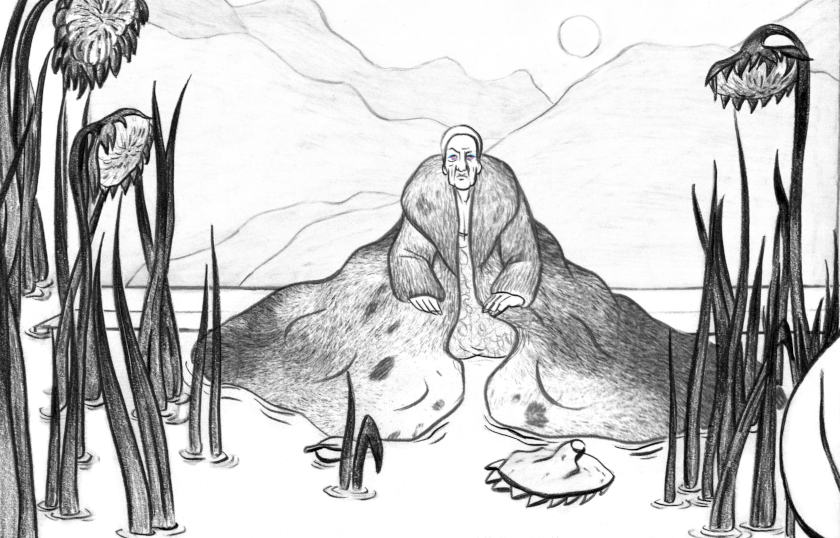 Water is an element that Pajek has used in her other films of the triptych, and here it is employed as well. In II, the main character is actually submerged into the room; both in II and III nature and plants take over the female character; yet here water has a different significance. "I wanted the water to bring in the idea of Atlantis— -the lost civilization. It also carries with it more current subjects and fears. Only the old people are left waiting hopelessly, without purpose or energy".
3D was also used in the film (as in the other parts of the trilogy) and it helped facilitate the various camera movements. In Impossible Figures and Other Stories I, 3D is used for the camera to move through the corridors of the abandoned city. "We worked on this at the NFB, with Eloi Champagne and Brandon Blommaert. It was tricky trying to avoid deforming the images, while matching and to fit the hand-drawn style. We also used a kind of 2.5 D in the first scene, of the explosion; I worked with Alex Boya on this— – I designed elements and moved them in space and he brought them to life".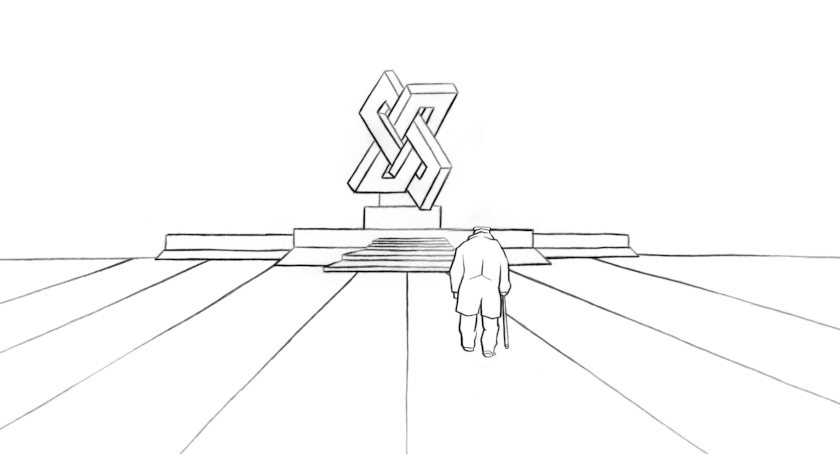 Both in this film and the previous films of the trilogy, Pajek collaborates with other animation colleagues. "Depending on the scene, I draw layouts, sometimes keyframes". At the beginning of the production, Pajek herself traveled to Canada for two months to guide the process, including part of the animation itself ("it was a small team working in a space of the old NFB building —- an unforgettable experience"). Her time schedule for 'Impossible Figures and Other Stories I' was also affected by the arrival of her newborn daughter towards the end of the production.

Still, the NFB collaboration eased the process (the team were already in talks after her part II first came out in 2016; Maral Mohammadian took on the role of producer);  The pandemic did not affect the production process that much ("I was working at that stage at home and online"). The recording of the song by celebrated Polish theatre and film actress Anna Polony (Diary For My Children, 1984; Dekalog 1988) proved to be a different issue. "We were supposed to record the song in March and were scheduled to go to Krakow for that; and then they closed the theatres, and we didn't know where it was all heading". Sound designer Michał Jankowski used the software developed for dubbing films to do the remote recording, "so we were all in different cities, connecting online, with the actress in a studio in Krakow. The pandemic was global, so solutions were found relatively quickly".
"It was a lot of stress," Pajek admits, "because we couldn't see each other, but we could only hear. It was challenging, but it worked out". "Where have all the flowers gone" has been famously recorded and performed by Marlene Dietrich, who has her own history with time and war. "To me it was important that Marlene had sung that song," Pajek confirms. "Her story added weight to the song. That's why I chose the German version; I also think that it sounds best in that language".
'Impossible Figures and Other Stories I' has its world premiere at the (online) OIAF 2021. And there are plans for the whole trilogy as well. "There is an idea of presenting all the films as an installation. I hope it will happen at some point". Regarding the curation of the now complete trilogy, Marta Pajek leaves it to the festival programmers to get the order of the films. "I would like festival curators to treat them as building blocks and - to choose on which note the triptych should end".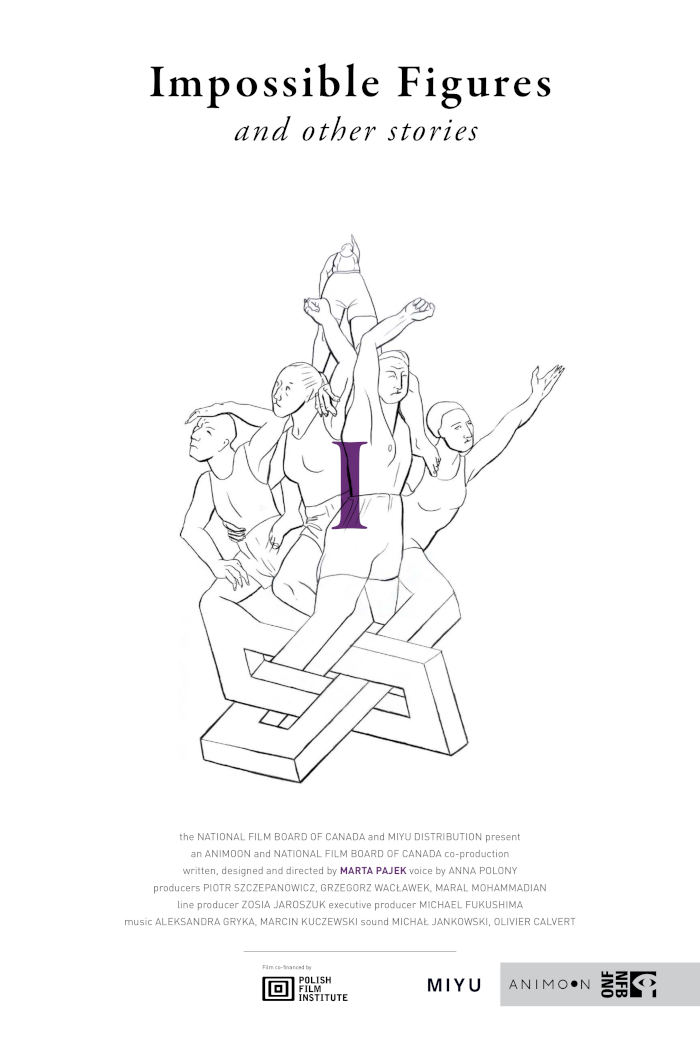 Impossible Figures and Other Stories I involves a catastrophe and ruins, but Pajek won't see it as a pessimistic (or even just realistic) film. "To me, it's more like a kind of lament, which can connect us to our fears and sorrows. I think it's just to get in touch with the emotions we feel when thinking about the future, the past or both."
SIGN UP: Want to read more free articles like this? Sign up for Our Newsletter
Read More About: