My Stuffed Granny: Interview with director Effie Pappa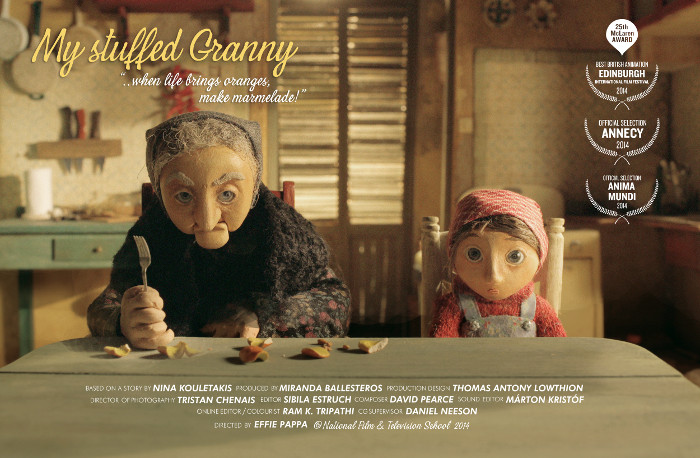 The winner of the 25th McLaren award for Best British Animation at this year's EIFF was a short inspired by the Greek crisis. My Stuffed Granny by National Film and Television School graduate Effie Pappa is a puppet short.
Sofia loves her grumpy granny, even though she is always hungry and eats what little food they can buy. Her pension is the only thing keeping her and her father alive. To what extremes will they go to once granny is no more?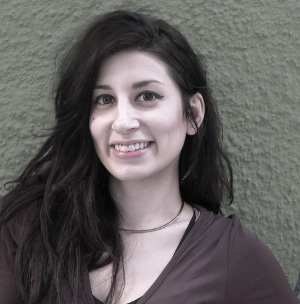 The film by the Greek-born director Effie Pappa competed in the offiicial section of the 2014 Annecy Festival, and has won an array of international awards ever since.

E. Pappa has had a background in Ancient Theatre and Drama,  and graduated from Faculty of Applied Arts & Design (TEI of Athens) with her 1,2 million children (watch it here) .

The film earned international recognition, awards and nominations in festivals such as LAGFF, Hong Kong MFA, Balkanima and more. In 2012, Pappa gets awarded a scholarship from Alexander Onassis Foundation to attend the NFTS MA course Directing Animation. She's  currently in production of a  2D animation, 17-minute short on a story of self-discovery in Corfu, Greece, The Sea-Tranced Isle.
Read Effie Pappa's interview and watch the film below:
 ZF: How did you come about the story of Nina Kouletakis, and why did you decide to adopt it?
EP: I came across Nina's story, back in 2011 when it was first published. My mother had spotted it on blogspot and immediately called me and read it to me, almost crying from laughter. I loved the tragicomical and absurd tone that it had, which for me, is something like the Greek system in itself. I wanted to tackle the specific issues that are depicted in the film; hunger, greed and a human's psychological limits under extreme conditions.
After that, it is the narrator's job (the little naive girl), which makes you have such opposed feelings; laughter and desperation, bitterness but also positivism. Somehow I think that this creates a personal and engaging dialogue with the audience, whilst the comedy allows the recipient to be more open and receive it in a more understandable way.
Although Nina's story had hilarious elements in it that we borrowed, it needed to be translated in a way which was suitable for a film. This is when I sat with my producer (and the entire team occasionally) and deconstructed, erased and rewrote it. Wewent back and forth many times until we found the ending and connection points the story needed.
ZF: Why did you choose to make the film in stop-motion and puppets? Do you think it would become more realistic?
EP: Absolutely. I strongly felt that this is what the story needed and it is how I pictured it in my mind from the very beginning. It is also a challenging technique that I enjoy and wanted to get involved with, purely for my love for it. The nature of stop-motion allows a lot more teamwork, which I strongly believe in and enjoy.
It's the opportunity to work with other departments such as cinematography, production design and art department, engineers etc that is so attractive about the NFTS. It was the best environment to grab this opportunity, as I got to work with many talented people, which was key in the realization of "My Stuffed Granny".
ZF: Film narrative takes place at present time, but set design and costumes go back to a war-shattered country of the 50s. Was that deliberate?
EP: It was indeed deliberate as the conditions that Greeks live in today, do remind me a lot of the living conditions I pictured in my Grandma's stories. Unemployment, hunger, desperation, threats, prosecutions. Gladly, there are not actual guns but the psychological and socio-political effects are still there. We wanted to stick to this visual style until the end of the film, ("the post-war era") and transform the grey environment to a bright and positive image.
ZF: There is a bittersweet picture of Greece coming out of this short. Out of the economic crisis, only family becomes the safety valve for prosperity -but even this is ruthlessly exploited. Do you get the same impression?
Well, definitely Greek families do have strong bonds. I wouldn't say that it becomes the only safety valve for prosperity but, I do believe that there's a strong feeling of protection and under extreme conditions this can lead to the most extreme actions. Sophia is trying to help the whole family, Father is the one who's struggling the most as he is responsible for his child and he falls under the most adverse conditions and takes knee-jerk decisions, in order to provide for Sophia.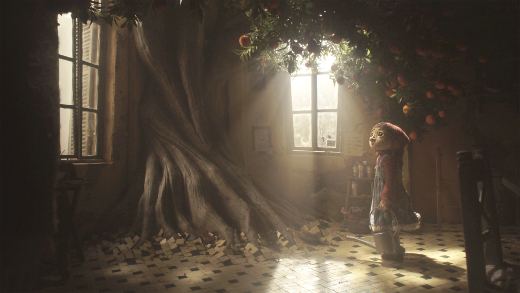 Meanwhile Granny, in a very metaphorical way, is the one who saves the day, even after death. So, no, ruthless exploitation is far from the impression that I wanted to get out of this short.
ZF: The absence of a mother is very visible in this short, and little Sofia somehow tries to compensate for that by helping her father. Was it something that you wanted to be that way, and why did you yourself take the role (and voice) of Sofia?
EP: The characters of the film symbolize each transitional period. Grandmother stands for the past, father for the present and little Sophia is the positive future. In order to empathize more with the father's misfortunes, we had to position him struggling alone for his daughter's and his own life. That also allowed us to develop a stronger and more complex relationship between Sophia and her Father, but also between Sophia and her Grandmother, who despite being greedy and nasty, Sophia sees as a magician.
I took the voice of Sophia mostly for practical reasons. We came to the voice-over recording late on in production and it was very difficult to find a Greek child living in England with a Greek accent. My tutors and my team persuaded me to do it. Although it was a fun process, I couldn't have an objective opinion about it and I trusted other people's feedback.
ZF: What was the process of making the film? People that helped you?
EF: It was very intense, as everything was shot in three months (the rushes we have are almost 30 minutes long), at the same time parts of the sets were still being built in the same space. Many people helped bring the vision of the film to life and I still feel that I owe them a lot.
First of all the main team; everyone did their absolute best until the very end. Tristan, the cinematographer, he is such an inventive mind, with the story calling for camera movement he designed and built a motion control camera system from the ground up. Then Tom, the production designer, he undertook so much responsibility in such a small period of time, whilst keeping the standards really high and creating these amazing sets.
Miranda, the producer, who feels like part of my family after so many ups and downs we've been through together. Sibila, the editor, who's input was crucial from the first day of pre production, till the last day of post. Then, we had all these incredibly talented model makers who volunteered to make these tiny props and parts of the sets.
My mum who made the tiny costumes and of course, Joan Zhonga, who I feel honored to have worked with, he came all the way from from Greece for over a month to help me finish with the animation, when the time was really pushing us. I learned so much from him.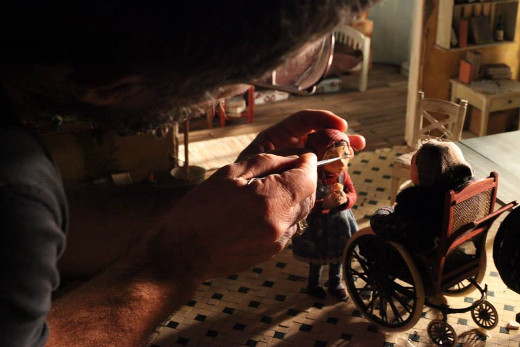 Finally, all the tutors of the school, their feedback was very valuable to all of us.
ZF: It should be wonderful to win the prestigious McLaren award. What was your experience of the whole festival process at Edinburgh?
EP: It is a very big honor. Especially if you think that the past years winners include names such as the Oscar nominated Suzie Templeton, Run Wrake, Neville Astley and so many other big names of the Animation scene. It was very sad for me that I couldn't be there as I'm currently working on an animated educational series for kids. We're a step before wrapping 26 episodes so I was unable to be present (...and I wasn't really expecting to win to be honest!)
ZF: What is the experience of a Greek animator working in the UK and NFTS? Something you'd like to highlight the most.
EP: So far my experience has been fantastic, England is with out a doubt, one of the biggest film making industries and I'm so glad to be a part of it.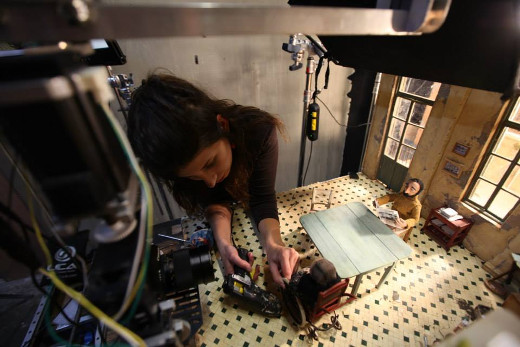 In comparison with Greece, filmmakers here can actually make a living out of their skills and efforts. This a result of the well established cinematic scene England has been investing in over the years.
Now, on the other hand, I couldn't have this great opportunity if I didn't have the financial support from Greece. The Alexander Onassis Foundation supported my studies in NFTS almost in full, by awarding me with a great scholarship, something that institutes in other countries very rarely do. Actions like this make me think very positively about the future of Greece and as in "My Stuffed Granny", I believe that all difficulties will lead sooner or later to fruition.
Effie Pappa graduates in 2014 from the National Film & Television School, UK. She lives and works as a freelancer in London.
CREDITS
Μy Stuffed Granny
Based on a story by Nina Kouletakis
Adapted by Effie Pappa, Miranda Ballesteros, Melissa Iqbal
Voice Over written by, Katerina Giannakou
ANIMATION
Effie Pappa, Director/Animator
John Zhongas, Animator
Irida Zhonga, Assistant Animator
PUPPETS
Freya Elliott, Lead Puppet Sculptor
Effie Pappa, Puppet Maker
Katerina Hatzieleutheriou, Costumes
CAST
Effie Pappa, Sophia/Narrator
Joann Kaplan, Granny
Agis Pirlis, Father
ART DEPARTMENT
Tomas Antony Lowthion, Production Designer, Lead Model Maker
Sara Torkmorad, Art Director, Lead Model Maker, Plasterer
Isabelle Riley, Sculptor, Plasterer
Laurence Moore, Lead Model Maker
Janene Whitehead, Sculptor, Plasterer
Freya Elliott, Sculptor
Claire Butler, Plasterer
Toots Butcher, Model maker
Georgie Carson, Model maker
Pallavi Dave, Model maker
Lottie McDowell, Model maker
Tatiana Mezzei, Model maker
Rachael Ryan, Model maker
Robert Birchall, Additional model maker
Eleanore Cremonese, Additional model maker
Lucy Ruth Hathaway, Additional model maker
Milly Riley, Additional model maker
Triona Rogers, Additional model maker
Steven Nanson, Additional model maker
Emmy Ivanova, Assistant model maker
MUSIC
David Pearce, Composer Conductor
Flute: Alexander Thomas
Clarinet: Helen Oughtibridge
Violin: Joanna Ly
Viola: Charley Lake
Cello: Anna Kempton
SOUND
Marton Kristof, Sound Editor, Re-recording Mixer
Louise Brown, Foley Artist
CINEMATOGRAPHY
Tristan Chenais, Director of Photography, Motion Control Designer
Adrian Peckitt, Additional Photography
VFX
Ram K. Tripathi, VFX Supervisor, Online Editor Colourist
Jonas Almeida, Compositor
Felipe Olid, Composer
Rob Rankin, Composer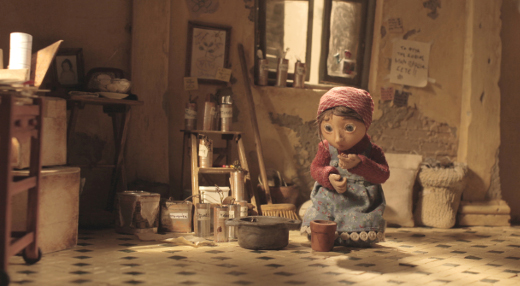 My Stuffed Granny
Read More About: