The Stressful Adventures of Boxhead and Roundhead: Q&A with Elliot Cowan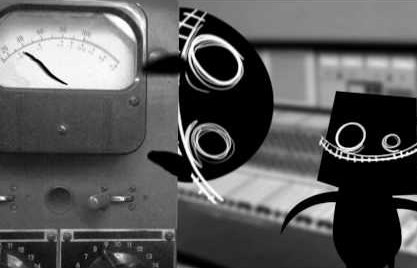 Boxhead and Roundhead are the brainchild of Australian animator and director Elliot Cowan. Two hapless, black and white buddies delve into a world they do not comprehend, being in awe of the various challenges they need to face.
As of late 2009, nine Boxhead and Roundhead short animated films have been completed, having screened in prestigious festivals worldwide and won respective awards. Elliot Cowan is on the process of making a feature film out of the shorts, called The Stressful Adventures of Boxhead and Roundhead.

Elliot Cowan gave an interview to Zippy Frames about the film.

Zippy Frames: What would you consider the main thread and the story of the feature film you prepare?
Elliot Cowan: The film is about two guys, Boxhead and Roundhead, who have to leave a life in the wilderness and start a new one in the city.
Almost everything in the film is informed by events in my own life, I just simplified them and translated them into the world of Boxhead and Roundhead.
Like the characters in the film I used to live in a far off distant place (Tasmania) and then I moved to the big city (London/New York). I've started my whole life anew on several occasions. Almost entirely by coincidence a main story line mirrors the experience I had of moving to New York to live with my future wife.
When I arrived here the bottom dropped out of the job market and I was left scrambling for work, but ultimately had a lot of time to work on my own stuff. This put my wife, herself a incredibly talented artist, in the difficult position of being the sole earner in the family. Difficult times that found their way into the film.
ZF:. What is the motivation behind this feature? Tell us about the specific problems and issues you have to address (apart from financial) when you create a feature out of already established characters.
E.C.:  Why did I want to make it? An opportunity arose and I thought I'd jump and take it. It's very hard to imagine myself working at any of the colossal animation studios (although I'd be happy to take a stab at it) and the chance to work on my own film with my own rules was hard to pass up.
With characters like Boxhead and Roundhead - a grumpy one and a simple one - it's very easy to let them fall into Ren and Stimpy roles and that is something I've worked very hard to avoid. It's been an effort to make sure the characters have shades of grey rather than simply "angry" and "stupid".
The biggest problems are:
*Keeping everything in order. I don't have the budget for an assistant so I have to keep my eye on EVERYTHING.
*The budget isn't very big, so it's not a project that I can do full time.
I have to stop production from time to time so I can complete freelance gigs, teach classes etc.
ZF:  Do you already have a financing body on board?
E.C.: We have been financed by the Romanian National Centre of Cinema. The budget is miniscule but we're paying for everything we need at the moment.
 ZF:: Tell us a little more about your background in animation.
 E.C.: I studied at the Victorian College of the Arts in Melbourne Australia. Shortly after graduating I moved to Tasmania where I animated television commercials and did lots of live action. I left Australia in 2006 and worked with Uli Meyer in London. In London I started making the Boxhead and Roundhead shorts. In 2008 I moved to New York where I've been doing the usual collection of freelance animation gigs everyone does.
Z.F.: What animating techniques you'll use in the film?
E.C.: Boxhead and Roundhead are animated in After Effects using a very labour-intensive system of animating masks. It's an odd mix of stop motion and CG with traditional theory behind it. The other characters in the film are mostly coming out of Flash and Toonboom. The whole thing is digital based, Photoshop, After Effects etc etc.
ZF: How many people are involved in animation/production, and what is your project timeline, from storyboard to editing? Have you considered a tentative release date so far?

E.C.: There's myself for a starter. I wrote the script. I'm animating all the Boxhead & Roundhead scenes. With the exception of some of them I've done all the background and art direction also. The background work I didn't do was done by the blisteringly talented Neil C. Ross who I met while I was working in London.

Lyla Ribot has animated the entirety of a character called Mr Urso in Flash. Amanda Bautista has animated a character called Lars. Michael R. Ruocco and Shannon Connor animated scenes with Mrs Worthington. Anamaria Solis did a big pile of incidental characters.
And I have a small handful of my most talented students helping with out with some boring fiddly stuff - Boxhead and Roundhead face animation mostly: Julie Verlarde, Kara Sankus, Annelise Williams, Melissa Chilkotowsky, Christine Wu and Taisiya Zarestskaya. If there's anyone I left out I apologize - I owe you a carton of beer...
I've been working on the film part time for about a year and a bit. I'm on track to be finished by September. My brain is too full to consider complicated things like release dates although it's something people keep asking me about!
Z.F.: Let us know 2 or 3 independent animators/directors you admire, and why.
E.C.: I know a massive army of deeply talented people so it's hard to isolate an individual person. I'll just prattle on a bit and see what comes out. I spent a lot of time with my friend Uli Meyer in London. Uli draws and animates like a demon. He has a very devoted and traditional approach to drawn animation and you can see it bubbling in every frame. It's the kind of magic that someone like me can only dream of being able to do.
I mentioned the names of several of my students earlier - these guys are ready to jump out and sink their teeth into whatever work comes their way. They're all better animators than myself (thank goodness) and their classwork really makes me look really, really good.
Recently I've been lucky enough to spend some time with Eric Goldberg. He's a champion of the art form, and even though I'll never, ever understand how he animates the way he does his enthusiasm for the drawn medium is totally infectious and inspirational.
If I had to pick someone in particular though I'd say Tomm Moore: Tomm made The Secret of Kells at his studio in Ireland. He's a friend so I'll admit to being biased but I am a huge fan of his work. Apart from making beautiful films, he's lucky enough to be making the films he WANTS to make. He's creating small, personal films about the things he's interested in. I'm envious really. We're making our films at the same time and as I work mostly in isolation it's been useful to have someone to correspond with as I crawl along the road.

His new film Song of The Sea is going to be something special, I'm certain of it.
The whole series of Boxhead & Roundhead films can be watched via Elliot Cowan's Vimeo Channel.  
Visit The Facebook page for The Stressful Adventures of Boxhead and Roundhead.
Read More About: