Academic
Keynote Speakers of the 3rd Ecstatic Truth Symposium Announced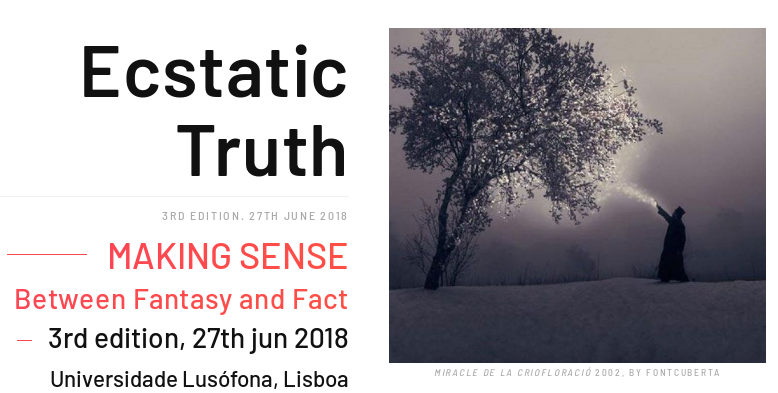 For this year's edition, Ecstatic Truth Symposium (27 June, Lisbon) welcomes three contemporary artists/filmmakers whose expertise in their different areas of work (photography, documentary and animation) will provide an exciting frame of debate.
Joan Fontcuberta questions the authority of photography, works with imaginary archives, making us question the real and our ways of seeing it; Susana Sousa Dias has filmed the photographs of the Portuguese state police during the time of the dictatorship to reveal hidden layers of narrative and historical (personal and collective) meaning; José Miguel Ribeiro latest work has developed his documentary approach, using animation to reflect on personal experiences and address a wider, undiscussed Portuguese subject: the Portuguese colonial war and the scars it left in the families involved.
Ecstatic Truth is a one-day symposium that will explore provocative approaches to the factual - from the poetic, personal and autobiographical through to "objective" documentary - through animated filmmaking. Animation is considered in an expanded form, as a spectrum of activities from traditional character animation to experimental manipulated moving image; from the screen-based - short film - to the spatialised - VR and installation.
According to Werner Herzog mere facts constitute an accountant's reality, but it is the ecstatic truth (a poetic reality) that can capture more faithfully the nuances and depths of human experiences. Given that animation (or manipulated moving image) has the freedom to represent, stylize, or reimagine the world, it lends itself well to this aspirational form of a documentary.
MAKING SENSE: Between Fantasy and Fact
The aim is to explore questions of "truth" in an age where hierarchy of authority is challenged by social media's ability to give everyone an equal voice. How can an expanded form of documentary, which pushes the fluid boundaries between fact and fiction, subjective and objective, poetic and informative, help us understand the world we live in? And in this tangle of impressions, where lies the deeper, poetic, or "ecstatic" truth, and how can this truth help us navigate the ever more complex landscape of information overload?

Susana de Sousa Dias holds a PhD in Fine Arts/Video and an MPhil in Aesthetics and Art Philosophy. She studied Fine Arts-Painting, Cinema (National School of Theatre and Cinema) and Music (National Conservatory) in Portugal. She exhibited her works worlwide at film festivals, art exhibitions and venues such as Documenta 14 (2017), PhotoEspaña, Viennale, Sarajevo IFF, Visions du Réel, Pacific Film Archive, Harvard Film Archive, Arsenal Institut für Film- und Videokunst, Tabakalera, Museum of Contemporary Art of Ceará, etc.). She was guest artist at the Robert Flaherty Film Seminar, New York.
She founded Kintop and was co-Director of the International Film Festival Doclisboa in 2012 and 2013 opening up new sections as Cinema of Urgency, Green Years and Passages (Documentary & Contemporary Art). She lectures at the Fine Arts Faculty of the University of Lisbon. Among her cinematic works are Natureza Morta (Atalanta Award Doclisboa 2006, Merit Prize Taiwain DFF), 48, Grand Prix Cinema du Réel 2010, FIPRESCI Award DokLeipzig 2010, Opus Bonum Award, among many others, Natureza Morta|Stilleben (3 channels installations, première at the National Museum of Contemporary Art of Lisbon) and Luz Obscura (Prix Spécial du Jury 2017, Les Rendez-vous de l'histoire, among other prizes).
Joan Fontcuberta was born in 1955 in Barcelona, where he lives and works. With nearly four decades of prolific dedication to photography, he has developed a both artistic and theoretical work which focuses on the conflicts between nature, technology, photography and truth. He has done solo shows at New York MoMA, Chicago Art Institute, Valencia IVAM, London Science Museum among others, and his work has been collected by the Metropolitan Museum of Art (NY), San Francisco MoMA, National Gallery of Art (Ottawa), Folkwang Museum (Essen), Musée National d'Art Contemporain - Centre Georges Pompidou (Paris), Stedelijk Museum (Amsterdam), MACBA (Barcelona), MNCARS (Madrid) MEP (Paris) and others.
José Miguel Ribeiro (1966, Amadora, Portugal) is a film director, an illustrator and a teacher. In 1995, his film A Suspeita (25 ') was awarded several prizes, including the Cartoon D'Or 2000. In 2012, José Miguel Ribeiro founded, together with Ana Carina Estróia, the production company "Praça Filmes", in Montemor-o-Novo, Portugal.
In recent years he has made the television series for children titled As Coisas lá de Casa (Home things), and the short animated films Passeio de Domingo (Sunday Drive), Viagem a Cabo Verde (Journey to Cape Verde) and Estilhaços (Fragments). The latter was selected for competition at the 2016 Locarno Film Festival and received the best documentary film award at Clermont- Ferrand in 2017. He is currently developing the feature animation film Nayola, with a script by Virgílio Almeida, based on the original theatre play A Caixa Preta, by José Eduardo Agualusa and Mia Couto.
The deadline to submit proposals regarding the Symposium's theme of MAKING SENSE: Between Fantasy and Fact (as outlined above) continues until 18 May 2018.
The third edition of Ecstatic Truth 2018 will take place in Lisbon, at Universidade Lusófona, in collaboration between CREAM at Westminster University, Animation Research Centre at University for the Creative Arts, and Animation Arts MA/Mestrado em Artes da Animação, Universidade Lusófona de Lisboa.
Sign Up: Stay updated on European and Independent Animation News. Subscribe to our Newsletter.
Read More About: