News
Ari Folman's The Congress at Cannes: Trailer & excerpt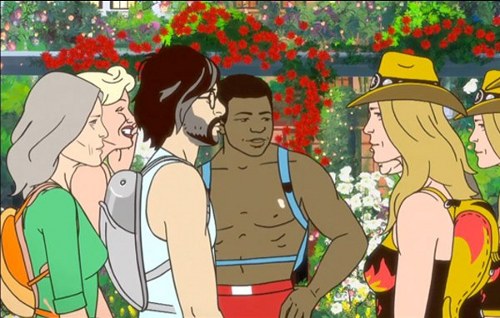 The Congress is based on Stanislaw Lem's (author of Solaris) 1971 novel The Futurological Congress. Ijon Tichy is sent to the eponymous congress in Costa Rica, only to face absurdities and finally immerse himself into a future, hallucinatory world.
Edouard Waintrop, artistic director of Quinzaine des Realisateurs, states: "llusion, part-realist film, part-fantasy cartoon, The Congress looks at our future and that  of the cinema. In this powerful adaptation of Stanislaw Lem's cult novel, Ari Folman gives free rein to his imagination... It will open the 2013 Director's Fortnight which in fact deals with the future of the movies around the world."
Watch the mind-boggling trailer and its surrealistic images -with more color variations, though, than the hypnotic, glaring yellow of  Waltz with Bashir).
The second film excerpt shows the character of Robin Wright experiencing a dramatic moment:
The Congress combines live-action with drawing of actors based on rotoscoping movement.  However, Folman states that he wanted to preserve classical 2D animation, and not be too stylistic.
 
This is an international production (Belgium, Israel, Poland, Germany, Luxembourg). Cast includes Robin Wright, Harvey Keitel, Danny Houston and Paul Giamatti.
Robin Wright (Robin Wright) receives an offer from Miramount to be scanned. In this way, her alias can be freely exploited in all films the Hollywood major decides to produce, even the most downmarket ones, the ones she has turned down until now. For 20 years she disappears to return as guest of honor at the Miramount-Nagasaki Convention in a  transformed world of fantastical appearances.

 

 
Read More About: