10 Animation Shorts for an Oscar
A Disney/ Pixar short will always be included in the 10 Animation Shorts that fight for a place in the Best Animation Short category.
 This time is the Hindu-themed Sanjay's Super Team by Sanjay Patel [trailer].
Yet, this year's Oscar selection includes some names, either veterans or independent artists who made a splash at the festival circuit. Again, more experimental/clearly adult choices were left out.
 The twice Oscar-awarded Richard Williams finds again a place in the short list with his new Prologue short.
 The Russian animator Konstantin Bronzit, who won the Annecy Cristal this year could secure a nomination with his touching, astronaut friendship story, We Can't Live Without Cosmos.
 Another space story, the Sundance-awarded World of Tomorrow, comes from the Oscar-nominated Don Hertzfeldt.  The Canadian Cordell Barker (The Cat Came Back) has a new film, If I Was God.
 Check out the French film My Home by Phuong Mai Nguyen, an enchanting short.
The NFB satire by Claude Coutier, Carface, and the bittersweet Bear Story by Gabriel Osorio are the two family-friendly choices that either of them could make the final five.
The CalArts student film by Seth Boyden, An Object at Rest, follows the life of a stone through the milennia, while Love in the Time of March Madness by Melissa Johnson and Robertino Zambrano is a short vs. tall romance adventure.
 The full list:
"Bear Story (Historia De Un Oso)," Gabriel Osorio, director, and Pato Escala, producer (Punkrobot Animation Studio)
"Carface (Autos Portraits)," Claude Cloutier, director (National Film Board of Canada)
"If I Was God...," Cordell Barker, director (National Film Board of Canada)
"Love in the Time of March Madness," Melissa Johnson and Robertino Zambrano, directors (High Hip Productions and KAPWA Studioworks)
"My Home," Phuong Mai Nguyen, director (Papy3D Productions)
"An Object at Rest," Seth Boyden, director (California Institute of the Arts)
"Prologue," Richard Williams, director, and Imogen Sutton, producer (Animation Masterclass)
"Sanjay's Super Team," Sanjay Patel, director, and Nicole Grindle, producer (Pixar Animation Studios)
"We Can't Live without Cosmos," Konstantin Bronzit, director (Melnitsa Animation Studio)
"World of Tomorrow," Don Hertzfeldt, director (Bitter Films)
Short Films and Feature Animation Branch members will now select five nominees from among the 10 titles on the shortlist. The 88th Academy Awards nominations will be announced live on Thursday, January 14, 2016.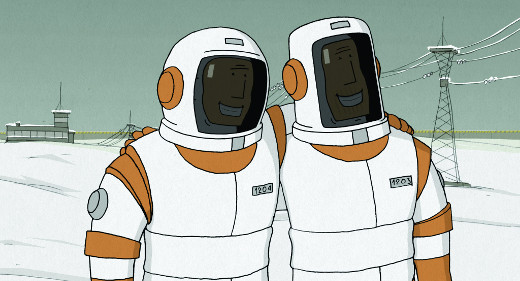 We Can't Live Without Cosmos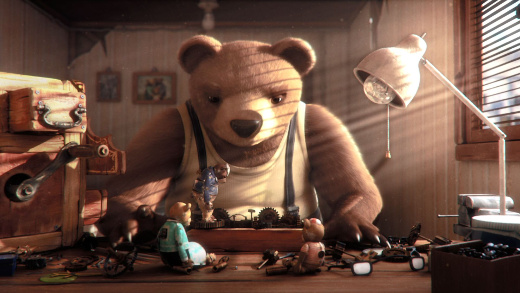 Bear Story
Read More About: