"Animation is Happiness": 5 Independent Animation Εxamples To Bring Happiness (Especially During the Oscar Season)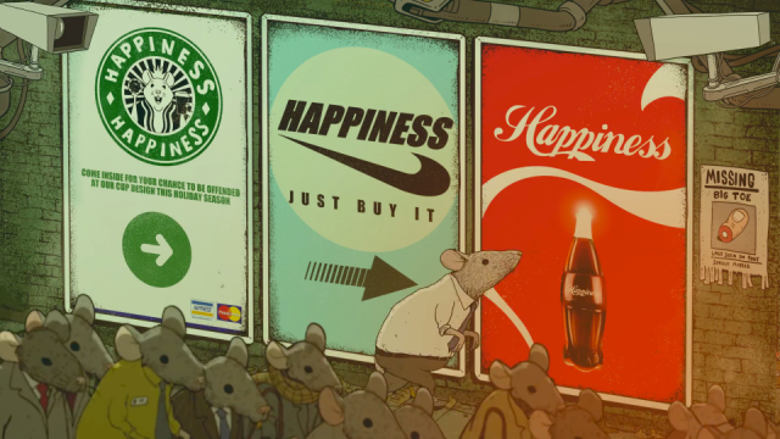 We have written before about how the Oscar animated categories shortlist diverge a lot from the acclaimed animated films in independent animation. We've also written, regarding this year's nominees, that the inclusion of three independent animation shorts in the final shortlist for Best Animated Short Film should in no way be considered as a sign that that the Academy of Motion Pictures Arts and Sciences has finally paved the way for more independent fare.
In more ways than one, Annie Awards get it more right when independent animation is concerned: especially this year, when an all-European nominee list for a Best Short Subject appeared (winner: Regina Pessoa for Uncle Thomas: Accounting For the Days).
We now read (via The Hollywood Reporter) that an anonymous Academy Award voter revealed to vote for Pixar's Kitbull. 
Hair Love, to me, was shallow — I didn't get it. Sister was very good. But Kitbull was my favorite — a sweet story, an outsider dog finds love with a cat, how bad can it be? I was looking for happiness this season - Anonymous Oscar voter
The association of animation with perennial happiness, of course, leads back to the many years of cute anthropomorphic animals being paraded as the one and all of animation. Yet, the question remains: why do Academy Award voters look for "happiness" in the animation categories only, but seek excellence in all the remaining, non-animation categories? Shouldn't it be the case that the best film would win in all cases, happy or unhappy- themed?
There are many unhappy-looking Best Picture winners of an Academy Award (from Argo to No Country for Old Men to Million Dollar Baby, take your pick). Yet, in animation you would be hard-pressed to find something equivalent in recent years.
This association of animation with happiness and happy childhood seems still so strong in the minds of voters, after so many attempts of the relevant Short and Feature Animation branch of the Academy for member diversity (and yes, we do know that all Academy members vote for all categories). The proposed solution could be a) abandon at least the Short Animated Film category altogether, it serves absolutely no function or b) rename it as Children Short Animated Films category, where only animated short films for children could actually compete.
Of course, you can make dark films with children (numerous examples, like Angry Man by Anita Killi, for instance) - yet it would still be better for the category to be closer to what its voting members actually award.
In the meantime, here are some fine independent examples of "happy animation" (tongue-in-cheek):

1. Rabbitland by Ana Nedeljkovic and Nikola Majdak,jr.
Brainless Rabbits live in Rabittland, a perfect world ordered according to the most successful examples of war zones, ghettos and slums. They are intensively pink, have holes in their heads instead of brains, and they are happy regardless of what happens to them.
2. Terry's little dream by Phil Mulloy
3. How Are You Today? by Sophie Markatatos
In a fucked up world, two opposite characters meet.
4. Happiness by Steve Cutts
The story of a rodent's unrelenting quest for happiness and fulfillment.
5.  8 Bullets by Frank Ternier
Gabriel, a man in his thirties, is immersed in his memories: his daughter was shot in the leg, and his wife died after a hostage situation. He is now a prisoner of painful memories that lead him astray.
contributed by: Vassilis Kroustallis
SIGN UP: Want to read more free articles like this? Sign up for Our Newsletter