Annie Awards Nominations 2021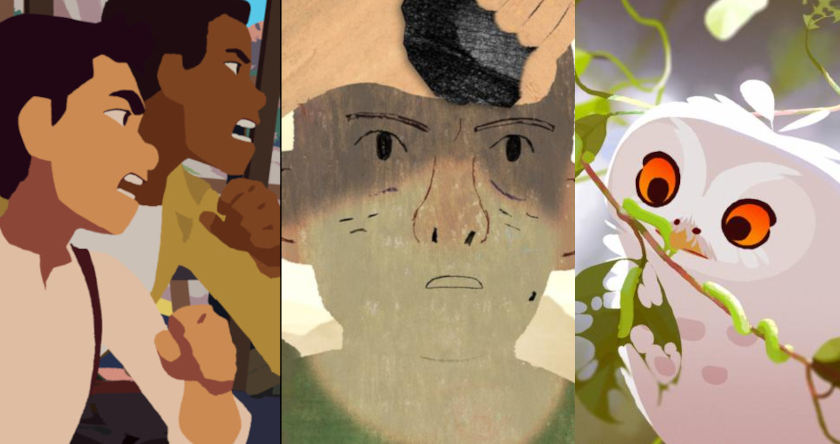 This year's Best Animated Feature nominations include: Onward (Pixar Animation Studios), Soul (Pixar Animation Studios), The Croods: A New Age (DreamWorks Animation), The Willoughbys (Netflix Presents A BRON Animation Production in association with Creative Wealth Media) and Trolls World Tour (DreamWorks Animation).
Annie Awards feature a separate category for Best Animated Feature - Independent, spotlighting features with a much smaller distribution footprint than major studio releases. The nominees are:
Shaun the Sheep Movie: Farmageddon (Studiocanal and Aardman present in association with Anton Capital Entertainment An Aardman Production for Netflix)
Calamity Jane (Maybe Movies)
On-Gaku: Our Sound (Rock'n Roll Mountain, Tip Top)
Ride Your Wave (Science SARU)
Wolfwalkers (Cartoon Saloon/Melusine).
Wolfwalkers by Tomm Moore and Ross Stewart scored a total of 10 Annie Award nominations,  the same number of nominations as Pixar's Soul.
Notable Absences:
The Accidental Luxuriance of the Translucent Watery Rebus
Kill It and Leave this Town
Don Hertzfeldt, Bastien Dubois (Souvenir, Souvenir), Kangmin Kim (KKUM), Marie Jacotey and Lola Halifa-Legrand  (Fille Bleues, Peur Blanche), and the Cake comedy The Places Where We live compete for Best Short Subject
Best Short Subject:
Filles Bleues, Peur Blanche (Miyu Productions)
 KKUM (open the portal) Read the review of KKUM at Zippy Frames
Souvenir Souvenir (Blast Production)
The Places Where We Live (Cake) (FX Productions and FX)
World of Tomorrow Episode Three: The Absent Destinations of David Prime Don Hertzfeldt
Notable Absences:
Altötting, Andreas Hykade
Just A Guy, Shoko Hara
My Galactic Twin Galaction, Sasha Svirsky
Best Special Production
Best Student Film
100,000 Acres of Pine Student director: Jennifer Alice Wright (School: The Animation Workshop)
Coffin Student director: Yuanqing Cai, Nathan Crabot, Houzhi Huang, Mikolaj Janiw, Mandimby Lebon, Théo Tran Ngoc  (School: Gobelins, l'école de l'image)
La Bestia Student director: Marlijn Van Nuenen, Ram Tamez, Alfredo Gerard Kuttikatt (School: Gobelins, l'école de l'image)
Latitude du printemps Student director: Sylvain Cuvillier, Chloé Bourdic, Théophile Coursimault, Noémie Halberstam, Ma?lis Mosny, Zijing Ye (School: Rubika)
O Black Hole! Student director: Renee Zhan Student producer: Jesse Romain (School: National Film and Television School, UK)

We had no idea what to expect going into award season. To then see a year where we had more submissions than ever before was a huge and most welcome surprise. Though it might have initially seemed a little counter-intuitive, now we are approaching the Annies with optimism and the new year with a renewed sense of community - Frank Gladstone, Annies executive producer.

Juried Awards will also be presented during the ceremony, honoring unparalleled achievement and exceptional contributions to animation. The Winsor McCay Award for career contributions to the art of animation are being presented to three recipients – Willie Ito; Posthumously to Sue Nichols; and Bruce Smith.
The June Foray Award for significant and benevolent or charitable impact on the art and industry of animation will be awarded to animator and art director, Daisuke "Dice" Tsutsumi. The Ub Iwerks Award for technical advancement that has made a significant impact on the art and industry of animation will be presented to Epic Games for its Unreal Engine; and The Special Achievement Award recognizing the unique and significant impact on the art and industry of animation will be presented to Howard, the documentary about lyricist and storyteller, the late Howard Ashman.

 This year's ceremony of Annie Awards will be streamed live, courtesy of Variety on Friday, April 16 at 7 p.m. PST.
SIGN UP: Want to read more free articles like this? Sign up for Our Newsletter