Brave, Paperman offer a double Disney victory at the Oscars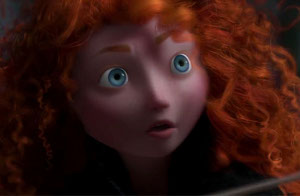 There were no surprises in the animation categories of the 85th Academy Awards.
 Pixar's Brave, who tells the story of a Scottish independent princess Merida,  is a child of labour of Brenda Chapman (who later left out Pixar due to creative differences), and Mark Andrews, who took over the directing helmet. Brave was ignored by critics' groups, but was awarded the Golden Globe earlier in the race.
 Disney should feel proud of its 3 nominees (Wreck-It Ralph, Frankenweenie, Brave), even though the much-talked about Wreck-It Ralph did not win the coveted award.

Mark Andrews (in kilt) and Brenda Chapman both went on stage to thank Pixar's major players (Lasseter, Catmull, Stanton, Docter) .
In the backstage interview, Chapman revealed an eight-year process from start to finish, and she now feels that the end would justify the trouble she went through.
Brave's win marks the 7th Academy Award for feature animated film for Pixar, and its return to victories after Toy Story 3 (2010).
The stop-motion films ParaNorman (LAIKA) and The Pirates! Band of Misfits (Sony/Aardman) and Frankenweenie (Tim Burton) once again could not win the award.  No stop-motion film has ever won the Academy Award since Wallace and Gromit: The Curse of the Were-Rabbit (2005).
Dreamworks' Rise of the Guardians and Madagascar 3 were left out of competition.
In the short animation category, John Kahrs's hybrid of 2D and 3D animation, the black-and-white romance Paperman made for Disney, won the Academy Award.
 He won over his main rival, the UK film, Head Over Heels (Tim Reckart) [info-trailer], a stop-motion story of a  couple upside-down. Kahrs (who has worked as animator in Ratatouille, Toy Story 2, and The Incredibles)  was quick to thank all the people who "revitalized the Disney studio".
He further explained in his backstage interview that, contrary to some have argued, the buying of Pixar by Disney results in stories with depth, "stories that are going to last generations".
The 5 nominees (short film):
Adam and Dog," Minkyu Lee, director (Lodge Films)
"Fresh Guacamole," PES, director (PES)
"Head over Heels," Timothy Reckart, director, and Fodhla Cronin O'Reilly, producer (National Film and Television School)
"Maggie Simpson in "The Longest Daycare"," David Silverman, director (Gracie Films)
"Paperman," John Kahrs, director (Disney Animation Studios)
Rango was the recipient of the Best Animated Feature for 2012, and The Fantastic Flying Books of Mr. Morris Lessmore  (William Joyce and Brandon Oldenburg, Moonbot Studios) won the Academy Award for best animated short film.
Read More About: