7 Animation Films for Césars 2020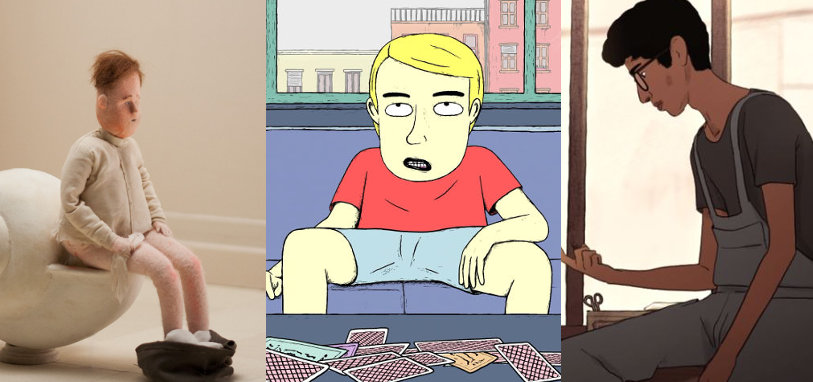 The French film awards, handed out by Académie des Arts et Techniques du Cinéma and its animation committee selected 7 animated films overall to compete for the this year's César award.  
The 45-minute celebrated film This Magnificent Cake! (multiply awarded at various festivals) by Emma De Swaef and Marc James Roels (in co-production with French company Vivement Lundi!)  both qualified and was ultimately nominated in the short category. (here's our film review).
The short drama film I'm Going Out For Cigarettes by Osman Cerfon (production: MIYU) also found a place in the nominees
Another festival favorite, the horror plastic story, The Night of the Plastic Bags by Gabriel Heral (production: Kazak Productions)  is nominated. Agathe, 39, has but one obsession: to have a child. She finds her ex, Marc-Antoine, a DJ, mixing techno in Marseille. As she tries to talk him into getting back together, plastic bags come to life and attack the city.
The fourth nominee, Make it Soul comes from The Sense of Touch author Jean-Charles Mbotti Malolo, 
Chicago, winter 1965. The Regal Theater welcomes James Brown and Solomon Burke, two of the most important figures in Soul Music. Back stage, tensions are certainly rising between The King of Rock and Soul and The Soul Brother number one.
But in 60s America, those two singers know their music has unsuspected abilities.
Films (among others) that didn't make it: Egg by Martina Scarpelli, Riviera by Jonas Schloesing, My Juke-box by Florentine Grelier.
Short Animation
CE MAGNIFIQUE GÂTEAU ! dir. EMMA DE SWAEF, MARC JAMES ROELS, pr. JEAN-FRANÇOIS LE CORRE, MATHIEU COURTOIS
JE SORS ACHETER DES CIGARETTES dir. OSMAN CERFON, pr. EMMANUEL-ALAIN RAYNAL, PIERRE BAUSSARON
MAKE IT SOUL, dir. JEAN-CHARLES MBOTTI MALOLO, pr. AMAURY OVISE
LA NUIT DES SACS PLASTIQUES réalisé par GABRIEL HAREL, pr. AMAURY OVISE
In the feature film category, The Swallows of Kabul (dir. Zabou Breitman and Eléa Gobbé-Mévellec), The Famous Invasion of Sicily (dir. Lorenzo Mattotti) and the Oscar-nominated I Lost My Body (dir. Jérémy Clapin) compete.
Predictions are difficult in this category. All three films are celebrated ones, and it seems that French jurors do not vote just by the outcome of the Oscar nominations (in which I Lost My Body has the lead). Non-Oscar nominated films (Miniscule, The Big Bad Fox and Other Tales, Dilili in Paris) have routinely been awarded the César for Best Animation Feature.
Feature Animation
LA FAMEUSE INVASION DES OURS EN SICILE, dir. LORENZO MATTOTTI, pr. VALÉRIE SCHERMANN, CHRISTOPHE JANKOVIC
LES HIRONDELLES DE KABOUL, dir. ZABOU BREITMAN, ELÉA GOBBÉ-MÉVELLEC, pr. REGINALD DE GUILLEBON
J'AI PERDU MON CORPS réalisé par JÉRÉMY CLAPIN, pr. MARC DU PONTAVICE
In the 2019  César awards, Michel Ocelot was the winner (feature animation) with his Dilili in Paris, while Ayce Kartal won the Short Animation trophy with Wicked Girl. 
The 45th César awards will be handed out 28 February 2020.
SIGN UP: Want to read more free articles like this? Sign up for Our Newsletter