Mirai, Weekends, Best Friend Win at the 2019 Annies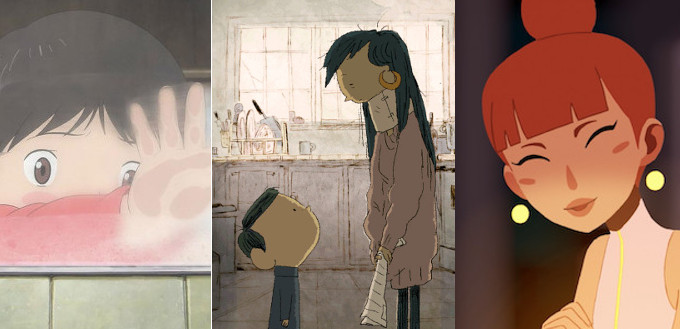 Sony's Spider-Man: Into The Spider-Verse  won 7 Annie Awards at the 46th Annie Awards ceremony (2 Feb 2019, L.A. Royce Hall, awards given by ASIFA-Hollywood members). But some (not all) of the independent nominees had their own victory moment. Annie Awards understandably have the weight of a big US animation studio industry behind it, but its nominees' list seems more internationally balanced than the Oscar short and feature animation nominees.
In the Independent Animation Feature category, both European entries This Magnificent Cake!  (Emma De Swaef and Marc James Roels) and Ruben Brandt, Collector (Milorad Krstic) lost to the new Mamoru Hosoda feature (and also Oscar-nominated film) Mirai, a feature already distributed in the US by GKIDS.

Independent Animation Feature Nominees (title/producer)

Ce Magnifique Gâteau !  / Beast Animation, Vivement Lundi !, Pedri Animation
MFKZ Ankama / Studio 4ºC
Mirai/  Studio Chizu
Ruben Brandt, Collector  / Hungarian National Film Fund
Tito and the Birds /  Bits Productions, Split Studio
In the Best Short Film category (full of independent candidates and festival favourites, as a result of  changed Annie Awards submission rules), Pixar artist Trevor Jimenez won for his sensitive story of a separation, Weekends.

Animated Short Subject Nominees  (title/producer)

Grandpa Walrus  /Caïmans Productions
Lost & Found / Wabi Sabi Studios
SOLAR WALK / Nørlum
Untravel  / Production: Film House Baš Čelik, Serbia Co-production: BFilm, Bratislava / Your Dreams Factory, Bratislava
 Weekends  /past lives productions
In the Best Student Film film category,  3D comedy drama Best Friend by Nicholas Olivieri, Yi Shen, Juliana De Lucca, Varun Nair, and David Feliu (Gobelins French school) was the Annie wiinner. The film tells the story of a lonely man in a near future; he is addicted to a product called «Best Friend» which offers him perfect virtual friends.
Animated Student Short Subject Nominees (title/producer)

A Blink of An Eye / Filmakademie Baden-Württemberg
Best Friend/  Gobelins
FACING IT / Sam Gainsborough
Hors Piste/ 

L'école des Nouvelles Image

s
Sister / Siqi Song
The big winner was Sony's Spider-Man: Into The Spider-Verse with 7 Annie Awards (Best Animated Feature, Character Animation – David Han, Character Design – Shiyoon Kim,  Directing – Bob Persichetti, Peter Ramsey and Rodney Rothman,  Production Design – Justin K. Thompso,  Writing – Phil Lord and Rodney Rothman, and Editorial – Bob Fisher, Andrew Leviton and Vivek Sharma).
There was little love for stop-motion and Wes Anderson's Isle of Dogs in the 46th Annie Awards, which won only one of the 4 Annie Awards it was nominated for. Bryan Cranston (voicing the Chief) in the film won Outstanding Achievement for Voice Acting in an Animated Feature Production.
Passion Animation Studioswon Best Animated TV/Broadcast Commercial for Greenpeace There's a Rang-Tan In My Bedroom.
The Best Virtual Reality Production  category (a new in the 46th Annie Awards) was awarded to Crow: The Legend (Baobab Studios). Mary Poppins Returns (Walt Disney Studios) won Best Animated Special Production.  View all Annie Awards winners.
Juried Awards were also presented honoring unparalleled achievement and exceptional contributions to animation. Three Winsor McCay Award recipients have been selected by the ASIFA-Hollywood Board of Directors for their exemplary industry careers – Academy Award-winning director, animator and art director, Ralph Eggleston;  Frank Braxton (posthumously), the first African-American animator, animation director and guild president; and casting director, voice director and voice actress Andrea Romano. The June Foray Award was presented to veteran animator, Adam Burke (posthumously) for his significant and benevolent impact on the animation community. Ton Roosendaal, Dutch software developer and film producer, accepted the Ub Iwerks Award for Blender Open Source Animation Software; and a Certificate of Merit was presented to  dedicated ASIFA volunteer, Jason Jones.    
The Annie Awards™ honor overall excellence as well as individual achievement in a total of 36 categories. The ceremony was live-streamed again this year at www.annieawards.org/watch-it-live where animation enthusiasts and those unable to attend the event, could watch the show. Photos and video highlights of the 46th award ceremony to be posted  will be posted on the Annie Awards social media Annies website.
SIGN UP: Want to read more free articles like this? Sign up for Our Newsletter