Oh, Willy! wins Cartoon D'Or 2012
 Cartoon D'Or is the premiere European award for the best European short animated film of the year.  Its 5 nominees are prize-winning films from major European festivals (Annecy, Anifest, Stuttgart, Zagreb etc.).
Oh, Willy by Emma De Swaef and Marc James tells the strange story of Willy. Chubby Willy returns to the naturist community where he has spend his youth to visit his dying mother. When she dies shortly after he arrives, Willy is confronted with the choices he made in his life...
The film has already received accolades from Animafest, Zagreb and Fest Anca festivals.
The 5 nominated films for 2012 were:
Edmond Was a Donkey by Franck Dion (France / Canada, 2012, 15mn 4s) Prod: Papy3D Productions, Arte France, L'office national du film du Canada
Flamingo Pride by Tomer Eshed (Germany, 2011, 6mn 2s). Prod: Talking Animals, HFF Konrad Wolf
Oh Willy... by Emma De Swaef & Marc James Roels (Belgium / France / Netherlands, 2012, 16mn 53s). Prod: Beast Animation, Polaris Film & Finance, Vivement Lundi!, il Luster
Tram by Michaela Pavlatova (France / Czech Republic, 2012, 7mn). Prod: Sacrebleu Productions, Negativ Film
Zing by Kyra Buschor & Cynthia Collins (Germany, 2011, 7mn 31s) Prod: Filmakademie Baden-Württemberg
The 2012 jury was composed of directors Alain Gagnol (France), Esben Toft Jacobsen (Denmark) and Giuseppe Lagana (Italy).
Watch the film trailer below:
The Cartoon D' Or award ceremony took place during the Cartoon Forum in Toulouse (11-14 September).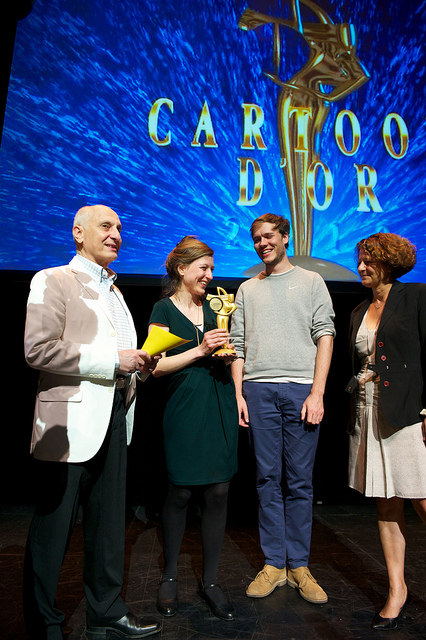 Read More About: