Mirai, Isle of Dogs, Late Afternoon In the 2019 Oscar Nominations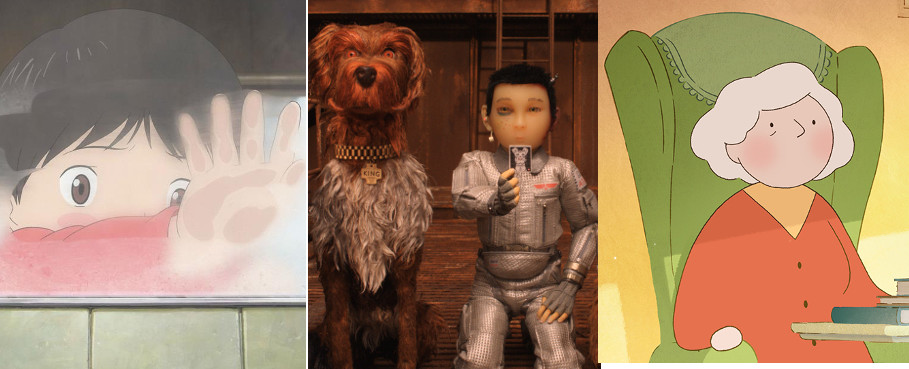 (left to right): Late Afternoon / Grandpa Walrus / One Small Step
In a year where live-action categories include both Mexican (Roma), Greek/English (The Favourite) and Polish (Cold War) productions in their main categories (best film/director), animation nominees follow instead a more US-based pattern. Pixar grabbed a nomination for Bao (Domee Shi), but DreamWorks (Bird Karma and Bilby) was left out of competition. The 91st Academy Award nominations also included the Pixar-affiliate film Weekends by Trevor Jimenez.
National FIlm Board of Canada landed a nomination with the psychoanalytic comedy Animal Behaviour by Alison Snowden and David Fine.
Cartoon Saloon and Ireland is included in the nominees with Louise Bagnall's Late Afternoon.
Luna, a Chinese American girl, dreams of becoming an astronaut in the Oscar-nominated
One Small Step
by Andrew Chesworth and Bobby Pontillas
.
Best Animated Short Film:
"Animal Behaviour" Alison Snowden and David Fine (Canada)
"Bao" Domee Shi and Becky Neiman-Cobb (US)
"Late Afternoon" Louise Bagnall and Nuria González Blanco (Ireland)
"One Small Step" Andrew Chesworth and Bobby Pontillas (US/China)
"Weekends" Trevor Jimenez (US)
Both the Age of Sail  by Oscar-awarded John Kahrs (for Paperman) and Grandpa Walrus by Lucrèce Andreae didn't enter the nominees. Here are the previously 10 shortlisted films, as voted by the Short Films and Feature Animation Branch.
Age of Sail — John Kahrs (USA)
Animal Behaviour — Alison Snowden, David Fine (Canada)
Bao — Domee Shi (USA)
Bilby — Pierre Perifel, J.P. Sans, Liron Topaz (USA)
Bird Karma — William Salazar (USA)
Grandpa Walrus (Pépé le Morse) — Lucrèce Andreae (France)
Late Afternoon — Louise Bagnall (Ireland)
Lost & Found — Andrew Goldsmith, Bradley Slabe (Australia)
One Small Step — Andrew Chesworth, Bobby Pontillas (USA/China)
Weekends — Trevor Jimenez (USA)
In the feature animation, it was expected that Disney with Ralph Breaks The Internet will score an Oscar nomination. Pixar also lands a nomination with The Incredibles 2, while Wes Anderson gets his second Academy Award nomination for an animated feature (after Fantastic Mr. Fox) with Isle of Dogs, the only stop-motion entry in both short and feature animation nominees.
Sony's Spider-Man: Into The Spider-Verse seems destined to give a hard time to both Pixar and Disney, whereas Mirai by Mamoru Hosoda (read our review) rounds up the list.
No nomination for the Hungarian feature, Ruben Brandt, Collector by Milorad Krstić or Tito and the Birds by Gustavo Steinberg.
Best Animated Feature Nominees:
"Incredibles 2" Brad Bird, John Walker and Nicole Paradis Grindle
"Isle of Dogs" Wes Anderson, Scott Rudin, Steven Rales and Jeremy Dawson
"Mirai" Mamoru Hosoda and Yuichiro Saito
"Ralph Breaks the Internet" Rich Moore, Phil Johnston and Clark Spencer
"Spider-Man: Into the Spider-Verse" Bob Persichetti, Peter Ramsey, Rodney Rothman, Phil Lord and Christopher Miller

The qualifying animationfeatures' list:
"Ana y Bruno"
"Dr. Seuss' The Grinch"
"Early Man"
"Fireworks"
"Have a Nice Day"
"Hotel Transylvania 3: Summer Vacation"
"Incredibles 2"
"Isle of Dogs"
"The Laws of the Universe – Part I"
"Liz and the Blue Bird"
"Lu over the Wall"
"MFKZ"
"Maquia: When the Promised Flower Blooms"
"Mirai"
"The Night Is Short, Walk on Girl"
"On Happiness Road"
"Ralph Breaks the Internet"
"Ruben Brandt, Collector"
"Sgt. Stubby: An American Hero"
"Sherlock Gnomes"
"Smallfoot"
"Spider-Man: Into the Spider-Verse"
"Tall Tales"
"Teen Titans Go! To the Movies"
"Tito and the Birds"
The 91st Oscars® will be held on Sunday, February 24, 2019, at the Dolby Theatre® at Hollywood & Highland Center® in Hollywood, and will be televised live on the ABC Television Network.
SIGN UP: Want to read more free articles like this? Sign up for Our Newsletter
Read More About: