Daughter, Sister, Memorable, Ι Lost My Body, Klaus in the Oscar 2020 Nominations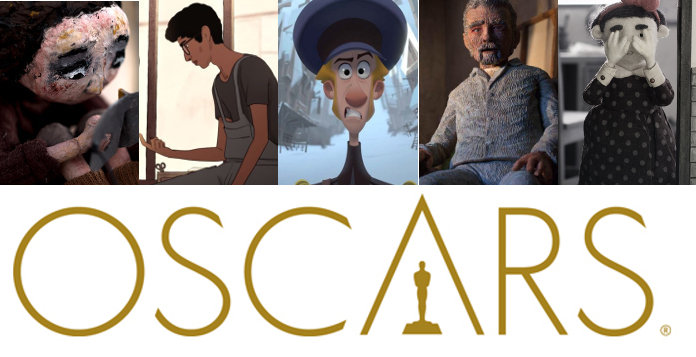 This must have been one of the few times in the Academy Awards nomination history that 3 out of 5 animated shorts are in stop-motion, and all of them come from the independent sector: A CalArts student film, a FAMU (Czech Republic) film and a French film by a seasoned director.
Daughter by Daria Kashcheeva managed to keep the momentum it had from its Student Academy Award win, and the film became the first Czech production (after Michaela Pavlátová's Words, Words, Words) to be nominated for an Academy Award for Best Animation Short. Another family film (and another student film), Sister by Siqi Song played out really well with the committee and the Academy Award voters. 
Bruno Collet gets his first Academy Award nomination with the perceptive study of Alzheimer's disease in French film Memorable. The film was the Annecy winner as well, whereas the Animafest Zagreb winner (Tomek Popakul's Acid Rain) did not even make it to the shortlist of 10 films. No news here: edgy topics are not these voters' preference. This could have been the reason why Theodore Ushev and his grand opus The Physics of Sorrow was left out this year, even though he made it in 2017 with the philosophical fairy tale Blind Vaysha. Both NFB films (also Regina Pessoa's family-themed, Uncle Thomas: According to the Days) failed to make the list .
3 independent films out of 5 doesn't look like a bad outcome, yet it's too early to celebrate independent animation and stop-motion in particular at the Oscars. Just note that the two other films nominated, Kitbull by Rosana Sullivan (Pixar) and, especially Hair Love by Matthew A. Cherry, Bruce W. Smith, & Everette Downing (Sony PIctures Animation), have both industry support and could also be seen as carrying out 'social messages' as well. 
So, this family-themed list that emerged this year is neither conclusive nor a sign of relief for independent animation. The real reward will be if any of the three independent films actually manages to win the hearts and souls of the Academy Award voters. And here the past tells its own story. Since 2010, there have been four victories which are not Pixar/Disney-related: The Lost Thing (2010), The Fantastic Flying Books of Mr. Morris Lessmore (2011), Mr. Hublot (2013) and Bear Story (2015). Since 2016, no indie animation short (apart from Kobe Bryant and Glen Keane's Dear Basketball, a very singular US project) has ever won the animation trophy. This is not an outcome that is decisive for the 2020 award ceremony as well, but it means that nothing is changing unless it actually has changed.
The 5 nominated animation shorts:



"Dcera (Daughter)", Daria Kashcheeva (FAMU/ Maur Film, Czech Republic)

"Hair Love", Matthew A. Cherry, Bruce W. Smith, & Everette Downing (Sony PIctures Animation)

"Kitbull", Rosana Sullivan (U.S., PIxar ) 

"Memorable", Bruno Collet (Vivement Lundi!, France)

Sister, Siqi Song (US)

The 5 remaining films that were Oscar-shortlisted (but did not make it to the 5 nominees were): He Can' Live Without Cosmos (Konstantin Bronzit), "Hors Piste", Léo Brunel, Loris Cavalier, Camille Jalabert, Oscar Malet (Gobelins, France) Mind My Mind" by Floor Adams (The Netherlands), The Physics of Sorrow" by Theodore Ushev (NFB, Canada), 

In the animation feature film category, ti seems that the Netflix powerhouse was good enough to lift I Lost My Body by Jérémy Clapin (read our review)  and put it where it belongs. This was the most pleasant piece of news of the whole nomination procedure; the 3D melancholic tale of disconnection rightly deserves the award, but of course Toy Story 4 is its heavyweight champion here.

This is the first Academy Award nomination for the French director of Skhizein. Netflix viewership also managed to push Klaus by Sergio Pablos into nomination, and bring into the list a 2D film that cleverly exploits nostalgia for old-time animation. It goes without saying that This Magnificent Cake! (Emma De Swaef and Marc James Roels) was robbed of a nomination, while Another Day of Life, Away, Buñuel in the Labyrinth of the Turtles, The Swallows of Kabul proved to be long shots for Academy Award members. A list which would include all the above would be more representative of what happens in feature animation -and the inclusion of LAIKA's stop-motion The Missing Link cannot be used as an excuse.
The 5  nominated animation features:
"How to Train Your Dragon: The Hidden World" Dean DeBlois (Dreamworks)
I Lost My Body,  Jeremy Clapin (Xilam Animation) Read our review
"Klaus" Sergio Pablos (SPA Studios)
"Missing Link" Chris Butler (LAIKA)
"Toy Story 4"  Josh Cooley (Pixar)
The 92nd Oscars® will be held on Sunday, February 9, 2020, at the Dolby Theatre® at Hollywood & Highland Center® in Hollywood, and will be televised live on the ABC Television Network.  The Oscars also will be televised live in more than 225 countries and territories worldwide.
SIGN UP: Want to read more free articles like this? Sign up for Our Newsletter