Wolfwalkers, Genius Loci in the Oscar Nominations 2021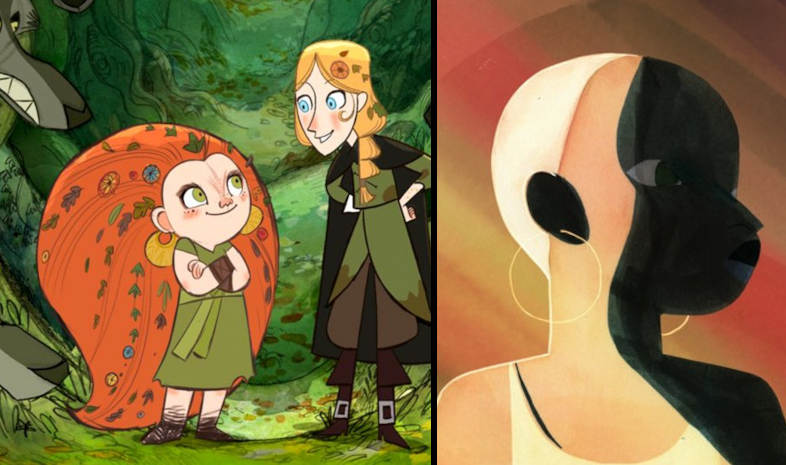 Cartoon Saloon had a field day in the 2021 Oscar nominations, with both animation feature Wolfwalkers (Tomm Moore, Ross Stewart dir) and the animation short Genius Loci by Song of the Sea art director Adrien Mérigeau (co-directed by Amaury Ovise) nominated for the 93th Academy Awards.
In a time of superstition and magic, a young apprentice hunter, Robyn Goodfellowe, journeys to Ireland with her father to wipe out the last wolf pack
This is the 4th Academy Award nomination for the Irish studio Cartoon Saloon, after The Secret of Kells, Song of the Sea, and The Breadwinner -the studio still hasn't got an Academy Award.
Aardman with Shaun the Sheep Movie: Farmageddon is the second European entry in the nominees, in which Pixar's Soul seems to be the most likely option to win the award. In the history of animation feature Academy Award nominations, only one European film has ever won the award: it was Aardman's Wallace & Gromit: The Curse of the Were-Rabbit (back in 2005).
More arthouse options, such as Dalibor Baric's Accidental Luxuriance of the Translucent Watery Rebus were left out -and it comes as no surprise. No anime films in the nominees this year either.
In the short animation category, the festival-awarded Genius Loci had its nomination; but not being a US studio film, it will be difficult to claim the trophy. The last time a non-US animation short won the Academy Award was in 2015, when Bear Story by Gabriel Osorio won.
One night, Reine, a young loner, sees among the urban chaos a moving oneness that seems alive, like some sort of guide.
The Icelandic film Yes People by Gísli Darri Halldórsson is also in the nominations.
One morning an eclectic mix of people faces the everyday battle - such as work, school and dish-washing. As the day progresses, their relationships are tested and ultimately their capacity to cope.
And so is OPERA  by Erick Oh,  a massive 8K size animation installation project which portrays our society and history, which is filled with beauty and absurdity.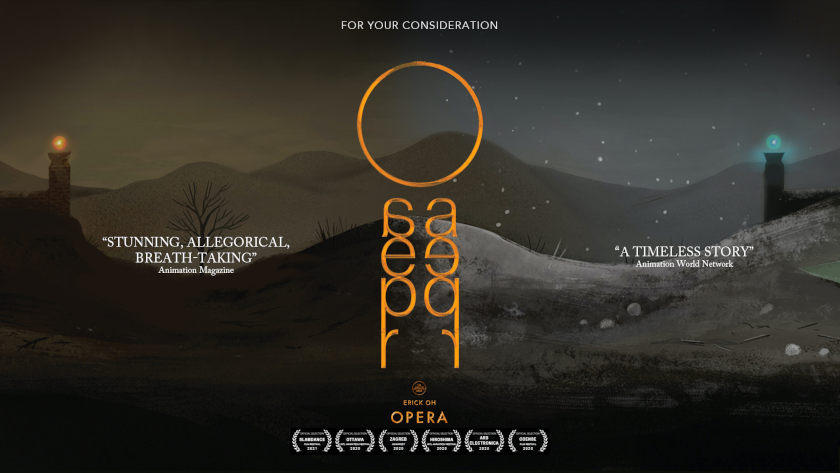 However, this could be Netflix's year with If Anything Happens I Love You,Will McCormack and Michael Govier. Its story follows two grieving parents as they struggle to confront the death of their daughter, who was killed in a school shooting.
The full line-up
Academy Award Nominees for Best Animated Feature
Onward, Dan Scanlon and Kori Rae
Over the Moon, Glen Keane, Gennie Rim and Peilin Chou
Shaun the Sheep Movie: Farmageddon, Richard Phelan, Will Becher and Paul Kewley
Soul, Pete Docter and Dana Murray
Wolfwalkers, Tomm Moore, Ross Stewart, Paul Young and Stéphan Roelants
Academy Award Nominees for Best Animated Short Film
Burrow, Madeline Sharafian and Michael Capbarat
Genius Loci, Adrien Mérigeau and Amaury Ovise
If Anything Happens I Love You,Will McCormack and Michael Govier
Opera, Erick Oh
Yes-People, Gísli Darri Halldórsson and Arnar Gunnarsson

The 93rd Oscars® will be held on Sunday, April 25, 2021, and will be televised live on ABC and in more than 225 countries and territories worldwide.
SIGN UP: Want to read more free articles like this? Sign up for Our Newsletter
Read More About: