10 Shortlisted Animation Shorts for Oscars 2019

(left to right): Late Afternoon / Grandpa Walrus / One Small Step
It's that time of the year, when the Academy Award shortlist is announced. It usually includes big studio offerings: this year, DreamWorks is also in the running with Bird Karma and Bilby, and Pixar with Bao. It also includes studio affiliates or studio-supported films (the tender Weekends by Trevor Jimenez or the Age of Sail by Oscar-awarded John Kahrs). National FIlm Board of Canada will certainly land a place in the shortlist, if not a nomination. This year,  it is Animal Behaviour by Alison Snowden and David Fine. The rest of the list is left to surprise and strong publicity efforts.
 Here are the shortlisted films, as voted by the Short Films and Feature Animation Branch
Age of Sail — John Kahrs (USA)
Animal Behaviour — Alison Snowden, David Fine (Canada)
Bao — Domee Shi (USA)
Bilby — Pierre Perifel, J.P. Sans, Liron Topaz (USA)
Bird Karma — William Salazar (USA)
Grandpa Walrus (Pépé le Morse) — Lucrèce Andreae (France)
Late Afternoon — Louise Bagnall (Ireland)
Lost & Found — Andrew Goldsmith, Bradley Slabe (Australia)
One Small Step — Andrew Chesworth, Bobby Pontillas (USA/China)
Weekends — Trevor Jimenez (USA)
Anyone from the independent animation community who expected a more balanced, international and creatively managed shortlist, especially after the more artistically inclined Annie Award nominations, well, it just didn't happen. Solar Walk by Réka Bucsi,  Untravel by Ana Nedeljković, Nikola Majdak Jr. (both nominated at the Annies), Sog by Jonatan Schwenk, The Blissful Accidental Death by Sergiu Negulici (Romania), La chute by Boris Labbé, Bloeistraat 11 by Nienke Deutz were just passed over (the full list of qualified films at CartoonBrew).
Which is not to say that some films in the list don't really register, like the complex and rewarding, fragmented family experience of Grandpa Walrus (Pépé le Morse) by Lucrèce Andreae (view the film in our Shorts Corner), or Cartoon Saloon's Late Afternoon (Louise Bagnall dir).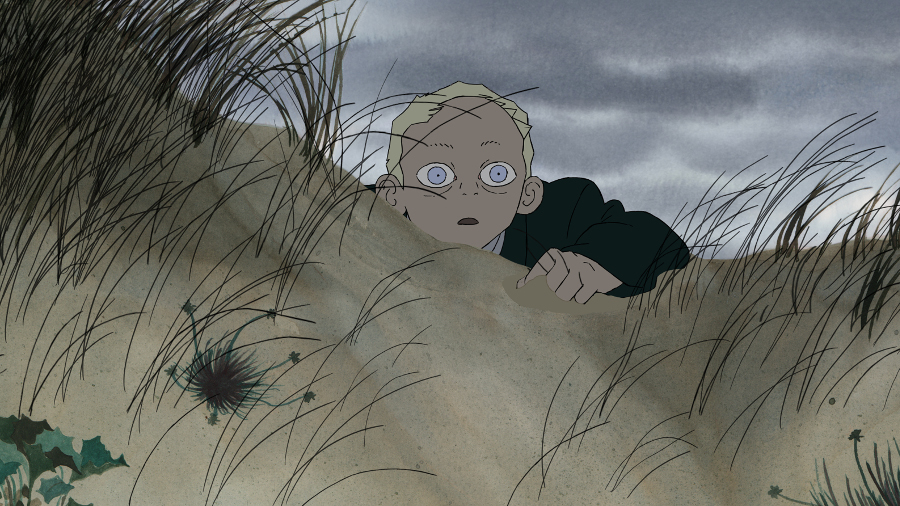 Grandpa Walrus
But facts are crucial here. Out of the big animation festivals, it seems that only Annecy Festival winners have some chance of representing themselves at the Oscar nominees in recent years (The Lost Thing, We Can't Live Without Cosmos, The Bigger Picture) -but not this year's Bloeistraat 11 . Apart from Bronzit's We Can't Live Without Cosmos,  no other winner from Animafest Zagreb has ever entered the 5 nominees' list during the last decade. Other big festivals (Cinanima, Ottawa, Stuttgart) do not fare better in that regard. Which tells a lot about how much cash value the festivals' Oscar-qualifying status has for many Academy Award voters -even though the films awarded are the ones that make their mark in the animation scene for the years to come (yes, and Oh, Willy by Emma de Swaef and Marc James Roels was never nominated for an Academy Award).
The European and independent community needs to realize (if they really want to play the Oscar game, that is), that what is needed here is neither better films nor better festivals, but better publicists. Professionals who could actually go to L.A. county,  talk to voters and the branch organize screenings, and bring the films of their own persuasion to people who would otherwise not give a chance to actually view those films.The Animation Showcase has done this successfully with French films, we need more of those.
The Academy Awards community is not privy to independent animation's sense and sensibility; even if more independent filmmakers become Academy Award members, this is only a small percentage of strong US industry offering represented among Academy voters.  So, for all those interested, a prolonged journey to La-La-Land might be a good start.
Nominations voting begins on Monday, January 7, 2019 and concludes on Monday, January 14, 2019. Nominations for the 91st Academy Awards will be announced on Tuesday, January 22, 2019. The 91st Oscars® will be held on Sunday, February 24, 2019, at the Dolby Theatre® at Hollywood & Highland Center® in Hollywood, and will be televised live on the ABC Television Network.
SIGN UP: Want to read more free articles like this? Sign up for Our Newsletter
Read More About: