The Box and The Blissful Accidental Death win at the 14th Animateka festival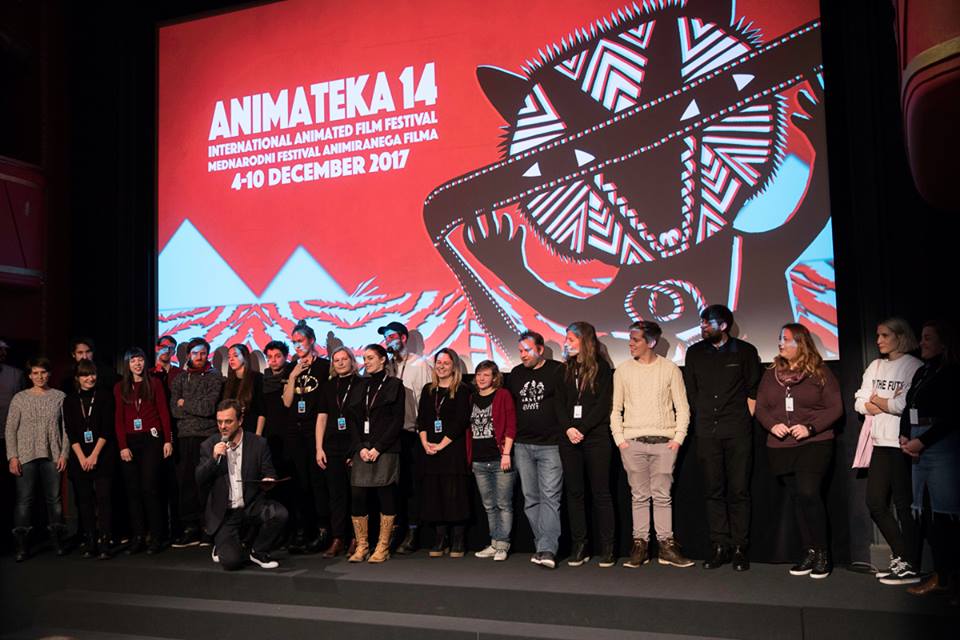 Splendida Moarte Accident / The Blissful Accidental Death by Sergiu Negulici (ABIS STUDIO, RENIFORM, Romania, 2016, 15'11'') charmed the jury team and as Igor Kovalyov stated in the closing ceremony, it was the easiest choice they had to do, a unanimous decision, with no second thoughts or inner conflicts. The jury's explanation on the decision: Visually powerful, the film is a statement about life as an arbitrary trip with unexpected moments. Using a risky and impeccable technique, it takes us on a journey through the Dada poetry. It also reminds us that life is a blissful accident.
In an antique shop, a young man finds an intriguing drawing with a secret love letter hidden on the back, written 70 years ago. After finding out that the author of the drawing is still alive, 105 years old, and eager to find out if the story is real, the man embarks on an unusual journey to meet her, the painter who befriended many important Romanian artists at the beginning of the 20th century.
Indeed sweet, poetic, nostalgic and extravagant, this ode to Dadaism shares a story of lucky encounters, abstract fragments of consciousness and personal reflections through a journey with the train, an adventurous and unconventional journey called life.
The audience gave its precious vote to The Box/ Celica (BUGBRAIN, RTVSLO, Slovenia, 2016,12'13'') by the Slovenian Dušan Kastelic.
Life in the Box is boring and miserable. Until one day when a new baby boy starts to grow in the middle of the Box! This baby is very different from other flat-headed inhabitants of the Box. He's happy, lively and curious. As the baby grows bigger and bigger, the flat-headed neighbors are becoming more and more annoyed with him. Until one day he literally grows over their heads.
The Elephant: Children Jury Award was given to festival favorite Ježeva hiša / Ježeva Kuća / Hedgehog's Home by Eva Cvijanović (BONOBOSTUDIO, NFB, Canada/Croatia, 2017, 10'08''). In a lush and lively forest lives a hedgehog. He is respected and envied by other animals. However, his unwavering devotion to his home annoys a quartet of insatiable beasts. Together, they march off towards Hedgehog's home and spark a tense and prickly standoff.
As the representative of the children's jury stated in the ceremony, the film won us over with its story, which was adapted from a well-known Croatian tale. We were fascinated by the animation and the puppets made of felt. The music we hear is finely tuned to the action, and makes the film even better than it already is. We can admire the work from various angles, and, finally, learn something from its message.
The Young talent: A School of Arts (University of Nova Gorica) and Academy of Fine Arts and Design (University of Ljubljana) Award was given to Ooze by Kilian Vilim (LUCERNE UNIVERSITY OF APPLIED SCIENCES AND ARTS, SWITZERLAND, 2017, 5'29'')
In his everyday life, an elevator boy is confronted with the loneliness and the "up and down" of his service. When he tries to attract the attention of his guests, he makes a very different, gloomy encounter with himself.
Explanation: Selecting the winner from among two finalists was anything but easy. In the end, we chose to award the film that intrigued us all. With authentic storytelling, the author took us on a journey through his emotional world, excelling in an effective use of shots and framing, and well-executed synchronization of sound and image, to prompt in us a strong sense of empathy and leave us with a profound experience of the author's message and his feelings of anxiety. We also applaud the superb choice of technique, resulting in fluent and playful animation.
Apart from the rich and elaborate programme, and following the discussions, the presentations and the masterclasses, what sums up this year's edition of Animateka is a realization that independent and self-produced shorts can be excellent works without the back-up of a big supporting production company; It's true that stable funds and organized setting can make the work of the creators easier and less complex to access, but there are times that the genuine creative process could be aborted or suspended if done in a strict, controlled and supervised context. Creators praised the improvised, spontaneous process that can bring some real gifts on its way.
Jury's Special Mentions:
Caroline Sury - Lahtilaskmise Lugu / Letting Go by Ülo Pikkov (SILMVIBURLANE, ESTONIA, 2017, 10'44'')
Jair Salvador Alvarez - Xoxo Pocałunki I Uściski / Xoxo Hugs And Kisses by Wiola Sowa (SOWA – FILM, POLAND, 2016, 14'00'')
Rao Heidmets - Na kratko / In a Nutshell by Fabio Friedli (YK ANIMATION STUDIO, SWITZERLAND, 2017, 5'47'')
Igor Kovalyov - Debiut / Debut by Katarzyna Kijek (MUNK STUDIO, POLISH FILMMAKERS ASSOCIATION, Poland, 2016, 7'12''
Robert Löbel – Manivald by Chintis Lundgren (NFB, CHINTIS LUNDGRENI ANIMATSIOONISTUUDIO, ADRIATIC ANIMATION, ESTONIA/CROATIA/CANADA, 2017, 12:56)
Special mention of the student's jury – Sog by Jonatan Schwenk (HFG OFFENBACH, GERMANY, 2017, 10'14'')
 Animateka took place in Ljubljana from the 4th till the 10th of December.
Read More About: