'The Breadwinner', 'Vincent', 'The Big Bad Fox' at the 45th Annies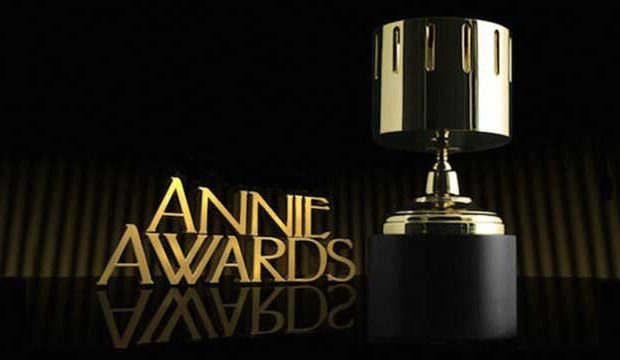 I am particularly proud of the diversity of voices, techniques and artistic styles displayed in the feature films, television programming, independent shorts, commercials and gaming we screened this year.Jerry Beck, Annie Awards president.
This statement was never truer than this year's 45th Annie Awards nominations, organized since 1972 by ASIFA-Hollywood . Apart from the separate category of Independent Animation Feature, European animation features sneaked in more than categories than one.
The highly interesting political story of The Breadwinner  by Nora Twomey has garnered 10 (!) Annie nominations: Best Independent Animation Feature, Direction, Music, Character Design, Production Design, Storyboarding, Voice Acting (2 noms for Saara Chaudry and Laara Sadiq), Writing, Editing. This is only second to Pixar's Coco, which scored 13 nominations overall
Loving Vincent by Dorota Kopiela and Huch Welchman, which narrates and paints the mystery behind Van Gogh's last days,  is nominated for 3 Annies (best independent animation feature - best music - best writing).
The Big Bad Fox and Other Tales  zany and heartfelt story by Benjamin Renner and Patrick Imbert also picks up 3 Annie nominations: Best Independent Animation Feature - Direction - Character Animation.
Two independent animation shorts (both of them stop-motion) and awarded at animation festivals, find their way at the 2018 Annies.
Negative Space by Ru Kuwahata & Max Porter (production: I KKI Films / Manuel Cam Studio) and Hedgehog's Home by Eva Cvijanović  (production: National Film Board of Canada / Bonobostudio) are nominated in the best animation short category.

BBC's TV special Revolting Rhymes by Jacob Schuh is also nominated for Best Animated TV special.

Best Animated Feature
Captain Underpants: The First Epic Movie, DreamWorks Animation
Cars 3,  Pixar Animation Studios
Coco, Pixar Animation Studios
Despicable Me 3, Illumination
The Boss Baby, DreamWorks Animation
Best Animated Feature-Independent
In This Corner of the World, Taro Maki, GENCO, Inc. and Masao Maruyama, MAPPA Co., Ltd
Loving Vincent, BreakThru Films, Production Company Trademark Films, Co-Production Company
Napping Princess, Nippon TV
The Big Bad Fox & Other Tales, Folivari / Panique! / Studiocanal
The Breadwinner / Cartoon Saloon / Aircraft Pictures / Melusine Productions

Directing in an Animated Feature Production

Coco, Pixar Animation Studios Director: Lee Unkrich, Co-Director: Adrian Molina
The Big Bad Fox & Other Tales, Folivari / Panique! / Studiocanal, Co-Director: Benjamin Renner, Co-Director: Patrick Imbert
The Boss Baby, DreamWorks Animation, Director: Tom McGrath
The Breadwinner, Cartoon Saloon / Aircraft Pictures / Melusine Productions, Director: Nora Twomey
The LEGO Batman Movie, Warner Animation Group, Director: Chris McKay
Writing in an Animated Feature Production
Coco, Pixar Animation Studios. Writer: Adrian Molina, Writer: Matthew Aldrich
Loving Vincent, BreakThru Films, Production Company Trademark Films, Co-Production Company. Writer: Dorota Kobiela, Writer: Hugh Welchman, Writer: Jacek Dehnel
Mary and The Witch's Flower, Studio Ponoc, Writer: Riko Sakaguchi. Writer: Hiromasa Yonebayashi. Writer: David Freedman. Writer: Lynda Freedman
The Breadwinner, Cartoon Saloon / Aircraft Pictures / Melusine Productions.  Writer: Anita Doron
Best Animated Special Production
Imaginary Friend Society "Feeling Sad", Hornet
Olaf's Frozen Adventure, Walt Disney Animation Studios
Pig: The Dam Keeper Poems, Tonko House, Inc.
Revolting Rhymes, Magic Light Pictures
Tangled Before Ever After, Walt Disney Television Animation

Best Animated Short Subject
Dear Basketball, Glen Keane Productions, Kobe Studios, Believe Entertainment Group
Hedgehog's Home, National Film Board of Canada, Bonobostudio
Negative Space, IKKI Films / Manuel Cam Studio
Scavengers, Titmouse, Inc. // Adult Swim
Son of Jaguar, Google Spotlight Stories, Reel FX
  Character Animation in an Animated Feature Production
Coco, Pixar Animation Studio, Animator: John Chun Chiu Lee Character: All characters
Coco, Pixar Animation Studio, Allison Rutland Character: All characters
The Big Bad Fox & Other Tales Folivari / Panique! / Studiocanal,  Animator: Marco Nguyen Character: all characters in scene / Directing Animator: Benjamin Renner Character: all characters in scene / Supervising Animator: Patrick Imbert Character: all characters in scene
The Boss Baby, DreamWorks Animation, Animation Suvervisor: Bryce McGovern Character: various
The Boss Baby, DreamWorks Animation, Animation Supervisor: Rani Naamani Character: various


 Music in an Animated Feature Production
Captain Underpants: The First Epic Movie, DreamWorks Animation. Composer: Theodor Shapiro
Coco, Pixar Animation Studios,Composer: Michael Giacchino, Composer/Lyricist: Kristin Anderson-Lopez, Composer/Lyricist: Robert Lopez, Composer: Germaine Franco, Lyricist: Adrian Molina
Loving Vincent, BreakThru Films, Production Company Trademark Films, Co-Production Company, Composer: Clint Mansell, Composer/Lyricist: Elyssa Samsel, Composer/Lyricist: Kate Anderson
Olaf's Frozen Adventure, Walt Disney Animation Studios, Composer: Christophe Beck
The Breadwinner, Cartoon Saloon / Aircraft Pictures / Melusine Productions,  Composer: Mychael Danna, Composer: Jeff Danna
Editorial in an Animated Feature Production
Coco, Pixar Animation Studios. Nominee: Steve Bloom. Nominee: Lee Unkrich Nominee: Greg Snyder Nominee: Tim Fox
Ferdinand, Blue Sky Studios/Twentieth Century Fox Animation. Nominee: Harry Hitner . Nominee: Tim Nordquist
The Breadwinner, Cartoon Saloon / Aircraft Pictures / Melusine Productions. Nominee: Darragh Byrne
The LEGO Batman Movie, Warner Animation Group. Nominee: David Burrows Nominee: Matt Villa Nominee: John Venzon
The Star, Sony Pictures Animation/Walden Media. Nominee: Pamela Ziegenhagen



The Annie Awards™ cover 36 categories and include Best Animated Feature, Best Animated Feature-Independent, Special Productions, Commercials, Short Subjects, Student Films and Outstanding Individual Achievements, as well as the honorary Juried Awards. The winner of the 45 Annie Awards will be announced at a black tie ceremony on Saturday, February 3, 2018 at UCLA's Royce Hall. More info: annieawards.org