The Discreet Charm of Exclusiveness: After the 1st European Animation Awards ceremony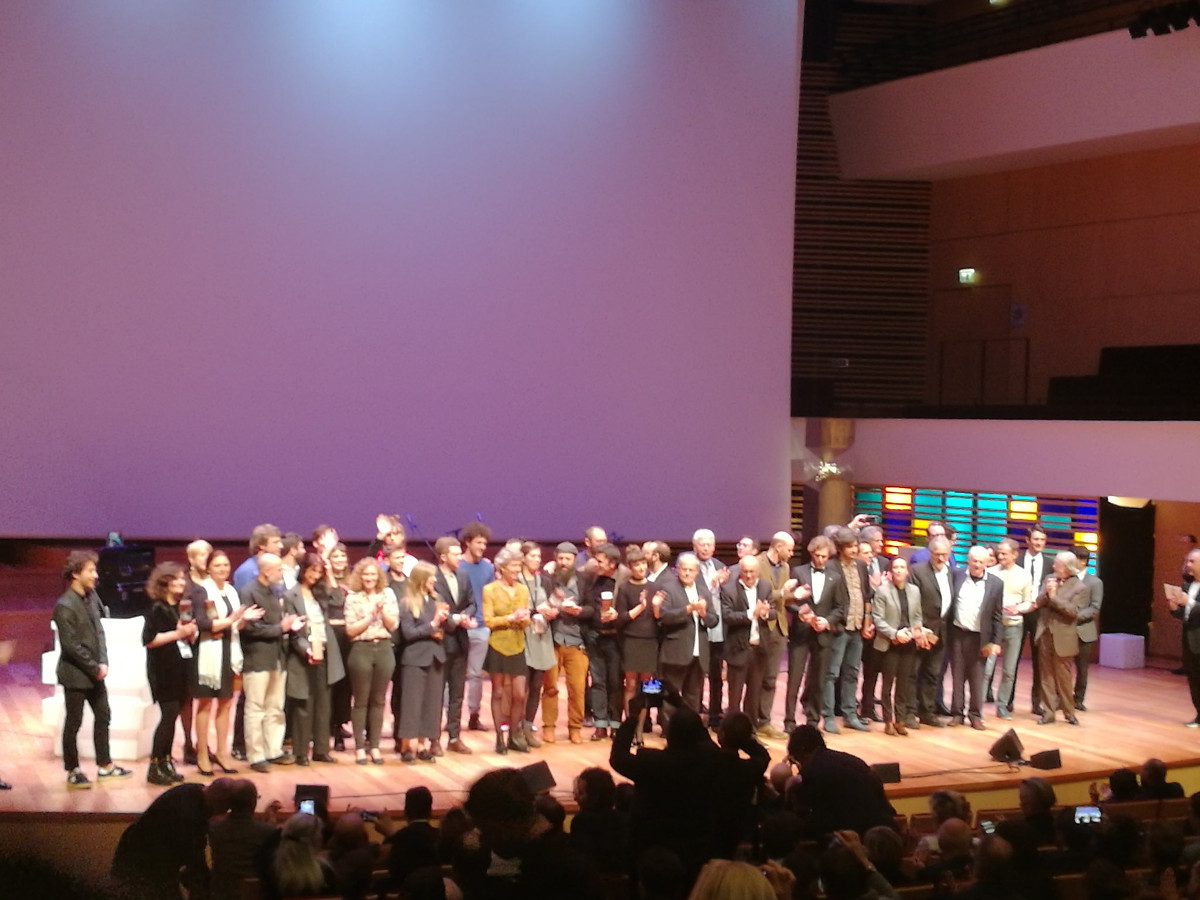 The premiere European Animation Awards ceremony was held on December 8th. While traveling around rainy France, I was critically recalling what happened last week on the stage of Le Nouveau Siècle in Lille. An impressive crowd of 1000 visitors attended an event and observed a spectacle that finds its dynamics in high elevation of hopes and expectations, happiness of well-performing or sincerely surprised winners, and an understandable grouching of the others. And when glamour is over, it is time to address certain concerns.
One Night at the Theatre
An award-giving show is a tricky one, since there are million reasons why one might lose concentration: e.g. disappointment, hunger or an interest limited to the categories delivered in the beginning of the 2,5 hours long gala may greatly contribute to the general feeling of tiredness. But that is an individual matter; the biggest challenge lies in bringing out the collective spirit, i.e. in the organizers' ability to create a bound with the visitors, an act that depends on the transparency and honesty of communication. The appearance of the bound is rather unlikely if interactions are replaced with slogans and declarations that do not transmit the organizers' agenda. I believe this has occurred at the Emile ceremony. Of course it was an enjoyable evening accompanied with nice cocktails but there was also something thick and peculiar hanging in the air. Just as if you were attending your atheist friends' marriage ceremony at the catholic cathedral.
Film festivals, so far the core of European animated industry(ies), recognize artistry, experimentation and auteur forms of animation. The Emiles aim at reinvigoration and support of animation understood as cinema industry deriving from financial and operational production potential as well as availability and craftsmanship of animation work-force. It might be a truly reasonable division, yet the organizers use language and protocol of the festivals. It was hard to notice the attempts of explaining role and model of the industry which the Emiles propagate, information about EAA association's activities or general modus operandi also remained unclear. The EAA outsiders would have to reconstruct the agenda from the verdict, ephemera materials, or personal statements (highly recommended summary of interviews done on site by Tunde Vollenbroek). The insiders either know it already or really should learn it quickly. And this situation is problematic: EAA has not invented animation industry in Europe (it already exists on the continent in multitude of forms), it should have affirmed its value but the association decided to focus on delivery of splendour and awards instead of public and direct communication of their standpoints (i.e. to summarize and define current conditions, and to delineate the future directions).
And this is a story of the 1st EAA as it might have appeared to some: presence of extended European artistic animation community (representatives of various filmmaking professions and experts) is needed to confirm a pragmatic and truly binary choice made by the EAA. A celebration of European animated film brought together an inspiring crowd, but the event was primarily addressed to those with the background in Western European studios with global perspectives, the rest should adjust to this formula otherwise the achievements will not be considered significant. "The rest" ought to be understood here in economic and geographic terms. Emile Awards equally neutralize both production of limited financial potential as well as production of European peripheria, which is wide enough to embrace Iberian Peninsula, Central-East Europe and Russia. Hence EAA found itself on a fast-track to exclusiveness in an old-school, capitalistic manner.

A Proper Formula for European Dream
Emile Awards apparently was conceived as a mean of consolidation of a certain model of animated cinema industry. The results achieved within this model were awarded in Lille thanks to the popular voting (well, only the EAA members can vote, but that's quite standard procedure for the industry; wondering only if EAA is supposed to be treated equally to any Film Academy, and if so - then why?). Since EAA decided to go public with their agenda, only naturally it is expected that the promotion of the chosen model of industry will be conducted in an open, progressive and promising manner for the benefit of the organizers, the industry representatives, and the audiences. In order to be communicative and attractive, the EAA would have to deliver and introduce new tools for improving chain of production/distribution/promotion of artistic animation accessible for wide and diverse group of European professionals. But this could have happened only if the production model preferred and adopted by EAA had assumed inclusiveness. In the observer's eyes the situation looked quite opposite though.
I have already written about the nominated films,  so now I will only outline some remarks on the social and cultural functions of EAA's verdict. In the feature film categories the nominations repeatedly highlighted few chosen titles. Similar pattern has appeared in a rewarding process - just as during the Oscars held in a non-surprising season, two films have dominated the awards night what has contributed to the ambient of self-satisfaction and harmonious boredom.
Emile Awards became a ground-battle for Michael Dudok De Wit's The Red Turtle and Claude Barras's My Life as a Zucchini. From the formal point of view, "Zucchini" won (full score: awards in best film, best writing for feature and best soundtrack in a feature) against the "Turtle" but the failure in the case of the latter title means 2 scores out of 3 (Dudok De Wit and his team left Lille with the awards for best character animation in a feature and best storyboard). As an artistic choice, I take the decision of the EAA voting members as a sign of interest in productions that attempt to engage the young audiences in reflection on anxieties of our times. And for that I feel highly satisfied. Yet if I look at the verdict as a record of cultural production conditions in Europe I see a stable and firm status quo, a glamorous but still photography while we all know that the most intriguing things occur between the frames.
Let's take a look at the production entities behind these canonized titles. The Red Turtle was realized in the course of 10 years in a global mode of production (i.e. enabling production flow between the continents), and created in a cooperation of 6 co-producers (Why Not Productions, Wild Bunch, Studio Ghibli, CN4 Productions, arte France Cinéma, Belvision), support of Eurimage, 3 television channels (Canal+, Ciné+, Arte France) and 4 regional funds from France and Belgium. Dudok De Wit refers to The Red Turtle as an indie production. This statement complies with the reality only if we adopt American perspective on the industry but seems extravagant on the ground of European productions, especially if applied to continental and non-Francophone industries -where standard range of involved entities varies from 2 to 6. It would be for the benefit of all the parties, smaller and bigger studios alike, if the members of the community agreed for a proper terminology. Labelling all kinds of production made east of Hollywood as "indie" doest not do justice neither to well-functioning structures of big productions nor to truly independent endeavours conceived and conducted without multi-structural and transnational support.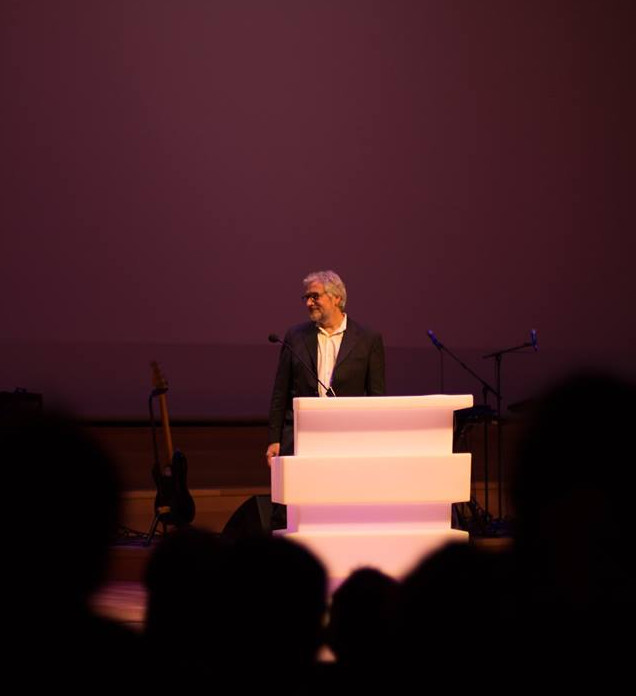 Michael Dudok de Wit at the EAA 2017 © Florine Maitre / Lycée Jean Rostand
My Life as a Zucchini, French/ Swiss film, gathered 4 producers (Blue Spirit Animation, Gébéka Films, Rita Productions, KMM), 6 co-producers (France Suisse, RTS Radio Television Suisse, SRG SSR, France 3 Cinéma, Hélium Films, Rhone-Alpes Cinéma) and 16 other collaborators and supporters (among them Office Federal de la Culture, Canal+, Ciné+, CNC, Eurimage, France Televisions, Swiss Lottery, Suisssimage, several regional funds). The production credits of both winners seem quite telling. EAA looks for consolidated production practices, strongly grounded in all of the following: production system modeled after the American market, EU supportive mechanisms for cultural production, television-related, potentially attractive for global counterparts. And when we come to this point, I don't really think it is simply a question of geography; it rather seems a production class conflict between the entities across the continent. It is a cinematographic model that may enable European films to compete (or merge) with global animated industry. The situation of smaller entities is related to visible presence on European markets - it is another version of a distribution game, unfortunately neglected (at least not addressed) by EAA.
In this sense a choice of the film screening concluding ceremony seems significant. Nora Twomey's The Breadwinner is a touching, gentle, yet horrifying story of a girl growing-up in the awake of 2001 Afghan war, struggling for mental and physical survival of herself and her family. The Breadwinner primarily comes from Irish studio Cartoon Saloon thus it's already armed with a potential deriving from the status of a twice Oscar-nominated creators (Nora Twomey, Tomm Moore).
With the Canadian and Luxembourg co-producers and Angelina Jolie's Pas Production (mentioned in the first place of the press release) as an industry endeavour, it fits the global production mode. On the level of storytelling and aesthetics, fully immersed in Middle East imagery, obviously it implements transnational filmmaking practice strategy (even if it is striking that the only representative of the region in the creative team, Reza Riahi, a co-art director, actually comes from Iran). The producers have already secured US and Canadian cinema distribution, premièred at Toronto IFF, await now for Annies Awards and other tokens of appreciation within US industry, while the Irish and French theatrical premiers are scheduled for May 2018.

Strategic Shortcoming
An exclusion of the markets and filmmakers based outside of France and UK (the latter dominated TV/Broadcast categories) seems alerting when you repeatedly hear that the wonder of EAA is to bring the whole Europe together (a brief example from Peter Lord's statement: Let the Emile Awards be the place where the whole European community meets). Unity and integration of a scene, declared from the stage by Board Members consisting of 15 people in the age of 40+, Western citizens, Caucasian, and male gender in 80%, does not sound convincing. And the issue of animated cinema industry, truly important (in fact, it should be noted as crucial in a global capitalist film market), becomes overshadowed by this somewhat ridiculous small-talk. The geographical exclusion is of course mostly related to the production from Central-East Europe and highly limited consideration for the production from South and Scandinavia. Unfortunately, the awards ceremony only added to the geographical disproportions already discussed by many after nomination announcements. Simply, no single award was given to the film realized outside of the old core of EU.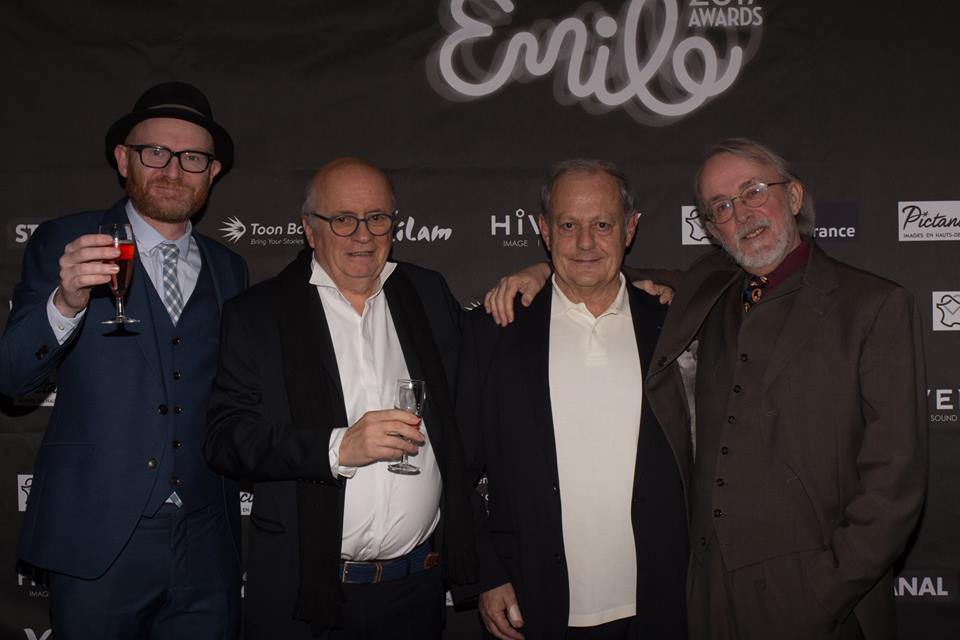 EAA board members, with president Peter Lord (far right). © Florine Maitre / Lycée Jean Rostand)
Niki Lindroth von Bahr's The Burden (best short subject), Marta Gennari and Giulia Martinelli's Merlot (best student film), and David Coquard-Dassault's Peripheria (best character and background design) are certainly great works of animation, not always considered outstanding but they maintain quality level. Especially it is worth to mention The Burden as a brilliant example of art work and intellectual reflection. Limitations of the verdict in short subject categories seem to be a consequence of a nomination policy. Short film production across Europe is simply too large to be reduced to 3 categories and 3 nominees in each. Vollenbroek recalls in her report statement from Olivier Catherin (EAA Board Member), who acknowledges necessity of widening short categories but is afraid it might make the ceremony too long... Let's then hope it's just the matter of reflection and script-doctoring.
Presumably, the EAA Board could also consider means of ensuring visibility of all European cinematographies in this competition. Perhaps the EAA ambassadors could add 1 title from each country to the nominees' lists, so the voting members have a chance to get familiar with European production diversity. EAA tries to counterbalance the domination of short films in the festival circuit, but such attempts should not diminish shorts' significance -at least for one reason. Since short production in Europe is much more developed and numerous than features, this is exactly a community that may provide wide outreach for EAA efforts in Europe. And in order to play globally, an actor must be strong locally. Short production filmmakers and producers either do the networking or compete but they are already consolidated, aware of the potential and weaknesses of their peculiar, ephemeral markets dictated by state support and critical acclaim. If the Emiles would not bring empowerment tools for them, why should they stay interested in this initiative instead of pursuing their own agenda related to festival circuit and dispersed distribution channels? Perhaps it is rather a challenge for the short production representatives within EAA association: to formulate expectations, aims and means for achieving them.

It's a Beautiful Life
For the end one more concern: day after EAA ceremony in Lille, the European Film Academy celebrated their awards in Berlin (December 9th). The 30th anniversary of EFA of course has attracted film journalists and movie-goers to much greater extent than EAA's début. It is only natural and probably has been expected by the Lille ceremony organizers. EFA's tradition is rooted in live-action autuer cinema, the list of its former and current presidents and chairpersons includes names such as Ingmar Bergman, Wim Wenders or Agnieszka Holland. Of course it is also an industry-oriented initiative that aims at both, competition and interaction with Hollywood. Beside of industry-building endeavours EFA directly declares attachment to the external reality and awareness of the problems that exceed filmmaking, production and distribution.
Since 2014 EFA advocates solidarity with the Ukrainian filmmakers repressed or even imprisoned in Russia (Free Oleg Sentsov), and this year for a moment the stage was overtaken by women of the industry calling for reflection on women rights, referring to the subjects of #metoo and ongoing problems faced by civil societies in Sweden, Poland and Romania and declaring readiness for creation of protective mechanisms within an industry. Such acts are exactly another responsibility of the bodies that find themselves entitled to deliver tokens of cultural prestige and acknowledgement. It is easy to immerse in a beauty of a fairytale-like Lille and forget about the upside-down world. Again, that's an individual matter, the role of any kind of community-builders is to take a stand since contemporaneity offers vertigo of problems that might be addressed. There was a lot of talking about "historical" function of EAA, and agreed, the event has a great potential and all the possibilities to achieve its aspirations;  but in order to become daring and transformative, it needs to widen its horizons.