News
8 Belgian Animation Shorts To Watch In 2019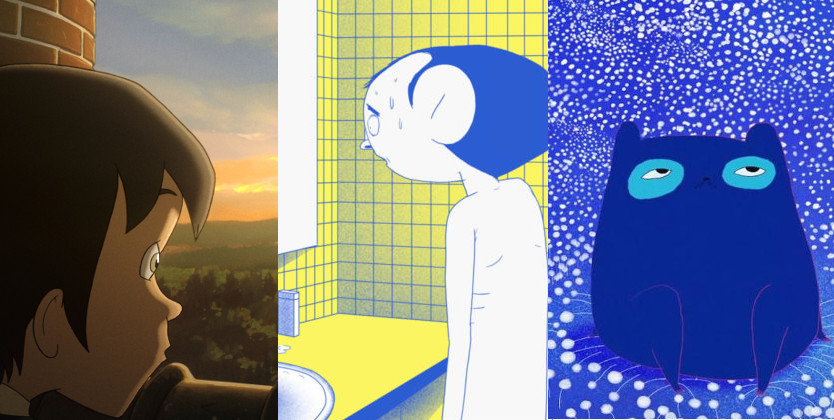 There is the need for activity and there's another need for tranquility. Of all the recent crop of Belgian animation shorts we watched during the fine Anima Brussels Festival, 1-10/3/2019), this was the single-handed request. To be free from from one's traumas, from the hatred of the others, from prejudice, failed expectations and so on.
The need for tranquility -which won't really amount to total happiness, mind you- permeates almost all recent Belgian animation shorts, some of which had their premiere at the Brussels festival. Nature might still look immovable, but not necessarily pretty or friendly; and sometimes, even the ugliest environments can bring the necessary catharsis.
The list below will not exhaust the range of Belgian animation shorts produced in 2019, for many of them still have to premiere in late spring animation festivals. But it serves as an early indication of themes used and treated by directors to tell their stories - to be corroborated by later entries or even overturned.
So, without further ado, here are some of the interesting Belgian shorts we watched, and explore this ever-fleeting demand (in preference order):
1. Sous le cartilage des cotes, Bruno Tondeur (13', 2018) /Take Five, Schmuby Productions
This is the story of a man who is going to die... Maybe.
ZF: Bruno Tondeur returns from the intergalactic world of Deep Space (watch it here) to examine the inner heart turmoils (these in stop-motion) of a hypochondriac -but still essentially lonely - male protagonist. A stand-out structure of scenes and immediate character empathy -in glaring, almost monochrome backgrounds.
2. From The Snow-Covered Hill, Matty Jorissen, Wijnand Driessen (14', 2018) / Walking the Dog, Serious Film
Left behind at an isolated boarding school, young Will quickly becomes a target for bullying. Only the friendship from a small bird brings him solace. But as the bullying worsens, Will's means of escaping the world grow darker.
ZF: It is visually so simple it should look inconsequential, with just autumnal hues to denote worrying things to come . But the film  is anything but that. A very serious issue is here transformed into an upsetting, and ultimately heart-rending story; with an adroit sense of storytelling, From The Snow-Covered Hill leads masterfully the story of Will  to its destined end.
3. Nuit Cherie, Lia Bertels (13'46'', 2018) / Ambiances...Asbl
In the wintery Himalayas, a bear can't sleep. He's thinking too much and feels sad, until a white monkey invites him to eat honey, to help him clear his head. As he enjoys the beautiful winter night, the bear realizes that he was lucky he couldn't sleep.
ZF: A sad and beautiful elegy of blue sky insomnia, Nuit Cherie employs distinctive character design, unforgettable background elements and a sense of abandonment in order to give in to midnight winter beauty -before you can actually rest.
4. Alfred Fauchet, Georis Mathieu (6'40'', 2018) / Atelier de production de La Cambre ASBL
Alfred wants to get rid of things, but gets lost in the process. The car is moving, but too fast.
ZF: French Alfred Fauchet was the inventor of the car mirror, but in the quietly oddball Alfred Fauchet short by Georis Mathieu he becomes a tormented car driver by his own car equipment. Painterly backgrounds give a sense of inescapable stillness (contrasting with what takes place in the film's action part), and long shots tell you that there's a whole world out there -but not to your help.
5. Panta Rhei, Wouter Bongaerts (10'14'', 2018) /Creative Conspiracy
Stefaan is an introverted marine biologist who is tormented by the water that keeps seeping into his life: leaking faucets, floods, endless rain. Just like the stranded whales he is studying, he flees the water.
ZF: Without being too specific, Panta Rhei (Everything Flows) still holds both the interest and the concern for its main character -angular and aggressive as he can be, but tormented nevertheless. The film marries sea and land mammals, and this is an intersection that gives some of the film's most pertinent moments.
6. Not Today, Marine Jacob (5'20'', 2018) /Atelier de production de La Cambre ASBL
It's been a long time since sweet old Mamy has had visitors. But when Death comes to her door, the old woman is determined to enjoy his company.
ZF: Always in line with its Django Reinhardt inspired music (by Olive Musique and Studio Le Bus), Not Today makes up for a welcome turn into defying-death tactics. The fact you've seen this kind of story before doesn't diminish the charm of its execution.
7. Generation Playmobils, Thomas Leclercq (7'29'', 2018) / Atelier de production de La Cambre ASBL
A little boy loses his brand new toy in the hedge surrounding his school. When he's about to go in and get it back, his friends warn him that nothing and nobody has ever come back from there.
ZF: Cartoonish in both style and heart, Generation Playmobils returns back to school days to get its message of "sharing is caring" through; it has intelligent character development arcs and suitable nostalgic 2D aesthetics.
8. Velo, Glenn D'Hondt, Birger Platteeuw (9'23'', 2018) / Eugene and Louise Studio
To escape his loneliness, Lucien goes on a daily bike ride. Today however, he is forced to take another route and encounters a girl who will take him back to his youth. He desperately clings on to this moment, only to realize it's meant to pass.
ZF: Much in the tradition of Dudok De Wit's Father and Daughter, Velo tackles both past and present - and unfulfilled love in the present tense. As poignant as it should be, it tells its story in concrete steps -in a natural environment devoid of stress, but rather unfair to aged people.
SIGN UP: Want to read more free articles like this? Sign up for Our Newsletter