News
Butterflies by Isabel Peppard: Stop-motion thriller qualifies for an Oscar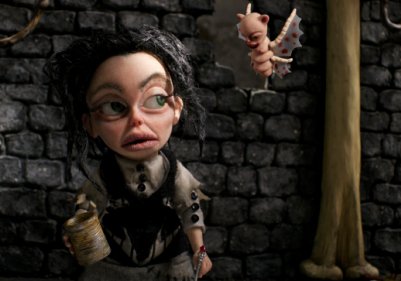 Butterflies is a 12-minute Australian short, directed by Isabel Peppard (who co-writes the script, along with Warwick Burton). The film synopsis has a young artist who sits on the sidewalk, struggling to make a living. She makes drawings for the passersby. A businessman recognises her talents and offers her a paying job. The prospect seems inviting but the reality threatens to kill her imagination...
The film trailer carries an irresistible aura of a Dickens character gone wild, inadvertently immersed in a world of ruthless mechanics.
Butterflies premiered at the 2012 Melbourne International Film Festival. It won the Jury Prize for Best Short Animated Film at Cinequest International Film Festival, San Jose. Cinequest is an A-list Academy Accredited festival. Butterflies now qualifies for Academy Award® consideration in the category of Best Short Animation.
The Oscar-nominated Rachel Griffiths (Hilary and Jackie), Nicholas Hope, Henry Nixon and Honey Spence voice the film, which took three years from script to screen (pre-production took more than a year). Butterflies came out of her personal experiences, which were channeled into an art form.
Visit butterfliesanimation.com, and read the director's statement below:
Butterflies is a short stop motion animation that addresses some darker elements of the human condition. The things that truly mortify me are not vampires, werewolves and zombies, but rather, everyday things. The horror of waking up one morning and wondering where your life went, the horror of losing whole chunks of yourself on the road to adulthood and the horror of wondering dreamlessly through a colourless world.

I made this film as a response to a stagnant time in my creative life when I didn't have the time and energy to produce any of my own work. As I lost my muse, I also felt like I was losing myself. I channeled this experience into the conception of Butterflies which was also a sort of salvation because through the process of making the film I was able to use all of my creative energies at full capacity.

The universe of Butterflies is dark and symbolic. There are creatures that embody the extended mind of the main character (the butterflies) and rich fantastical environments representative of her shifting psychological landscapes. I chose animation for this story because it allows the viewer to be immersed in the imagery of the main characters emotional journey, a visceral and instinctive way to experience her story.
Read More About: