News
Cartoon Tributes Nominees 2014: Celebrating European Animation Professionals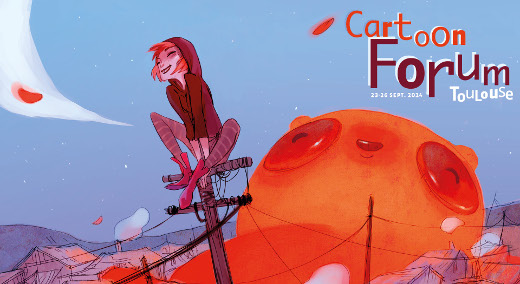 European animation is getting ready to celebrate the 25th edition of Cartoon Forum, the pitching event for animation series, which will be held in the city of Toulouse (23-26 September).
84 new projects for animation series will be presented at the event with the aim of fetching interest by more than 850 investors, co-producers and broadcasters to speed up their production.
Along with the presentation of projects, this key event for the European animation sector will host a ceremony for the Cartoon Tributes, the professional awards given to broadcasters, investors/distributors and producers for their contribution to the development of the TV animation industry in Europe.
A total of 15 companies and personalities are among the nominees for these awards, for which France and the UK have a leading role.
In the Best Production category, the French animation production company  Les Films de l'Arlequin  is nominated. The 1991-founded company is responsible for European animation shorts, such as Ines Sedan's El Canto, Santiago 'Bou' Grasso's Padre, and Hollow Land by Michelle and Uri Kranot.
Blue-Zoo Productions, a BAFTA-award winning UK animation studio, which also excels in commissioned animation work, is also nominated for a Cartoon Tribute award.
Producers Léon Perahia and Robin Lyons are nominated, in recognition of their participation in all 25 editions of the Cartoon Forum event, and Submarine  studio (Netherlands) completes the list for Best European Producer.
The category for Broadcaster of the Year reflects the interest of public broadcasters in European animation.
Nominees include Germany's KiKA, Italy's RAI Fiction and Switzerland's Schweizer Radio und Fernsehen (SRF). French pay-TV operator CANAL+ and Disney Channel (USA-France) complete the short-list in this category.
Two French companies and two British companies will compete for Investor/Distributor of the Year.
The French nominees are Dandelooo, a young creative animation production and distribution company, and Mediatoon Distribution, with over 1,500 hours of youth programming in its library.
The British nominees are HIT Entertainment, one of the world's leading preschool entertainment companies which is celebrating its 25th anniversary this year, and Serious Lunch, a new venture led by Genevieve Dexter.
WDR Mediagroup, a commercial arm of the German regional public broadcaster WDR, rounds up the list of nominees for Investor/Distributor of the Year.
Cartoon Forum participants will vote on the winners, to be announced on 25 September at a ceremony that will also award the Cartoon d'Or for best European short animated film.
The nominees' list:
Producer of the year:
- Blue-Zoo Productions (United Kingdom)
- Léon Perahia (Belgium)
- Les Films de l'Arlequin (France)
- Robin Lyons (United Kingdom)
- Submarine (Netherlands)
Broadcaster of the year:
- CANAL+ (France)
- Der Kinderkanal ARD / ZDF (KiKA) (Germany)
- Disney Channel (USA /France)
- RAI Fiction (Italy)
- Schweizer Radio und Fernsehen (Switzerland)
Investor / Distributor of the year:
- Dandelooo (France)
- HIT Entertainment (United Kingdom)
- Mediatoon Distribution (France)
- Serious Lunch (United Kingdom)
- WDR Mediagroup (Germany)
Read More About: