News
NFB celebrates International Animation Day with Get Animated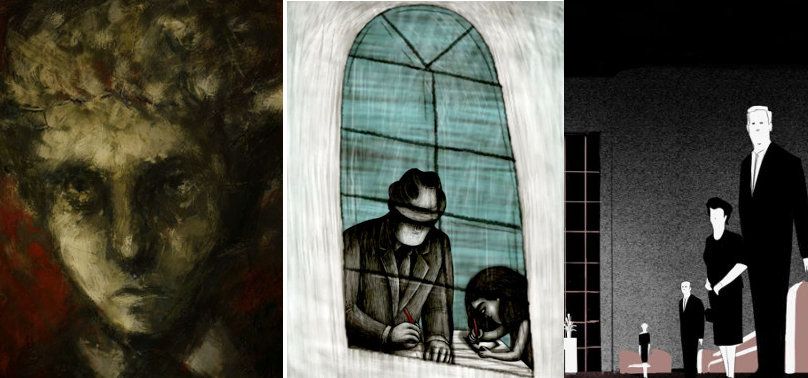 On Wednesday, October 28, we're celebrating International Animation Day with 12 short films streaming free via the Get Animated! online showcase at NFB.ca. All of the films will subsequently be available permanently in Canada for free viewing on the National Film Board site. Now in its 14th year, this annual event gives Canadian audiences the opportunity to explore a host of new works by Canadian and European filmmakers working in the NFB's cutting-edge, internationally renowned studios.
The rich 2020 selection puts women in the spotlight—both female directors and strong female characters—and features a wealth of different animation techniques. In addition, exclusive content prepared by the filmmakers specially for Get Animated! will be available on the NFB's various platforms.
The 2020 Get Animated! selection
Made by world-renowned animators, the outstanding animated films in this year's program have won prestigious awards and screened throughout the global festival circuit.
• Highlights:
The Physics of Sorrow and Blind Vaysha by Theodore Ushev (Montreal, Quebec)
Theodore Ushev has found fruitful creative soil at the NFB, where he's made more than 10 films to date, including Blind Vaysha, narrated by Caroline Dhavernas, nominated for a 2017 Academy Award and the recipient of multiple awards. The Physics of Sorrow, narrated in French by Xavier Dolan and in English by Rossif Sutherland, with a special guest-voice contribution from Donald Sutherland, has thus far earned nearly 35 awards, including the prestigious Cristal Award at Annecy, and been selected for 55 international festivals. Theodore Ushev's films have won more than 150 awards and honours over the years.
Old Dog by Ann Marie Fleming (Vancouver, British Columbia)
After losing his best friend, an elderly pug named Henry must depend on his owner for help in this tender ode to aging. This new film by Ann Marie Fleming (Window Horses) has been selected for a number of Canadian festivals, from Halifax to Vancouver.
The Procession by Pascal Blanchet and Rodolphe Saint-Gelais (Montreal, Quebec)
Selected to screen at festivals around the world, including the landmark We Are One global film festival, this film is the first collaboration between Pascal Blanchet, an illustrator (who's worked with Wes Anderson and Pierre Lapointe) and creator of graphic novels (Rapide-Blanc), and animator and filmmaker Rodolphe Saint-Gelais, whose credits include the opening sequence of the feature film Dédé à travers les brumes. The Procession is narrated by Marie-Thérèse Fortin (French version) and features an original score by Pierre Lapointe and Philippe Brault.
Uncle Thomas: Accounting for the Days by Regina Pessoa (Valbom, Portugal)
World-renowned filmmaker Regina Pessoa's latest film is her most personal project to date. It has been selected for close to 40 festivals and has received 25 awards and mentions, including the Jury Award for a Short Film and the Best Original Music Award for a Short Film (original soundtrack by Normand Roger) at the 2019 Annecy Festival.
No Objects by Moïa Jobin-Paré (Montreal, Quebec)
Selected for festival screenings in Canada and internationally, this film earned a Special Jury Award at Animafest Zagreb in 2019. Combining hands-on techniques with digital and analog technologies, No Objects transfigures forms of expression, turning photographs into etchings and sound into motion.
• Other films launching online at Get Animated!
Canadian audiences will also have the chance to explore various animated shorts by European filmmakers, including Embraced by Justine Vuylsteker, The Cannonball Woman by Albertine Zullo and David Toutevoix, The Head Vanishes by Franck Dion (winner of the 2016 Cristal Award at Annecy), and more.
About International Animation Day (October 28)
In 2002, the International Animated Film Association (ASIFA) launched International Animation Day to commemorate the first public performance of Émile Reynaud's Théâtre Optique at the Musée Grévin in Paris on October 28, 1892. This celebration is held in over 40 countries, and the NFB is taking part for the 14th straight year through Get Animated!, held on NFB.ca.
SIGN UP: Want to read more free articles like this? Sign up for Our Newsletter