Pitching
Cartoon D' Or 2012: finalists selected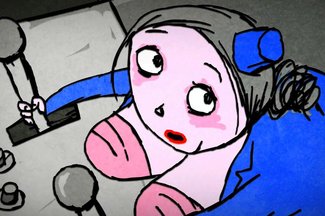 Cartoon D'Or is the pan-European award for the best animated short film of the year. Prize-winning films from major European festivals (Annecy, Anifest, Stuttgart, Zagreb etc.) compete to enter the 5 finalists, out of which the winner is selected.
The 2012 nominated films are:
Edmond Was a Donkey by Franck Dion (France / Canada, 2012, 15mn 4s) Prod: Papy3D Productions, Arte France, L'office national du film du Canada
Flamingo Pride by Tomer Eshed (Germany, 2011, 6mn 2s). Prod: Talking Animals, HFF Konrad Wolf
Oh Willy... by Emma De Swaef & Marc James Roels (Belgium / France / Netherlands, 2012, 16mn 53s). Prod: Beast Animation, Polaris Film & Finance, Vivement Lundi!, il Luster
Tram by Michaela Pavlatova (France / Czech Republic, 2012, 7mn). Prod: Sacrebleu Productions, Negativ Film
Zing by Kyra Buschor & Cynthia Collins (Germany, 2011, 7mn 31s) Prod: Filmakademie Baden-Württemberg
The 2012 jury was composed of directors Alain Gagnol (France), Esben Toft Jacobsen (Denmark) and Giuseppe Lagana (Italy)
The Cartoon D' Or award ceremony will take place during the Cartoon Forum in Toulouse on Thursday, 13 September.
Last year's winner was  The Little Boy and the Beast.
COMPETING FILMS
Aalterate, Christobal de Oliveira, France / Netherlands
Atlas, Aike Arndt, Germany
Body Memory, Ulo Pikkov, Estonia
Danny Boy, Marek Skrobecki, Poland
Dodu - The Cardboard Boy, José Miguel Ribeiro, Portugal
Duo de volailles, sauce chasseur, Pascale Hecquet, Belgium / France
Farmer Jack, Arjan Wilschut, Netherlands / Belgium / Ireland
L'envol du chat, Clément Doranlo, France
La boîte de sardines, Louise-Marie Colon, Belgium
La Veuve Caillou, Agnès Patron, France
Lumberjack, Pawel Debski, Poland
Moxie, Stephen Irwin, UK
Natasha, Roman Klochkov, Belgium
PL.ink, Anne Kristin Berge, Norway
Romance, Georges Schwizgebel, Switzerland / Canada
Sem Querer, Joao Fazenda, Portugal
Seven Minutes in the Warsaw Ghetto, Johan Oettinger, Denmark
Slow Derek, Dan Ojari, UK
Story of Him, Pascual Perez, Spain
The Backwater Gospel, Bo Mathorne, Denmark
The Chronicle of Oldrich S., Rudolf Smid, Czech Rep
The Last Bus, Martin Snopek, Ivana Laucikova, Slovakia
The Mangel, Jan Andersson, Katja Kettu, Finland
The Origin of Creatures, Floris Kaayk, Netherlands
The People Who Never Stop, Florian Piento, France / Japan
Una furtiva lagrima, Carlo Vogele, Luxembourg
{/tabs}
Read More About: