Pitching
LAIKA Will Recruit Animators During Animarkt Stop Motion Forum 2018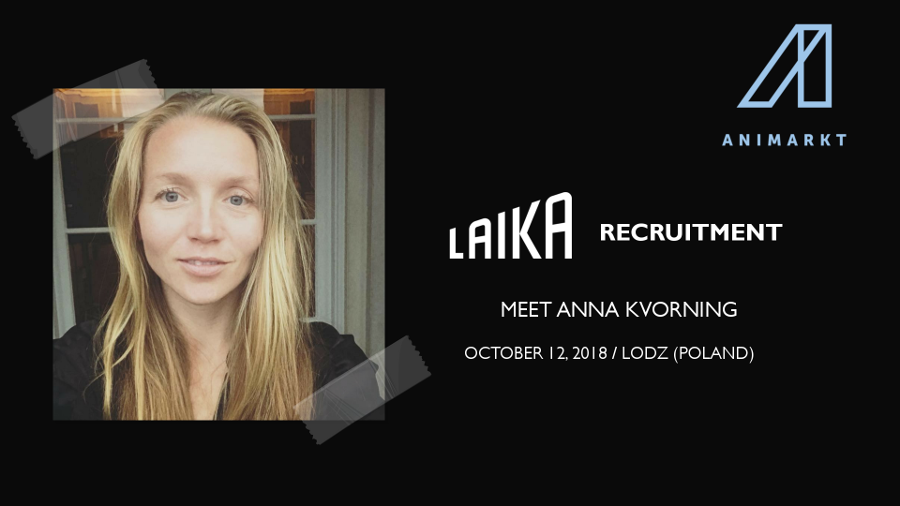 The 2018 ANIMARKT Stop Motion Forum has brought US production closer to Central and Eastern Europe.
Anna Kvorning, which oversees talent acquisitions at LAIKA,  will recruit animators and costume makers to work in the US studio. Recruitment to LAIKA studio will take place on October 12th in Lodz (Poland) in the revitalised buildings of EC1 complex, during the third edition of ANIMARKT Stop Motion Forum.
Anna Kvorning has been with the studio for 5 years during the productions of Boxtrolls, Kubo and the Two Strings and Missing Link. She came to Portland from Los Angeles,  where she lived for 6 years while working in film sales and at a talent agency. LAIKA's  history began in 2005, in a warehouse in Portland, where CEO Travis Knight had honed his stop-motion skills and developed a deep passion for the art form. Since then, LAIKA has made 4 award-winning films: Coraline (2009), ParaNorman (2012), The Boxtrolls (2014) and Kubo and the Two Strings (2016) were nominated for an Academy Award for Best Animated Feature; Kubo and the Two Strings also won the BAFTA for Best Animated Film and received an Oscar nomination for Best Visual Effects.
All candidates interested in meeting Anna Kvorning should fill in and send an application form presenting shortly themselves and the effects of their work as an animator or costume maker. Anna will then choose people she would like to meet at ANIMARKT.
LAIKA recruitment is a part of ANIMARKT Stop Motion Forum. Its programme also includes such sections as ANIMARKT MASTERS – workshops and masterclasses led by high-class professionals, ANIMARKT TALKS – case study presentations of the most recent stop motion projects, and ANIMARKT PITCHING for the projects of stop motion shorts in development.
ANIMARKT Stop Motion Forum will take place in Lodz (Poland) from 8th to 13th October, 2018. The organizer of ANIMARKT is MOMAKIN (www.momakin.pl) – a multi-tasking unit working for popularizing and propagating animation and supporting creators in Poland  and in international arenas. The Main Partners of the event are: EC1 Łódź – City of Culture and Lodz Film Commission. The partners of ANIMARKT also include: Audiovisual Technology Center (CeTA) from Wroclaw which is also the founder of the awards for pitching winners, ASAF (Czech Republic), Mozinet (Hungary), Fest Anča International Animation Festival (Slovakia), SPPA – Polish Animation Producers Association, SFP – Polish Filmmakers Association. ANIMARKT is partially funded by the International Visegrad Fund, Polish Ministry of Culture and National Heritage, and co-financed by the Polish Film Institute.
SIGN UP: Want to read more free articles like this? Sign up for Our Newsletter
Read More About: