Animarkt, A Top Class Forum of Stop-Motion Animation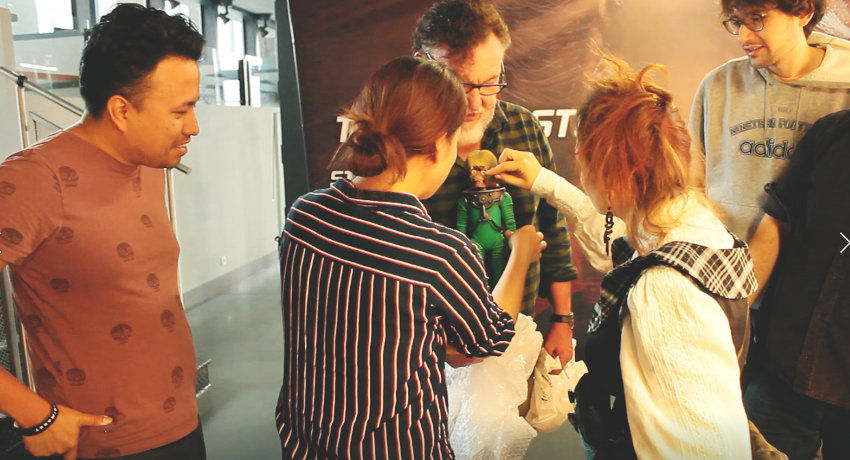 Barry Purves displays his puppet work to Animarkt 2019 participants
It is always a pleasure to return to Lodz and thanks to the invitation of Animarkt, I could see the transformation that the city is having and how culture takes over this fantastic city located just two hours from Warsaw. Lodz is a city with a unique personality, original and exotic that it has inspired filmmakers like the celebrated David Lynch, and we must remember that Mr. Lynch started his carrier making animated films.
I was very excited for the program 2019 of Animarkt. The program was full of first-class guests and lectures with professionals whom I admire and respect. I found the Animakt Forum: strong, innovative and very accurate. I do not exaggerate in saying that Animarkt is an oasis for professionals, students, academics of animation and stop motion, but also for fans who love animated films in stop motion technique. I felt the passion of the organizers to offer not only a very professional forum, also a work space to socialize and know better all the participants involved in Animarkt.
Animarkt Stop Motion Forum is a project that began just four years ago but everything aims to become in a must for the stop motion industry, it is undoubtedly a very important event in Europe, which gradually becomes a first level forum, focus in stop motion animation. All the activities on the agenda and their atmosphere made me felt that the stop motion is more alive than ever. I encourage to all reading/watching this article to keep an eye to Animarkt 2020. If your imagination and passion are indomitable I hope to see you all in the next edition of Animarkt Forum.
contributed by: Kropka
SIGN UP: Want to read more free articles like this? Sign up for Our Newsletter
Read More About: