Animarkt Talks 2018: Oettinger, Randall, Kijek/Adamski, Wacławek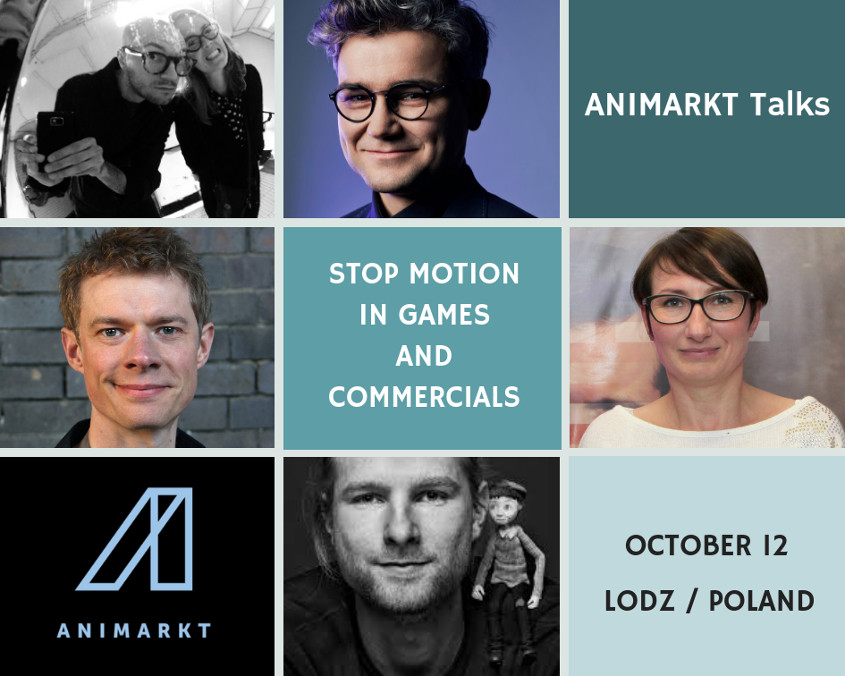 Part of ANIMARKT Stop Motion Forum. ANIMARKT Talks is a one-day conference (12 Oct 2018, Lodz)  and a great opportunity to learn more about the animation market.  Guests invited for ANIMARKT Talks will share their experience about the presence of stop motion animation in commercials, video games, and new ways of storytelling.
Johan Oettinger, a self-taught prize-winning film director, will lead in Lodz two presentations about creative ways of using stop motion animation. In the first one, he will speak about the project Vokabulantis – a new game in stop motion. Vokabulantis is a puppet animation platformer about two kids, who have fallen in love. Karla and Kurt literally can't get a word out, when they are around each other.
Thus they are forced to save the deteriorating and adventurous world of language, Vokabulantis, before it's too late. Otherwise, they will never be able to express their love for one another.
The main topic of the Johan's second presentation will be the process from idea through development through production and release of LEGO® Classic Creative Storytelling campaign. In this project children stories were transformed into stop motion animation made of LEGO bricks. Johan, as a director of LEGO commercials, will show and explain why stop motion animation was perfect for this kind of campaign.
Chris Randall, Creative Director for Second Home Studio, will speak about his experiences in work with agencies and clients in commercial projects. Second Home Studio has garnered multiple BAFTA and Royal Television Society awards in all styles of animation, with a reputation for innovative and striking stop motion work. From serious to silly, the studio's repertoire engages all audiences and platforms for broadcast, commercial, online, corporate and educational purposes. The studio is currently developing a pre-school series which has been commissioned by CBeebies (BBC).
Creative Duo Kijek/Adamski, directors with vast experience in many techniques of filmmaking will share some of their know-how in working on commercials for different brands. Kasia Kijek and Przemek Adamski are constantly evolving in search for the most adequate means of expression because, in their opinion, each project is different and requires disparate approach. The choice of right material and technique is integral part of the story hey tell each time. Simplicity and creativeness of the process are their main goals whether in live action or animation.
ANIMARKT Talks will be also a chance to see a presentation of an innovative technology called SMODO which connects the classic puppet animation with the motion capture. Using SMODO, instead of with a puppet, the animator works with its armature equipped in colourful markers. A special marker tracking system brings the armature pose into a 3D software, in which the armature is merged with a digital puppet model. In effect, on the computer screen the animation artist can see the whole puppet, just like in classic animation. The technology idea originated with Grzegorz Wacławek, film producer and creator of very successful Animoon studio.
A presentation of Łódź Film Commission  is also part of ANIMARKT Talks;  Łódź Film Commission ensures comprehensive assistance to producers of feature, documentary and animated films, television programs, commercials, video clips and all other forms of audiovisual production – from searching for locations, to obtainment of permits and separation of urban space for the needs of film crews, to support in contacts with urban services and local media. It is also an operator of the Łódź Film Fund – the oldest regional film fund in Poland.
Animarkt Talks Schedule:
FRIDAY, OCTOBER 12TH
10:30 - 10:50 SPPA – presentation of the Association of Polish Film Producers
10:50 - 11:10 SMODO – future of animation
11:15 - 11:35 Łódź Film Commission – presentation
11:50 - 12:30 Vokabulantis – new game in stop motion
12:35 - 13:05 Second Home Studio – how to work with clients and agencies?
13:20 - 14:00 LEGO® Classic – creative storytelling – case study
14:15 - 15:00 Creative Duo – Kijek/Adamski

ANIMARKT Talks will take place on Friday, October 12th, in a Conference Room of EC1 Lodz complex, located in the revitalised buildings of the power plant which commenced generating and transferring power in 1907. It served as the main heat and power plant for the residents of Łódź until 2000 (entrance free, but register at www.en.animarkt.pl)The organizer of ANIMARKT is MOMAKIN (www.momakin.pl).
SIGN UP: Want to read more free articles like this? Sign up for Our Newsletter
Read More About: