The Garden of Heart, Igi in the CEE Animation Forum 2020 Winners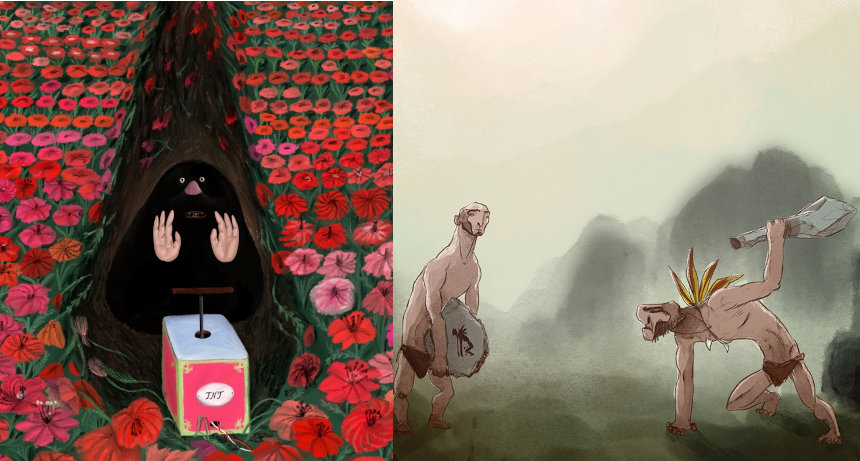 CEE Animation was held online was held online from 6 to 8 October 2020. International juries consisting of experienced film professionals followed 28 animated projects in 4 categories. The winners were announced during an online Award Ceremony.
CEE Animation Forum AWARD: Category feature films | 1 000 EUR
• Winner: IGI p. Vladimer Katcharava, 20 Steps Productions, d. Natia Nikolashvili (Georgia)
Igi is a young, strong hunter in the prehistoric, primitive tribe who are still bent-over. He is the first one to straighten up and see the world from a different angle. The young Chief Kaas does not approve of straightening up. 
But bending back brings enormous pain to IGI, and he has to descend from the best hunter in tribe to the near-death, outcast and lonely position to face the fact he must be what he really is, and straighten up for good.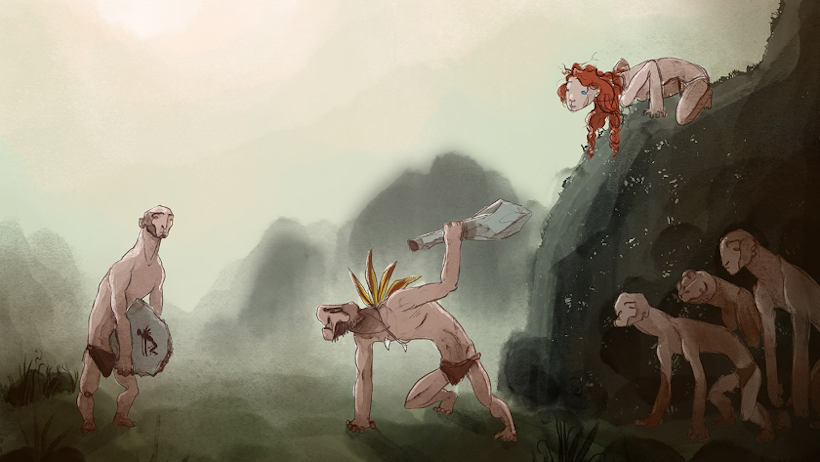 Jury statement: "IGI is at the same time a personal, universal and promising project with a strong visual style lead by a talented director. We hope that further development of the project will benefit from the award."
CEE Animation Forum AWARD: Category series / TV specials | 1 000 EUR
• Winner: No Happily Ever After p. Mária Móťovská, Helium film, d. Gabriela Plačková, Alžběta Göbelová (Czech Republic)
No Happily Ever After is a stop-motion mockumentary insight into nowadays' lives and troubles of mythical creatures from the old fairy tales. Each episode follows a creature from a different European country as the crew of fictional documentarists led by director Hans Andersen Jr. scouts their natural habitat to find new interesting subjects they can interview.
Jury statement: "The winner in the 'TV Series and Specials' category presented a clear format that had lots of humor and energy. The creators showed great knowledge of its target group, and they had developed a visual concept that the jury found playful, clever, and original. The jury was especially impressed with how the format tied together the old, mythological world with today's modern society, and how seemingly irrelevant fairy-tale creatures can tell an important story to the kids today. The winner in the 'TV Series and Specials' category is 'No Happily Ever After' from Helium Film, Czech Republic."
• Special Mention: Betti and Lola p. Drasko Ivezic, Adriatic Animation, d. Hana Tintor (Croatia)
Jury statement: "As well as the winner, the jury is convinced of the project that delivers brief charming and funny day-by-day adventures of a young woman and her dog. Once combined with a strong digital concept, the stories have great potential and unfold their charm and magic. The jury therefore especially wants to emphasize and honor 'Betti and Lola' from Adriatic Animation, Croatia, with a special mention."
CEE Animation Forum AWARD: Category short films | 1 000 EUR
Jury general statement: "We were struck by the quality of each and every project because of the current relevance of the subject matter and the sheer inventiveness of the proposal.  All the presented projects had a strong basis to become a successful film.  Even in this strange period when we all feel so remote and slightly displaced from one another, we are excited at the prospect of rediscovering each and every one of these projects in the next year's film festival circuit."
• Winner: The Garden of Heart p. Balint Gelley, CUB Animation, d. Oliver Hegyi (Hungary)
Dániel Juhász is a man in his early twenties. His dream is to become a great painter. He is in the final round of the application process for the University of Fine Arts. He's listening to the "Garden of heart" meditation exercise on his mp3 player before the interview. In his mind, he is in a great garden full of flowers, however, his negative thoughts take shape as bugs and pests.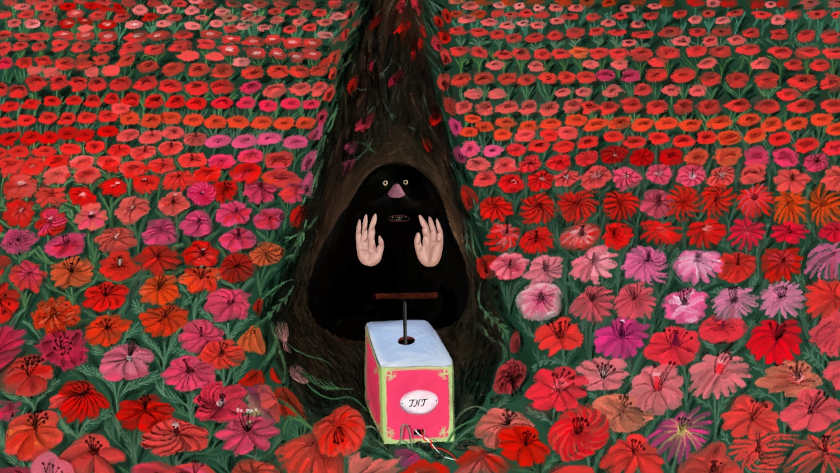 Jury statement: "The winning project's pitch accurately set the mood and the tone of the film, revealed the persona of the director and the main character, as well as the motivation and dedication of the production team in the wings. The film-maker made it easy to relate to the themes tackled in this story, and left us waiting for a luscious graphic spectacle in... the 'Garden of the Heart'."
• Special Mention: The Pet Named Stress p. Drasko Ivezic, Adriatic Animation, d. Laura Martinovic (Croatia)
Jury statement: "Emotions can be overwhelming, so to put them on a leash and learn to tame them seems like a good idea.  Combined with very appealing character design, it certainly makes a charming concept for a film targeting children but also relevant to all of us. The jury wants to give an honorable mention to first time director Laura Martinović and her project "The Pet Named Stress".

CEE Animation Forum AWARD: Category XR | 1 000 EUR
• Winner: Paperback VR p. Giedre Burokaite, Meno avilys, d. Robertas Nevecka (Lithuania)
Jury statement: "A project that was most grounded in the world of Virtual Reality, pitched in a convincing and engaging way. As the jury, we felt the authors had a clear vision of how this project will be presented in Virtual Reality using tools and story-telling techniques unique to this medium. We give the award to the project 'Paperback VR'."

CEE Animation Forum AUDIENCE AWARD | 1 000 EUR
Baldies p. Jiri Sadek, COFILM, scriptwriter: Eliska Podzimkova (Czech Republic). The general public could vote for the best pitching project across all four categories. The animated series Baldies received the highest average voting rate.
CEE Animation Workshop SCHOLARSHIP: King Wray p. Ana Maria Parvan, Studioset (Romania), d. Anton Groves, Damian Groves (Great Britain)
Animation Sans Frontieres SCHOLARSHIP: Face Recognition p. Martinus Klemet, Animartinus, d. Martinus Klemet (Estonia)
Cartoon Forum 2020 DIRECT SELECTION*: a) Baldies p. Jiri Sadek, COFILM, scriptwriter: Eliska Podzimkova (Czech Republic)
b) Daisy and Dot p. Géza M. Tóth, KEDD Animation Studio, d. István Heim (Hungary) * both projects have already attended Cartoon Forum 2020
Cartoon Movie 2021 DIRECT SELECTION: IGI p. Vladimer Katcharava, 20 Steps Productions, d. Natia Nikolashvili (Georgia)
Animarkt Stop Motion Forum ACCREDITATION: In Her Face p. Ana Paula Catarino, BRO Cinema, d. Margarida Madeira (Portugal)
Kids Kino Industry ACCREDITATION: No Happily Ever After p. Mária Móťovská, Helium film, d. Gabriela Plačková, Alžběta Göbelová (Czech Republic)
Juries
Feature Films pitching competition: Annemie Degryse (Lunanime / Lumiere Group, Co-owner & Producer, Belgium), Jakub Karwowski (LETKO, Producer, Poland), Esben Toft Jakobsen (Animation Director & Writer, Denmark)
Series / TV Specials pitching competition: Stefan Pfaffle (KiKA – Der Kinderkanal von ARD und ZDF, Deputy Head of Fiction & Co-Production, Germany), Michaela Sabolcakova (RTVS – Radio and Television of Slovakia, Programme Editor & Buyer, Slovakia), Nils Stokke (Spark, Producer & CEO, Norway)
Short Films pitching competition: Wendy Griffiths (Dark Prince, CEO & Producer, United Kingdom), Karsten Matern (Balance Film GmbH, Production Manager, Germany), Anna Zača (Latvian Animation Association, Riga International Film Festival)
XR pitching competition: Milivoj Popovic (Prime Render Studios, Director & Producer, Croatia), Veljko Popovic (Prime Render Studios, Director & Owner, Croatia), Manu Weiss (Freelance, XR Producer & Curator, Switzerland)
The CEE Animation Forum is usually held annually in the Czech Republic parallel to the International Festival of Animated Films Anifim. Due to the ongoing global situation, the event was postponed until October and finally took place online. The public could follow the programme via Facebook Live or following a free registration on the online B2B platform. The pitching sessions streamed on Facebook had more than 3000 viewers, and on the MeetToMatch platform more than 700 views from 40 different countries.
The CEE Animation Forum is also about networking, and particular emphasis was placed on 1:1 industry meetings. The organizers registered more than 350 decision-makers (producers, directors, broadcasters, distributors, sales agents, investors, representatives of festivals, film funds or national associations). In the course of the 3-day programme, almost 300 online meetings were realized.
Part of the programme was dedicated to young debuting authors. The selection of six short films made by promising young filmmakers from the CEE region was officially introduced. The compilation called CEE Animation Talents is made by festival directors from the CEE region each year and presented together at numerous animated film festivals around the world.
CEE Animation is supported by the Creative Europe – MEDIA Programme of the European Union and co-funded by state funds and foundations and professional organisations from Slovenia (DSAF, Slovene Animated Film Association), Czech Republic (ASAF, Association of Czech Animation), Hungary (HAPA, Hungarian Animation Producers Association), Poland (SPPA, Polish Animation Producers Association) and Slovakia (APAF, Slovak Association of Animated Film Producers).
SIGN UP: Want to read more free articles like this? Sign up for Our Newsletter