CEE Animation Forum 2022: 49 Animation Projects Selected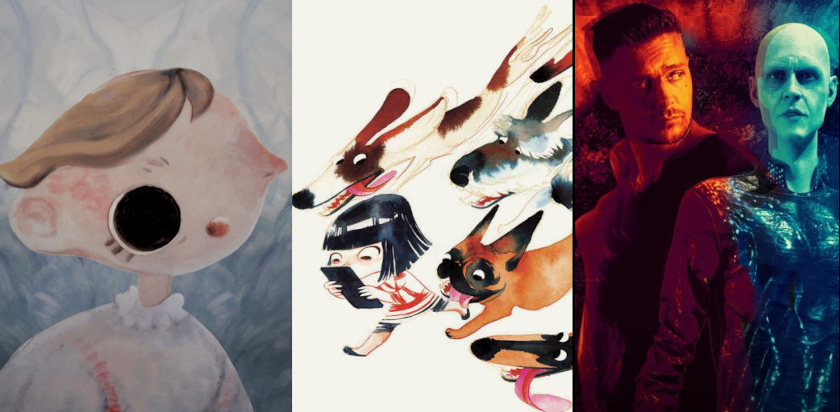 The tenth jubilee year of CEE Animation Forum, a pitching and networking event that acts as gateway to the world of animation collaboration production and increased networking opportunities (a much-needed factor in animation)  will take place in a hybrid format over the new dates of 2nd to 4th November 2022 and will showcase 49 animated projects of all formats in four categories - feature films, series/TV specials, short and student films. An important part of the programme is also an audience with representatives of national televisions and the accompanying discussion panel.

33 works will be showcased at this year's competition, from a total of almost 130 applications from 34 countries. Among the countries with the largest presence are France (7), Hungary, Czech Republic, Poland (5), Germany (4), Slovakia (3), Slovenia (2), and one project each from Austria, Bulgaria, Italy, Lithuania, Netherlands, Norway, Portugal, Romania and Serbia. Drawing and 2D animation are prevalent (16 projects), but so are stop-motion in general (11 projects) or cut-out projects in particular (4).
We are honoured that experienced producers such as Sébastien Onomo (Special Touch Studios, FR), József Fülöp (SALTO Films, HU), Robert Jaszczurowski (GS Animation, PL), or Ron Dyens (Sacrebleu Productions, FR) regularly return to our event, looking for partners for their ambitious projects - Marta Jallageas, managing director of CEEA Forum.
OFFICIAL SELECTION 2022

Category Feature Films

Dark Horses d. Massimo Ottoni, Linda Kelvink, Salvatore Centoducati, Francesco Forti, Victoria Musci p. Federico Turani, IBRIDO Studio, Italy
2D (vector based), 3D (CGI), drawing, stop motion
Dark Horses' is a collection of five dark stories exploring uncontrollable emotions. In different places and at different times a tormented relationship is consumed. A horse always leads to its resolution.

Deleted d. Zoran Krstic p. Aleksandar Protic, MIR Media Group, Serbia
hybrid / 3D animation (virtual production) + live action
Alex embarks on a quest to find Sophia, the love of his life, who was not chosen for further reproduction by the Artificial Intelligence that controls the human race.

Sorya d. Denis Do p. Sébastien Onomo, Marion Boffelli, Special Touch Studios, France
2D, 3D (CGI)

The portrait of a youth in Cambodia, caught between traditions and desire for emancipation.
The Helpers d. Betina Bożek p. Grzegorz Skorupski, Animoon, Poland
drawing

A quirky story of a frustrated clerk who seeking release from the domineering father suddenly discovers his true self and helps to put an end to the existence of the city of pressure Waffeldorf.
The Islands of Salamanders d. Catherine Maximoff p. Patrice Nezan, Les Contes Modernes, France, Juraj Krasnohorský, Artichoke, Slovakia, Fabian Driehorst, Fabian&Fred, Germany
unreal Engine, 3D with a 2D render
Washed up on a wild island with her father, businessman at large, Juliet, 10 years old, meets an astonishing giant salamander.

The Island of Salamanders
Category Series / TV Specials

9 Million Colors d. Bára Anna Stejskalová p. Jakub Kostal, Bionaut, Czech Republic
stop motion / TV Special
When beautiful yet murderous mantis shrimp Fran falls in love with blind and hideous fish Milva, the ocean will never be the same again. There will be singing, involuntary organ donation and looking for love.

Billy & the Boingo Band d. Shabnam Rezaei p. Shabnam Rezaei, Big Bad Boo Studios, Austria
2D (vector based)/ TV series
Four misfit musician monsters, touring the world in a flower-power 1960's VW Van to help preschooler solve daily problems.

Bug City d. Jøran Wærdahl p. Kjersti Greger, Klipp og Lim, Norway
puppets, CGI, 2D / TV series
In a world populated with humanoid insects, teenage fly Addie fights for the climate. Her first goal is to shut down the polluting Factory in the city, but against her, and the few ragtag climate activists she manages to muster, stands the powerful and climate-denying news anchor Dick Crick - Bug City's most popular figure.

Endover Groove d. Łukasz Kacprowicz p. Robert Jaszczurowski, GS Animation, Poland
2D vector based / TV series
Teenage musicians, from a village at the end of the world, must face off against a corporate giant in a series of epic-ROCK'n'ROLL skirmishes, after school of course.

Giggle Wiggle d. Marzena Nehrebecka p. Magda Rawa-Galczynska, Badi Badi, Poland
2D vector based / TV series
Despite many differences, Giggle Wiggle and little Blabberina try to have great fun and solve the big conflicts of their tiny neighbours together.
Lemon and Berry d. Ilenia Cotardo, Piotr Ficner p. Anna Mroczek, Likaon, Poland
stop motion / TV series

The main char­ac­ters are young hum­ming­birds, sib­lings who try new inven­tions every episode. These inven­tions are often sur­pris­ing, absurd and, above all, fun­ny. The project is designed to enter­tain a young audi­ence, a show of the gags of two lit­tle hum­ming­birds.
The Song of the Storms d. Caroline Attia p. Ron Dyens, Sacrebleu Productions, France
2D vector based / TV Special
Dur­ing a storm, the ani­mals in a small moun­tain vil­lage start hav­ing strange seizures.Emi­lie, 8, and her best friend Manon decide to inves­ti­gate.They dis­cov­er that there is a link between the song of the storms that Emi­lie is the only one to hear and the instal­la­tion of a radio antenna.

The Three Gadgetiers d. Kiril Ivanov p. Lachezar Velinov, Zographic Films, Bulgaria
drawing, 3D (CGI) / TV series
The Three Gadgetiers are forest friends. They are good-hearted, but always up to great mischief. Thanks to their unique and witty gadgets, they find a way to fix any mess.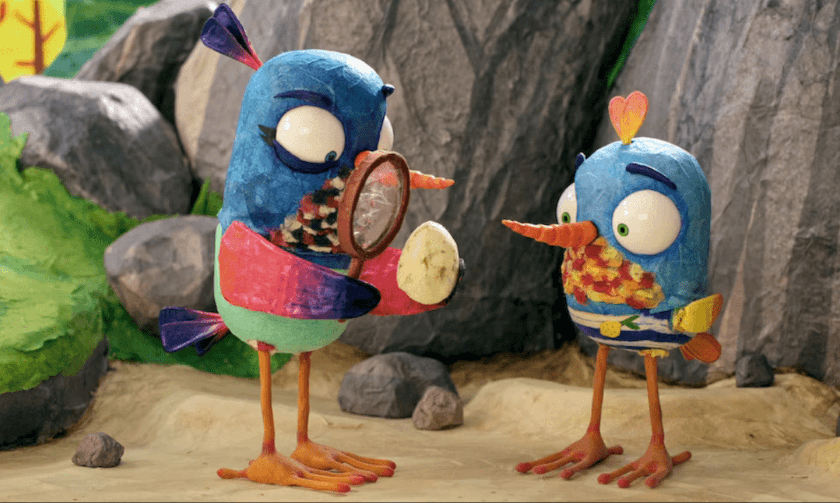 Lemon & Berry
Category Short Films
Bruno d. Danas Bereznickas p. Inesa Ivanova, MB Danas Bereznickas, Lithuania
cut out, pixilation, stop motion, 2D
A story about a successful self-sufficient loner technocrat who finds himself in an unexpected relationship with a robot.
Father´s Letters d. Alexey Evstigneev p. Clemence Crepin Neel, moderato, France
2D vector based, hand drawn, stop motion

One winter day in 1934, Pr. Vangengheim was arrested for sabotage and sent to the Gulag on the Solovki Islands. He decided to hide the truth from his wife and daughter Eleonora, until his execution.
Funfair d. Éva Darabos p. József Fülöp, Orsolya Sipos, SALTO Films, Hungary
2D hand drawn
A young woman escapes from her future to a floating, cube-shaped flat in the sea where she finds a portal to an alternative universe full of surreal creatures.

Hun Tun d. Magdalena Hejzlarova p. Karolina Davidova, 13ka, Czech Republic, Romain Bent, Protest Studios, France, Inez Mátis, Pi Production, Hungary
stop motion

Magdalena is losing sleep. She wants her sleep back but nothing helps. Her life becomes a mess. The situation only changes once she gives the chaos a name: Hun Tun.
I Am Not Here Anymore d. Nawojka Wierzbowska p. Robert Sowa, Aneta Zagórska, Krakow Film Klaster – Animation Center, Poland, Delphine Schmit, Tripode Productions, France
2D vector based
Dead Grandpa is trying to leave his house and reach the afterlife. Unfortunately, his family don't want to believe he's gone so each time he runs away, they bring him back.

Kill, Kokesh, Kill! d. Jan Míka p. Jan Míka, Filmofon, Czech Republic
hybrid (live action - animation), digital cut-out, stop motion

Kotlach, a modest barber, finds his quiet, orderly life spinning out of his control. Fortunately, he meets mysterious Kokesh, a dwarf, who offers to solve his problems by becoming his personal assassin, ever ready to respond to his command. Kokesh can kill anyone with no risk at all. What would YOU do?
Second Hand War d. Anna Benner, Eluned Zoe Aiano p. Natalia Imaz, parabellum film, Germany, Jakub Pinkava, Punk film, Czech Republic
drawing, rotoscoping
Bitter pills and rumour mills: This animated doc seeks out traces of the women who lived and loved, struggled and resisted in a small Czechoslovak town in WWII.

Supersillynurseryrhyme d. Veronica Martiradonna p. Ron Dyens, Sacrebleu Productions, France
drawing
A baby-girl, very sad and lonely because no child wants to play with her, takes refuge in a tent. But frightening things, beyond our sight, happen in it. When she comes out, the baby girl appears transformed into a young woman with a grotesque bunny costume: she's Bunny Girl.

The Girl with the Occupied Eyes d. André Carrilho p. Hemi Fortes, Blablabla Media, Portugal
2D vector based, hand drawn
A girl wanders through the city, countryside, beach, always clutching a phone from which she never takes her eyes off. Along the way, she comes across a group of characters that include a bear, dolphins, pirates, an alien. Everyone tries to captivate her and draw her attention, but she is indifferent to everything around her.

The Lute d. Laura Pop p. Mihai Mitrică, Safe Frame, Romania
2D vector based, drawing
A grumpy old man thinks that, by erasing people's memories, he brings happiness to a broken 1920s steampunk town. Only when facing his most painful memory does he learn how wrong he was.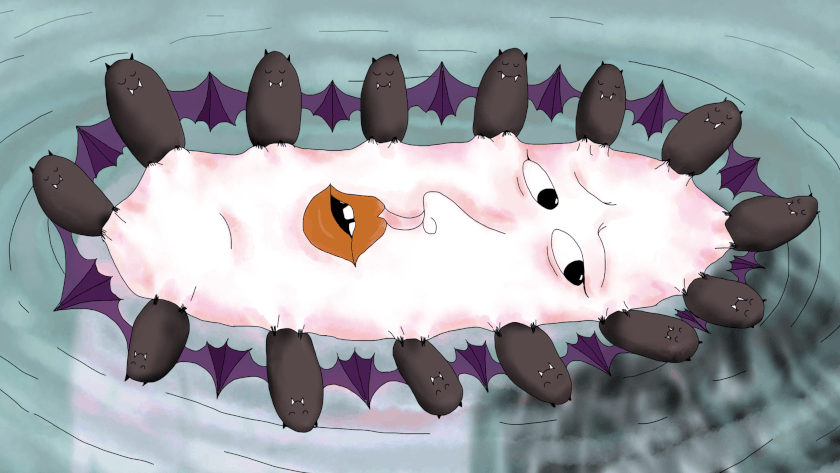 Funfair
Category Rising Stars

5 Cases of Sergeant Goodmind d. Filip Tatyrek p. Academy of Arts, Architecture and Design in Prague, Czech Republic
2D vector based, hand drawn
Sergeant Goodmind overcomes every bizarre obstacle and every unexpected villain in five criminal cases, all in order to defend the good.

Bonefuzz d. Mark Laszlo p. Moholy-Nagy University of Art and Design Budapest, Hungary
3D (CGI), drawing
A withdrawn, deaf boy is passing the time by playing video games in the solitude of his room. His brother invites him to a concert featuring a mysterious band, which will change his life forever.

Dream Dive d. Johana Mlíchová p. University of Nova Gorica, School of Arts, Slovenia
2D animation - Toon Boom

The experiences of real lucid dreamers and their fantastical, distorted, colorful and gravity defying dream world are taken as an inspiration for viewers to try becoming lucid in a dream too.
I'll Be There When You Wake Up d. Nina Chubinishvili p. Willem de Kooning Academie, Netherlands
drawing

After spending their childhood with the grandmother, the dog and the granddaughter were able to sleep only if the grandmother promised to meet them in the morning. The death of their grandmother made their lives unbearably sad. They continue to live with memories of her and the hope that they will see her again when they wake up.
M-0 d. Vivien Csigó p. Moholy-Nagy University of Art and Design Budapest, Hungary
drawing

There are an increasing number of fires breaking out in underground stations, and people begin to experience spontaneous combustions on a daily basis. Oddly enough, no one seems to care about it.
Noah d. Luca Ábrányi p. Moholy-Nagy University of Art and Design Budapest, Hungary
drawing
After the death of their mad father, two sisters decide to fulfill his ideology which is to cleanse the planet of humanity. They design a bioweapon to use against the surrounding city.
The Chicken's Calling d. Rebecca Osterberg p. Hochschule Wismar, Germany
stop motion, cut out
A school bully appears to be attacked by gigantic chickens in school, forcing the child to get to the root of its anger and face its grief.
The Girl Who Wasn´t Afraid of the Bear d. Darya Sidorova p. Film and Television Faculty of the Academy of Performing Arts, Slovakia
drawing

Accepting the beast inside you can be the hardest part of growing up.
The Spell d. Dora Pejić Bach p. University of Ljubljana, Academy of Fine Arts and Design – ALUO, Slovenia
stop motion, cut out

Surrealist story inspired by local fairytales, celebrating the act of copranje, a Croatian word for casting spells. When a young girl gets cursed by the witches, their spell itself, coprija, brings her into a world that is not our own.
Touch of Light d. Vanesa Nipčová p. Film and Television Faculty of the Academy of Performing Arts,Slovakia
drawing
Alice doesn't want to let sadness into her soul, but the shadows of memories overpower her and take her back to the moment she has been trying to run from.


Category Out-of-competition
MY NAME IS... d. Eliza Płocieniak-Alvarez p. Carol Leander Ratajczak, Blaue Pampelmuse, Germany
3D, CGI, Collage / TV series - in collaboration with Kids Kino Industry (PL)
It's not easy for Fear or for Shame when everyone avoids them or finds them embarrassing! That's why they stand in front of the camera to show how helpful they can be. Cute funny monsters want to present themselves in front of the camera from their best side. There is just one big problem - the emotions overemphasize sometimes... and that brings them into trouble.

Orban Balazs – The Bone Baron d. Fazakas Szabolcs p. Fazakas Szabolcs, Legendarium, Romania
3D – Maya, 2D frame by frame / TV series - in collaboration with Animest - Pitch, please! (RO)
The cult figure of baron Orbán Balázs, aka "The greatest of the Szeklers" was - and still is - a defining personality for the Szeklers (Hungarians living in Transylvania). In this animation series project, we undertake to present his life, his ambition to culturally interconnect the East with the West, his twelve years' journey through the Middle East and North Africa, and his friendship with the prominent personalities of the era, including Kossuth Lajos, the central figure of the 1848-49 Hungarian Revolution and Victor Hugo, as well as his career as a member of the Hungarian Parliament in his later years.

Selfation d. Veronika Skalická, p. University of West Bohemia in Plzen, Czech Republic
stop motion / short film - in collaboration with Ladislav Sutnar Faculty of Design and Art – University of West Bohemia in Plzen (CZ)

The Girl Who Was Not Afraid Of Bears d. Lea Vučko p. Maja Zupanc, invida, Slovenia, Croatia
2D frame by frame / short film - in collaboration with AnimatekaPRO (SI)
Behind the hills and valleys stands a hut where a father lives with his three daughters. The eldest two venture into the world despite their father`s warnings of a black beast that stalks the forest. The two sisters return scared, for there really is something haunting the woods.

Three Cups of Coffee d. Natalia Krawczuk p. Róża Misztela, LeLe Crossmedia Production, Poland
stop motion, cut out, painting on glass / short film - in collaboration with Animarkt (PL)
It's a short, multilayered story about a woman who meets a man, she once cared about. The past becomes tangible and only by going through it again, she can prevent it from stopping her to live on.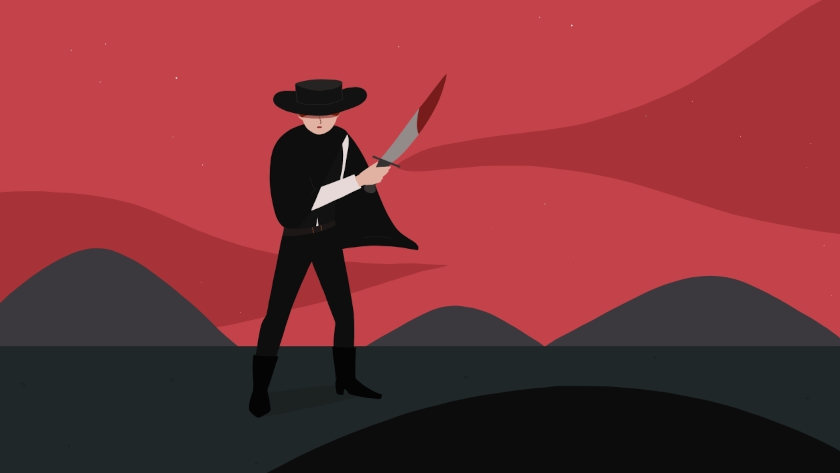 The Girl Who Was Not Afraid of Bears

The event will take place in hybrid form. Accredited guests may participate in the programme either in person in Pilsen or join online. The organizers of the CEEA Forum have also joined forces with another industry event, the Animarkt Stop Motion Forum (which takes place from 5th to 8th November) and are offering an advantageously priced joint accreditation to both events
CEE Animation Forum takes place 2-4 November 2022.
SIGN UP: Want to read more free articles like this? Sign up for Our Newsletter
Read More About: