Another Day of Life by Damian Nenow and Raúl de la Fuente: Official Trailer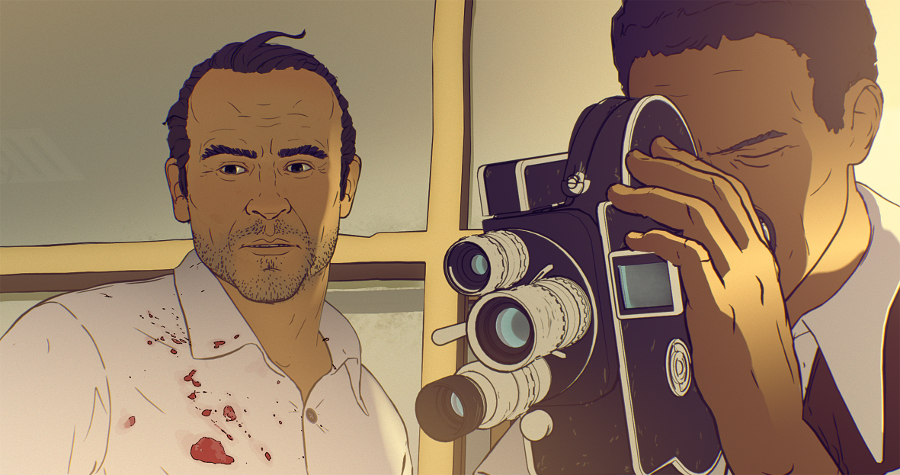 The Polish director Damian Nenow and the production company Platige image co-operate with Raúl de la Fuente and Kanaki films (Donostia /San Sebastian) to present a story about the civil war in Angola in 1975.

Another Day of Life is based on the eponymous book written by the Polish writer and journalist Ryszard Kapuściński (read his biography at Culture.pl) and his personal memoirs  at the time as a correspondent of the Polish Press Agency.
Another Day of Life" is a story of a reporter, Ryszard Kapuściński, searching for the truth of the war and during his suicidal journey across Angola is faced with situations and events which force him to reevaluate his approach to his work and life, in general. It is the dramatic account of the three months Kapuściński spent in 1975 in Angola at the beginning of its decades' long civil war. During the journey Kapuściński decides to go to the front, where the wrong greeting could cost your life and where young soldiers – from Angola, Cuba, Russia, South Africa, and Portugal – are fighting a war with global repercussions. With harrowing detail, Kapuściński shows us the peculiar brutality of a country divided by its new found freedom from colonization - Film Synopsis

The feature animation project was first pitched at the 2012 Cartoon Movie (Lyon, 7-9 March 2012), while in 2018 a sneak preview was screened.
The film premieres at a Special Screening during the 2018 Cannes Film Festival (11 May 2018).
It promises to be an innovative mixture of documentary and animation, in which 20-minute documentary footage compliments the 60-minute animation. Co-Production companies include Walking the Dog (Belgium - Eric Goossens), Wüste Film (Germany - Stefan Schubert), Animations Fabrik (Germany – Joern Radel), and Puppetworks (Hungary – Frantisek Ambrus).
Watch the 2018 trailer below:

 And an earlier trailer here:


The main narrative part will be carried by animation directed by Damian Nenow, who animates Kapuściński's memories, from the moment he arrives in Angola to his going to the front to fight. Both realism and surrealistic imagery will be used in a visual look that resembles a graphic novel, in order to complement the story in its gritty and raw reality of war, according to the film's directors.
Live-action scenes (directed by Raúl de la Fuente) will complement the story like a puzzling commentary on the animated action previously depicted on screen. The real survivors, in their twilight years, recall the anguish and desolation they shared with Kapuściński. Yet, even though the film is a documentary, it won't feature interviews and talking heads, but a reconstruction of the tragic events.
Another Day of Life soundtrack will use an epic tone appropriate for a war film, as well as several hits from the 70's period to transport the audience to a Black-Power mood. This interesting project already looks like a Polish Waltz with Bashir.
The film's official site. International Sales are handled by Paris/Madrid-based Indie Sales.
An excerpt from Kapuściński''s chronicle via Ralphmag.org:
The streets I walked through resembled a great building site. I stumbled over discarded planks; nails sticking out of beams ripped my shirt. Some crates were as big as vacation cottages, because a hierarchy of crate status had suddenly come into being. The richer the people, the bigger the crates they erected. Crates belonging to millionaires were impressive; beamed and lined with sailcloth, they had solid, elegant walls made of the most expensive grades of tropical wood, with the rings and knots cut and polished like antiques.
SIGN UP: Want to read more free articles like this? Sign up for Our Newsletter
Read More About: