Kids Kino Industry Webinar, Curse or Blessing: Co-Production in a Changed Environment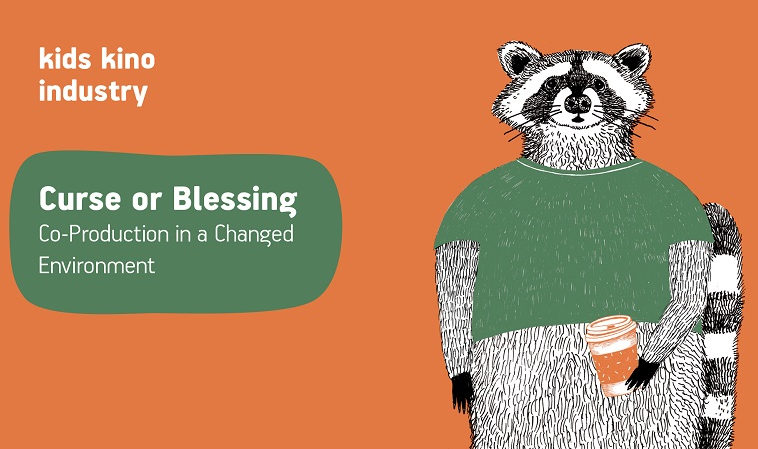 This year's edition of Kids Kino Industry (29 Sep - 2 Oct 2020) ,- an international co-production forum for the film industry and people interested in creating audiovisual content for young viewers, has been moved to the online world, resulting in the programme being extended from three to four days.
As part of the lead-up to this year's edition, the organisers also prepared a series of free webinars on Zoom and the last one is due to take place on 21 September, one week before the event starts.

Curse or Blessing: Co-Production in a Changed Environment
The topic of the webinar will be co-productions. During the meeting, we will find out the first details about the feature film Mission Ulja Funk, produced by In Good Company GmbH (Germany) in cooperation with ShipsBoy (Poland) and Samsa Film (Luxembourg). There will be a discussion of the special situation that the creators had to face, where production of the movie managed to continue during lockdown without being held up. Creators, partners and representatives of the financing institutions will also talk about the challenges facing international co-productions and future financing prospects. The webinar will be followed by a Q&A session.
Speakers: Roshanak Behesht Nedjad (founder and producer, In Good Company GmbH, Germany), Krystyna Kantor (line producer, ShipsBoy, Poland), Susan Newman-Baudais (Head of the Co-Production Programme, Eurimages, France), Anke Lindemann (Head of Children & Family Programme, MDR, Germany) and Claas Danielsen (Managing Director of the Central German Regional Fund MDM, Germany). The meeting will be moderated by Agnieszka Dziedzic, founder and producer at Koi Studio. The webinar is organised in conjunction with the Association for the Promotion of German Children's Film and Kids Regio.
Kids Kino Industry accreditation now on sale
Kids Kino Industry is an international event for representatives of the film industry, film school students, journalists and anyone interested in cinema for young viewers. Each year, the event is attended by over 200 international guests and around 70 decision-makers (distributors, sales agents, representatives of VOD platforms, broadcasters and film institutes). This year's edition will be held online mainly via the Zoom and Meeting Mojo platforms. Accreditations are available at the reduced price of PLN 90 until 20 September, after which time the price will increase.

The key points of the Kids Kino Industry programme are the pitching sessions and one-to-one meetings. This year, 27 film projects and series for children and teenagers from all over the world have qualified for the event, as well as 12 projects participating in the Kids Kino.Lab development workshops (recruitment for the next edition lasts until 23 October). For creators, representatives of financing institutions and festivals alike, this represents a great opportunity to find a co-producer, partner, distributor, sales agent or location for the premiere of their project.
Another important element of the programme are the individual consultations with experts specialising in areas such as film marketing or script doctoring. This year, accreditation holders will be able to consult with such names as Andrew Kavanagh, Jesper Møller and Maurice Wheeler, who have advised Warner Bros., Disney, Sony, BBC, Google, Netflix and Nickelodeon, among others.
Apart from the individual meetings, consultations and pitching sessions, the panel entitled 'Going International - Markets, Festivals, Conferences and Labs for Kids Content'; is also worthy of attention. Without leaving home, the meeting participants will be able to get to know one another, learn more about leading international events and put questions to their representatives. The guests on the panel will include Marlene Wagener from Animation Production Days, Greg Childs from the Children's Media Conference (CMC), Lennart Ström from M:brane, Nienke Poelsma from the Cinekid International Film Festival, Matija Šturm from CEE Animation, Silvina Cornillón from Ventana Sur and Anne Schultka from Kids Regio.
For those taking their first steps
All the events mentioned are intended both for experienced representatives of the film industry and also those who are taking their first steps in the business. During the 'Going International' panel, for example, budding young filmmakers can find out what kind of projects specific events are looking for, where they can develop their ideas, where to look for support, and what workshops are worth participating in.
The programme also features masterclasses and workshops. Young filmmakers are sure to be interested in the meeting with the young Belgian director Frederike Migom, maker of the award- winning film Binti, who will give a lecture entitled 'My First Movie - How to Develop a Story for a Children's Audience'. For writers, directors and producers, the organisers have also prepared the workshop 'How To Get Back On Track With Your Story' with Paul Tyler.
For all producers and creators looking for partners for their projects or who are submitting their packages, the 'Building The Bible' lecture is a must-see event. During the meeting, participants will learn how to prepare the so-called Bible or Pitch Bible, how to 'advertise'; their project and what the representatives of selected platforms are looking for. Participants will also learn how to create a standard 2-page 'flyer' and 10-page pressbook.
During the combined lecture and Q&A entitled 'Knowing your Film from the Inside Out - Become the Ultimate Ambassador!, which will take the examples of two productions, scriptwriters and producers will be able to see how knowledge of audience behaviour towards different genres influences the choice of distribution strategy, and they will also learn more about how to become an ambassador for their project. The lecture will be presented by Alison Norrington and Fulko Kuindersma.
Kids Kino Industry is co-financed by the Ministry of Culture and National Heritage, the Polish Film Institute and Creative Europe.
SIGN UP: Want to read more free articles like this? Sign up for Our Newsletter