Of Unwanted Things And People Wins Eurimages Co-Production Development Award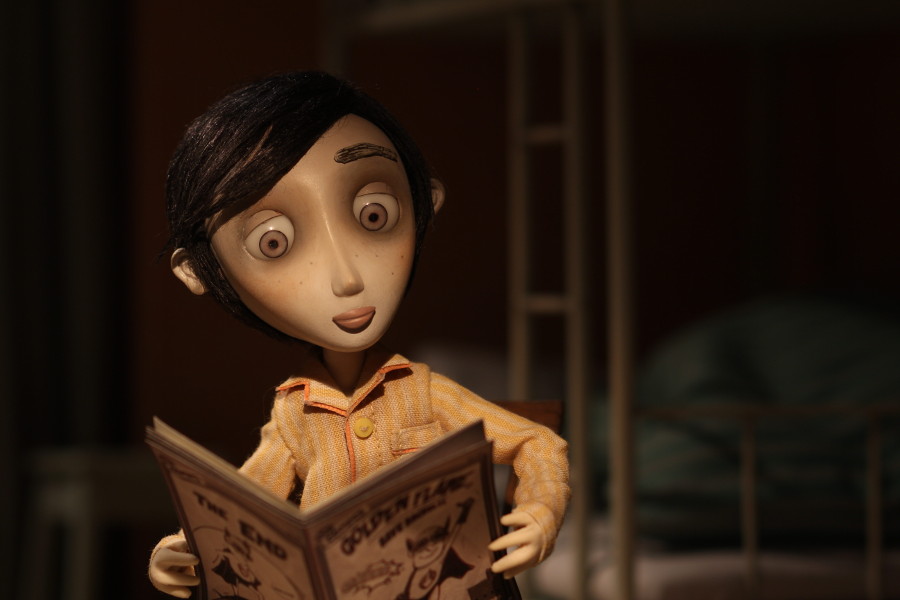 A very ambitious and highly interesting stop-motion feature film topic won  Eurimages Co-production Development Award at the quintessential European pitching forum, Cartoon Movie.
The film Of Unwanted Things and People  is the joint work of a team of successful producers that includes Martin Vandas (MAUR film, CZ), Juraj Krasnohorský (Artichoke, SK), Kolja Saksida (ZVVIKS, Sl) and Wojtek Leszczynski (WJT / Likaon, PL),.
It is directed by David Súkup (CZ), Ivana Laučíková (SK), Leon Vidmar (SI), and Agata Gorządek (PL). Four short stories for children, by four directors from four countries, based on a book by Czech author Arnošt Goldflam.
A writer – sympathetic older man with a beard and red glasses – had kids at an older age than usual. As they run around the house, he wonders. What if he dies before they grow up? Can he leave something to them? He sets to write: about a man who finds a thrown-away book able to bring the reader back i n time... About two boys who discover a hut that nobody wants, where fantastic monsters used to live... About two orphans and their strange aunt who turns into a cat when no one sees her... About a lonely man who knows how to fly and becomes king of birds... Maybe kids will learn from these stories that have one thing in common – they're all about the hidden value "Of Unwanted Things and People" - Film Synopsis
Watch the trailer:
The film was the winner of 2018 CEE Animation Forum, and, as a result, it was pitched directly to 2019 CARTOON Movie.
After a successful presentation in Třeboň last year, the project got not only very positive and important feedback from both the audience and jury, but also a commitment. We are working intensely on the final versions of scripts, while deeply immersed in artwork, schedules and budgets at the same time. Just to synchronise the order of applications for all kinds of national and international funds with the timetable of all filmmakers involved is a unique and tough nut to crack in the context of four countries. Nevertheless, as the film is taking shape, it's becoming obvious that it's not going to be just about short stories, but that we have also found an excellent key to narrate a complex and unified story, and perhaps also the unique spirit of international co-operation and collectiveness within an international construction as complex as this. But the interest shown before the start in Bordeaux is for me, even after so many years, extraordinary and very promising. I'd like to thank CEE Animation and we will try to come up to and surpass all expectations …  Martin Vandas, producer MAUR Film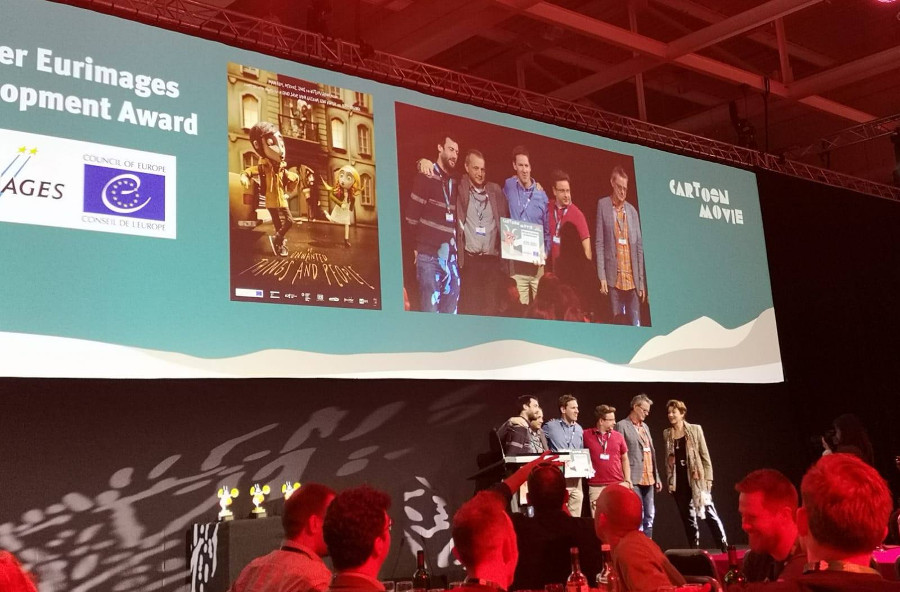 The team of Unwanted Things and People at stage during the 2019 CARTOON Movie (c) CEE Animation
The Council of Europe's Eurimages Fund awards the Eurimages Co-production Development Award  cash-prize of €20,000 for feature and animation films and €15,000 for documentaries (CPH:DOX, Copenhagen). This award has been created to promote the Fund's role in encouraging international co-production from the initial stages of a project.
 The Jury was composed of Dorien Van de Pas (Netherlands Film Fund – The Netherlands), Tom Carpelan (Filmkompaniet - Finland) and François Mergier (STUDIOCANAL - France).
.A film involving a great deal of fantasy and imagination dealing with universal and sometimes also difficult issues with both respect and not underestimating the children's way of understanding. It is on top of that a plea for the art of storytelling. The co-producers have also a strong vision on their working process, the development and production of the film, financing and marketing - Jury Statement
Eight international projects in development pitched at Cartoon Movie 2019 were nominated.
Of Unwanted Things and People is  a stop-motion project whose narrative shows an affinity with the much-successful, Oscar-nominated My Life as a Zucchini. But here it seems that both narrative and visuals take a different, more haunting turn. One of the animation features to expect.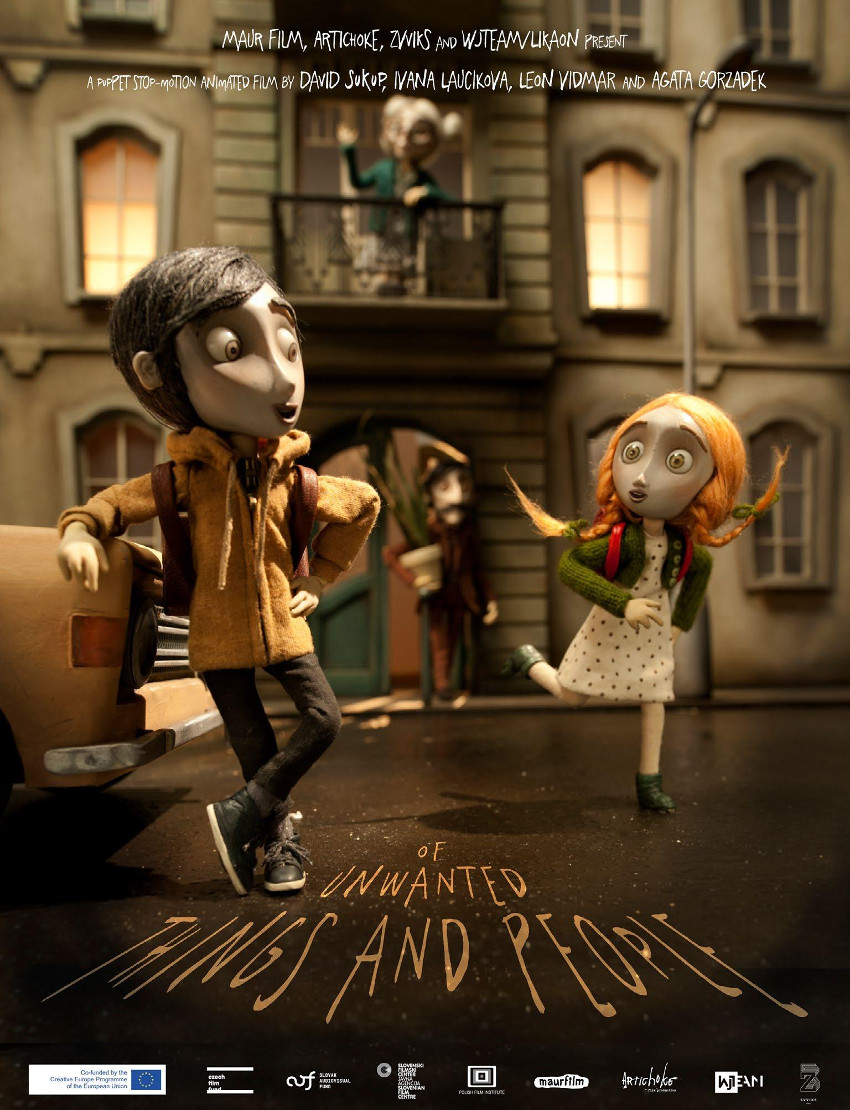 The 2019 CARTOON Movie takes place in Bordeaux, 5-7 March 2019.
SIGN UP: Want to read more free articles like this? Sign up for Our Newsletter
Read More About: