Russian Animation Artists Against the War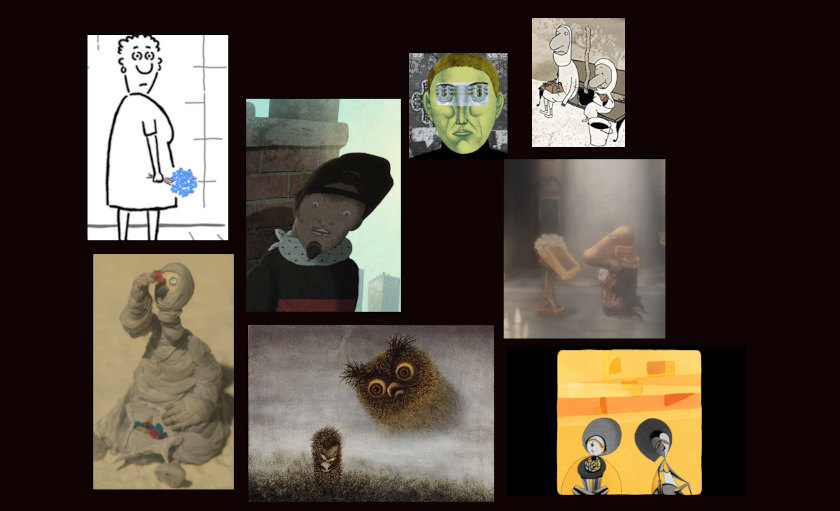 An impressive number of Russian animation artists and animation professionals have unite their voice against the Ukrainian war.
Figures from Yuri Norstein (Hedgegod in the Fog, Tale of Tales) to Igor Kovalyev (Rugrats, Before Love) to Andrey Khrzhanovsky (The Nose or the Conspiracy of the Mavericks) to Konstantin Bronzit (We Can't Live Without Cosmos) and younger directors like Sasha Svirsky, Dina Velikosvkaya and Irina Rubina, are united in the condemnation of war; they emphasize the close ties between the artistic communities of both Russian and Ukrainian animation filmmakers, and advance humanism over militarism.
The full statement:

We strongly believe that a war can bear only death, pain and destruction, and there is no justification for a war. The community of Ukrainian and Russian animation filmmakers is united and inseparable, we have been working together, we have been watching each other's films for many years. Animation Art is an art, which helps people to feel human. Not to kill, not to destroy. To connect.

Today we see our children, our brothers sent to kill those who they were recently playing in the same yard and watching the same cartoons, without distinguishing between Russian or Ukrainian ones.

Animation and art as a whole have always been radiating the spirit of antimilitarism. We believe that the current military action is targeting not only our Ukrainian friends and colleagues but are also aiming all people, humankind and the Human Being in general.

We are against the war. We do not want the words about our brother nation to turn into a bloodstained nightmare.

There is no justification for bombings and killing!
2 March Update: More than 100 Russian artists and animators along with musicians and sound-designers have made and keep making animated shorts in protest of Russia's invasion of Ukraine.

We believe peaceful methods are the only answer in resolving any conflicts between countries. Everything that is happening right now in Ukraine is a horrible tragedy. There is no way to justify this terror the war has brought to peaceful Ukrainian people on our behalf. We urge to stop all the military action against Ukraine immediately! We demand Peace! We demand respect for the territorial integrity of Ukraine! We demand respect for human life in every country of the world! #animatorsagainstwar
The full list of signatures:
Leonid Shvartsman, artist, director
Yuri Norshtein, director
Andrey Khrzhanovsky, director
Garri Bardin, director
Igor Kovalyev, director
Konstantin Bronzit, director
Vadim Zhuk, screenwriter, poet
Mikhail Lipskerov. Screenwriter
Ivan Maksimov, director, artist, teacher
Mikhail Aldashin, director
Alexey Alekseev, director
Alexey Demin, director
Dmitry Geller. Producer
Ilya Popov, producer
Artyom Vasiliev, producer
Karina Kabanova, producer
Dmitry Vysotsky. Producer
Sergey Vasiliev, composer, director, singer-songwriter
Marina Landa, composer, singer-songwriter
Larisa Malyukova, film critic
Larisa Brokhman, actress
Alla Bossart, journalist, critic
Irina Margolina, producer
Natalya Dabizha, director
Maria Muat, director
Vladimir Golovanov, screenwriter
Marina Kurchevskaya, artist
Elizaveta Skvortsova, director
Mikhail Tumelya. Belarusian director-animator
Marina Moshkova, director
Dmitry Loveyko, producer
Katerina Sokolova, director
Vera Obolonkina, producer
Sasha Svirsky, director
Nadia Svirskaia, curator
Sergey Merinov, director, animator, teacher
Lev Zemlinsky, composer
Pavel Shvedov, film critic, animation historian
Leonid Shmelkov. Producer
Boris Mashkovtsev, producer
Elena Chernova. Producer
Svetlana Filippova, director
Georgy Borodin, animation historian
Nail Mubinov, director, animator
Andrey Sikorsky, artist
Nina Bisyarina, director
Oleg Kozyrev, screenwriter
Alexander Sablukov, producer
Natalya Berezovaya, director
Vladimir Ponomarev, artistic director
Elena Malenkina, producer
Mark Zavadsky, Managing Director
Dina Goder, animation critic
Yakovenko Dmitry, screenwriter
Sveta Nagaeva, director
Sasha Khramtsov, artist
Elena Malenkina, producer
Vadim Sotskov, producer
Igor Melnikov, screenwriter, director
Natalia Rumyantseva, screenwriter
Anastasia Zhakulina, director, artist
Natalya Mirzoyan. Producer
Anna Yudina, screenwriter, director, animator
Stepan Biryukov director
Zoya Trofimova artist and director
Irina Elshanskaya, director, creative producer
Maria Tereshchenko, journalist, screenwriter, producer
Yulia Voitova, director, animator
Artyom Fadeev, sound engineer, composer
Anna Artemyeva director, cameraman
Vladimir Nabatov, producer
Sergey Grabov
Natavan Gabibova, animator
Vera Pavlova, animator
Alexey Tishchenko, pensioner
Roman Safarov, animation director
Polina Manokhina, director, actress, artist, animator
Elizaveta Astretsova, director, animator
Svetlana Andrianova - director, artist, screenwriter
Denis Esin, layout artist, animator
Natalia Drozhzha, cartoonist
Yulia Mikheeva, director, artist, animator
Elena Kalvo animator, director
Elizaveta Khlomova, artist, director
Elena Minaeva, animator
Natalya Malgina, director, animator
Natalia Cherkasova, artist
Alexandra Evseeva, animator, director, producer
Anna Loseva, director, production designer, teacher
Maria Bolshakova, editor, screenwriter
Dima Zhukov, animator
Elena Ermakova, journalist, art critic
Ekaterina Boykova, cartoonist
Yuri Mikhailin, film critic
Lucy Tsoi, producer
Elena Kosinova, animator
Kurkova Lena. Director, animator
Ekaterina Grosheva, animator
Vladimir Li, director
Karina Pogorelova, animator
Anton Skachkov, animator
Katerina Rosinskaya, animator
Anna Volchkova, animator
Svetlana Tolstosheina, artist
Mikhail Ivanchuk, animator
Lela Khitarova, director, editing director
Uliana Sizykh, artist, animator
Semyon Voronin, screenwriter
Yaroslav Yudin, screenwriter
Ksenia Ustyuzhaninova, animator
Alexandra Artemyeva, producer
Yana Zavyalova, animator
Yuri Gnevashev, rigger
Daria Dementieva, animator, director
Ksenia Atmashkina, animator
Alisa Strukova, journalist, editor, artist
Zhanar Kusainova, screenwriter
Yulia Ivanova, screenwriter
Kirill Vorontsov, director, animator
Tatyana Bolotnova, animator, storyboarder
Olga Maslennikova, animator
Valery Kachaev director, screenwriter
Anastasia Rodina producer
Sonya Solo, animator
Stanislav Shakhov, director
Rustem Amirov, director of the animation school
Sergei Brezhnev, screenwriter
Peter Barkov, animator
Sergey Vasilenko, operator
Andrey Berlogov, screenwriter
Dina Berkhout, animator
Alexandra Markina, animator
Valentina Kozyreva, producer
Svetlana Loginova, artist
Elena Pokorskaya, screenwriter
Daria Garchu, executive producer
Alexander Chugunov, animator
Antonina Shmeleva, artist
Anastasia Kuznetsova, animator
Anya Korableva, producer
Julia Vyatkina, artist, screenwriter
Ksenia Molodiakova, producer
Yulia Nikolaeva, producer
Olga Volkova, animator
Alexander Goncharov, animator, director
Evgeny Agabekov producer, screenwriter
Valery Belov, artist
Sergey Kryzhanovsky, vfx-artist
Daria Polyantseva, artist
Andrey Ushakov, director, artist, teacher
Pavel Yakushin, artist
Egor Smirnov, 3d specialist
Anastasia Korzhenevskaya, project coordinator
Svetlana Barabanshchikova, Director for International Development
Alena Yurtaeva, screenwriter
Anna Dogaeva, artist
Pavel Pogudin, director, animator, teacher
Olga Netsvetaeva, draftsman
Lena Mamaeva, artist
Inna Kuzmina, assistant director
Dmitry Kupriyanov, director
Natalya Kurbatova, artist
Inga Kirkizh, screenwriter
Svetlana Demyanova, artist
Yaroslav Tatoshvili
Alexandra Kozlova, editor
Igor Barmin, animator
Dmitry Loik, 3d modeler
Victoria Lazutkina, location assembler
Katya Puzynya, director of the design studio
Anastasia Stavinova, director
Irina Kelner, journalist
Evgenia Kashina, artist
Khitruk Nikolai, sound engineer
Polina Nikiforova, director
Anya Stepanova, director, animator
Pavel Vedernikov, screenwriter and editor
Anna Sharova
Polina Vinogradova, editor
Agvan Khachatryan, producer, CG artist
Anastasia Sokolova, screenwriter
Alexander Kuzenkov, animator
Elizaveta Boyur, artist
Katya Savchuk, director
Alexey Galkin, director, artist, teacher
Margarita Filimonova, line producer
Maria Kornilova editor
Alexandra Nepomnyashchaya, illustrator
Maria Yakushina, director, artist
Daria Yurishcheva, artist and animator
Artem Tsygankov, animator
Alexander Kostromin, animator
Dmitry Abramov, Production Superwire
Olga Badalova, animator
Alexandra Kononova, director, animator
Tatyana Popova, animator
Lyubov Gaydukova, producer
Valery Stepnov
Sergey Artyukh, 3d animator
Maria Semina, director, production designer
Maria Starostina, artist
Albena Milusheva director, animator
Konstantin Brilliantov director, artist
Anna Fedorova, animator
Zhanna Ostrovskaya, HR Director
Anna Kanaicheva, director, artist
Olga Raschinskaya, brand manager
Marina Burlachenko, producer
Nikita Meshcheryakov, director
Maria Chernitsyna, editor, screenwriter, journalist
Zhenya Kabakov - teacher, technologist, promoter of the use of animation in education
Ekaterina Vladislavleva, lawyer
Evgenia Dolinina production designer
Ekaterina Arkhipova, PR manager
Anton Smetankin, producer
Julia Belavina, animation teacher
Kristina Sivkaeva, marketer
Artur Dneprovsky, producer
Alexey Kalmykov, Technology Director
Polina Bakalina, artist, teacher
Sergey Zinevich, film director, editing director
Yulia Osetinskaya, producer
Arina Chunaeva, screenwriter
Ashot Mefodin, director, artist
Katya Ganakh, animator
Ekaterina Zhuzhleva, animation director
Lyubov Romanova, screenwriter
Katya Miloslavskaya, director, artist
Vladimir L-M, artist
Maria Dubrovina, director
Olga Vasilyeva, project manager
Ilya Kupriyanov, 3d specialist, director
Tatyana Polyakova, animator
Anush Mikaelyan, artist
Vera Bekeleva, special effects artist
Victor Fedoseev, producer
Ksenia Yasyrkina, technical artist
Anna Geizhan, screenwriter
Taya Shlepneva, producer
Natela Rekhviashvili, screenwriter
Oksana Nekritova, screenwriter
Vyatkina Daria, artist, director
Vladimir Vishnyakov, animator, artist
Maria Mayorova, artist, animator
Tatiana Petrovska, artist
Ivan Bondarenko, director, animator
Daria Kozyreva
Saule Matvienko, director
Olga Andreeva, festival coordinator
Sabina Fakhrutdinova, director
Dmitry Shlepnev, producer
Angelina Zakharova, artist
Anastasia Monaco, artist
Pavel Loparev, director, producer
Alexander Kolbovsky, film critic
Roza Gimatdinova, director and artist
Natalya Grofpel, director, artist, teacher
Polina Shmygina, director, animator
Valery Kozhin, artist
Evgenia Sheinina, director
Evgeniy Delyusin, director, animator, storyboarder
Marie Lida, producer
Ilya Farb, producer
Elena Britova, artist, director
Alina Tsedenova, student animator
Milana Deripaskina, animator
Andrey Rubetskoy, director, screenwriter
Vadim Bondarev, developer
Elena Filippik, director
Tatyana Podgorskaya artist-animator
Sergey Kapkov, editor
Natalya Tikhomirova, screenwriter, producer
Mikhail Bely, producer
Jasna Rozum, Editor
Leonid Feldman, editing director
Romanova Anna, director
Semyon Kulikov, director
Alexander Elkan, director
Ivana Tatarnikova, artist
Olga Averyanova, animator
Ulyana Shalygina, director, architect
Igor Khilov artist-manufacturer of animated puppets
Ksenia Kmets, animator
Vasily Koretsky, animator, artist
Polina Grekova, director
Nikita Chernov, director, special effects artist
Evgenia Zhirkova, animator, director
Anna Belova, animator, director
Ekaterina Kireeva, director, artist, animator
Natalia Ryss, director
Anastasia Afonina, artist
Anastasia Semenova, artist
Maria Kostyukevich, editor, journalist
Maria Pilipenko, artist
Irina Fomchenko, producer
Ksenia Lugovkina, producer
Lilia Belaya, producer
Artem Budin, animator
Lev Bubnenkov, producer
Mariam Zhordania, student, animator
Dasha Sidlovskaya, director, artist
Alisa Gatenyan, director, artist
Marina Bogacheva, draftsman, phaser
Olga Sinelshchikova, producer
Anastasia Shestopalova, artist
Ksenia Tokareva, director, animator
Tatyana Efimova, producer
Viktor Lykov, student, animator, teacher
Dina Velikovskaya, director, artist, screenwriter
Olga Shanko, illustrator, animator
Igor Domnin vfx-artist
Svyatoslav Ushakov director animator
Ivan Odoevsky, screenwriter
Oktay Yusibov, animator
Dmitry Melnikov, lighting artist
Anastasia Petrova, student director
Taya Makarevich, artist
Victoria Erofeeva, student director
Sofia Abramova, artist
Anastasia Toropova, artist, director
Tatyana Gorelova, artist
Alena Makarova, director, animator, student
Olga Grechanova, animator
Yegor Zubarchuk cartoonist
Sofia Baichuk, animator
Olya Mozharova, animator, theater lighting designer
Maya Zykova, film translator
Denis Malov, sound engineer
Grigorieva Sofya, animator
Tamara Gogishvili, animator
Elena Zamkova, producer
Anastasia Bulgakova, 3d generalist
Anastasia Amirova, artist
Vasily Lapidovsky, sound engineer
Ekaterina Maksimenko, artist
Ksenia Kosinova, coordinator, asset manager, producer
Svetlana Chernyshkova, artist
Evgeny Fadeev, director
Katya Kuznetsova, artist
Denis Litvin, animator, artist, composer, director
Dmitry Purins, animation student
Asya Lukina, animator, artist
Alexandra Kosukhina, animator, illustrator
Daria Lebedeva, animator, artist
Daria Morgunova, screenwriter
Andrey Bakhurin, director
Anna Zibrova artist-animator
Elizaveta Simbirskaya, screenwriter
Maria Koneva, director
Elena Osaulenko, Head of Special Projects
Lidia Utyomova, screenwriter
Vasilissa Smirnova, student animator
Alexandra Pavlova, artist, director
Olga Gataullina, artist
Anna-Maria Chernigovskaya, director
Vera Myakisheva, director
Polina Zelenova, artist
Tatiana Petrovska, artist
Pavel Genender, animator
Valeria Moseevskaya, artist
Margarita Rusakova, animator
Evgenia Baimeeva, artist, student animator
Elena Muchnaya, director
Irina Brizhis artist animator
Victoria Kravtsova, artist
Rinat Gazizov, director
Tatyana Gazizova
Karina Gazizova, Director
Alina Gazizova
Yulianna Kononenko, Animator
Liza Starikova, director
Elizaveta Ivanova, artist
Maria Rakitina, director, animator
Stanislav Shakhov, director
Natalya Ushakova, artist
Yulia Kulikova, director, animator
Maria Ivanova, artist
Galina Sorokina, animator
Tatyana Upkhonova, animator
Victoria Bolotova, International Destination Manager
Roman Tramvay, director, screenwriter
Victoria Burakova, artist
Alina Titorenko, artist, director
Roxana Svechnikova, animator
Alexander Gorlenko, director, animator
Nadezhda Mikhailova, artist
Tatyana Gorbenko, student director
Maria Stepanova, director
Vitaly Shubin, animator
Daria Davydova, studio director
Oleg Kostrov, composer
Olga Goltser, director, animator, artist
Pavel Nikiforov, director, animator
Marina Kletchenkova, 3D animator
Alexandra Loseva, artist, student of the Faculty of Graphic Design
Irina Kodyukova, director, animator, teacher, Belarus
Oleg Troyanovsky, music producer
Natalia Reisner, festival manager
Alexandra Maksimova artist, director
Maria Perevozchikova, designer
Alina Tatarskaya, artist
Natalia Egorova, journalist
Alexey Gorbunov, director
Alexandra Deeva, director, animator
Tatyana Moshkova, director
Ekaterina Kuricheva, teacher, director
Olga Krivets, artist
Alexandra Konstantinova, producer
Anna Darmogray, animator
Irina Sokolova, artist
Sergey Seregin, director, screenwriter, head of the VGIK multimedia directing workshop
Masha Kogan-Lerner, director, teacher
Marina Krasnova, artist
Egor Filippov. Artist, animator, musician
Elvira Gafarova, animator
Alina Osipova, artist, storyboard artist
Sergey Karpov, producer, sound engineer
Danil Lavrikov, director
Valeria Bikmukhametova, artist, animator
Svetlana Razgulyaeva director, artist, animator
Nikolai Bogaevsky, animator, animator director
Elizaveta Salomatina, animator
Andrey Luzanov, artist
Natalya Abramova, director, animator
Vera Vyugina, director, animator
Anastasia Titova, animator
Nigina Rakhmatulloeva, director, animator
Anna Yablokova, artist
Sasha Fandy, artist, director
Polina Legostaeva, screenwriter, producer
Marina Voskanyants, animator
Lyudmila Smolyar, director, animator, student.
Zina Shcherbatova, student, director.
Veronika Veselova, animator
Anna Schweigolts, director, artist
Ivan Ilyin, animator, student
Elena Malova, financier
Tatyana Ilyina, director
Vasily Efremov, director
Inga Korzhneva, director, artist
Boris Korshunov, director
Oksana Ghukasyan, producer
Ekaterina Perevalova, animator
Ekaterina Levicheva, Ph.D., art critic
Ekaterina Gvozdeva, animator
Julia Veselova, student, animator, artist
Matvey Lashko, director, animator
Kirill Meriin, animator
Olga Rogova, artist, animator
Anastasia Makhlina, director, animator
Alexandra Lukina, director
Alexandra Artamonova, animator, animation director
Varvara Arenskaya, animator, director
Elizaveta Krupnova, artist
Anna Demidova, artist, animator
Alexey Gailit director
Olga Chicherova, artist
Danila Kekhler, artist
Angelina Arakelyan, student, animator
Anna Mohon, student, animator
Maria Puchkova, artist, animator
Konstantin Arefiev, composer
Ksenia Sazonova, editor, animator, artist
Anna Golovina, animator
Nikita Slichny, storyboard artist, artist, animator
Artem Zbarsky, producer and voice actor
Sofia Dugina, artist
Julia Prytula, animator
Daria Volchok, director
Ekaterina Biryukova, screenwriter
Alexey Zakatov, animator
Ivan Zemskov, administrator, producer
Elena Gutman, animation director, animator
Alexandra Moiseeva, animator
Jan Skakov, student of animation direction
Maria Kalinina, animator
Masha Rumyantseva, artist
Alexandra Krylatkova, artist
Aglaya Schmidt, producer
Anna Ryzhkova, student, director, animator
Renata Aimaletdinova, 3d animator
Alexandra Kovtun, director
Natalia Bulgakova, marketer, pr-manager, organizer of the festival
Irina Litmanovich, director, artist, screenwriter
Valentin Sidorenko, artist, director
Kristina Boyakrina, illustrator, designer
Alexandra Krivitskaya, student animator
Dmitry Kapin, screenwriter
Christina Kesler, student, director, animator
Irina Zarya, artist
Svetlana Malashina, screenwriter
Irina Ksenofontova, artist, designer
Anton Mikhailov, producer
Larisa Shirshova, animator
Oksana Bronevitskaya, director
Valeria Makarova, producer
Zoya Kireeva, director
Varya Yakovleva, director, artist
Irina Kisel, texturist, lighter, renderer
Ilya Yudovich, director, animator, artist
Ekaterina Vedernikova, producer
Irina Rubina, director
Max Kulikov, director
Maria Koropova, translator
Yulia Zhdanova, artist
Yuri Tomilov, director, animator
Anna Borisova, director
Maria Mikulich, student, animation director
Alexander Tarkhov, rigger
Anastasia Kaledina, screenwriter
Irina Khodyreva, producer
Vitalina Turulo, artist
Anna Lyubimtseva, director
Maria Mezhennaya, artist
Evgeny Potashnik, producer
Evdokia Geller, artist, animator
Nadya Fedyaevskaya, producer
Vladislav Akimov, layout artist
Tanya Gagarin, artist
Maria Philonets animator
Yura Boguslavsky, director
Alexey Yushenkov, animation restorer
Anton Grishin, producer
Anna Kaliakparova, animator, artist
Victoria Agafonova, student of animation direction, screenwriter
Maria Chaika, animator
Victoria Aksenova, festival project manager
Liana Niyazgulova, artist
Pavel Muntyan, producer
Sofia Ostrovskaya, artist
Sergey Gordeev, director, animator
Sonya Melamud, director and animation designer
Evgenia Golubeva, director and screenwriter
Evgeny Rybakov, head of Youtube direction
Fedor Yudin, director, animator
Ekaterina Mikhailova, director
Aytach Mikayilova, producer
Maria Savelyeva, director and artist
Anastasia Lunkova, producer
Maria Semenkovskaya, composer
Katya Polosukhina. Screenwriter
Olga Karengina, director
Evgeny Dvoskina. Painter
Ibragim Botashev, animator
Inna Evlannikova, director
Varvara Gorshkova, artist
Pavel Piskun, animator
Sasha Vorobieva, animation artist
Ilya Gilmanov, animator
Alena Tomilova, director, animator
Galina Shakhova, director, animator
Yulia Alyokhina, artist, web designer
Elena Shchichkina, producer
Eliza Olkinitskaya, artist, animator
Kristina Gazizova, animator
Tatyana Poliektova, director, animator
Daria Mikhailova, animator, student - animation department / director of animation and computer graphics
Maxim Dolzhansky
Vera Apollonova
Marina Antonova, animation supervisor
Nadia Mira, director, artist
Daria Gakova, license manager
Igor Apollonov, compositing supervisor
Liza Konysheva, animator
Ekaterina Boguslavskaya, artist
Olga Demidova, artist
Stepan Durov, motion designer, art director
Dmitry Mosyagin, producer
Oksana Bondarenko. compuser
Alexander Lebedev, technical supervisor
Dina Rothwein, editor
Salavat Shaikhinurov, art director, production designer
Tatyana Pavlova, producer
Elena Chirkova, producer
Sasha Veselov, director
Oksana Guseva, artist, production designer
Ekaterina Zakharchenko, animator
Angelina Alekhina, animator, artist
Elena Sychkina, director, animator
Elizaveta Shatskaya, artist
Svyatoslav Suchkov, animation artist, director
Valeria Korotina, screenwriter
Dayana Emtyl, animator
Nikita Pogodaev, director
Maria Afonina, director and artist
Vadim Badyanov, artist, animator
Anastasia Zhuravleva, director
Pridnya Anastasia artist-animator
Ksyusha Vasilyeva, designer
Anastasia Bobrova, student of animation direction
Vasily Chirkov, director, animator
Yulia Milekhina director
Nikolai Shikhachevsky, artist, animator, director
Ivan Khanzhin, director, animator
Ilya Maksimov, director
Alina Senina, director
Oksana Baturina, artist
Ksenia Shatilova, animator
Alexandra Shadrina, director
Alexandra Afanasieva, artist
Andrey Ryabovichev, artist
Anna Zimina, curator
Anastasia Zaiko, illustrator, animator
Liana Makaryan, director
Masha Kislenko, animator
Anna Isakova, animator
Daria Golubeva, artist
Yuri Stepanov, producer
Lev Murzenko, screenwriter
Yulia Kardonova, artist
Vasily Kazmin, editor
Aid Levashov, animator
Ekaterina Fadeeva, head teacher
Svetlana Toropchina, composer
Chris Robinson, Ottawa International Animation Festival (Canada)
Stas Metelsky, artist
Vladimir Tyutikov, editing director, documentary cameraman
Kirill Shakhtarin, director
Pasha Potekhin, storyboard artist, director, creative producer
Alexey Yasulovich
Tamu Townsend, Montreal, Canada
Ramona Mori, animator
Zaur Nabiev, animator
Lyubov Sobol, animator
Vladimir Leschiov, director
Alexandra Nepomnyashchaya, illustrator
Valeria Isaenko, 3d animator
Yaroslava Motsak, illustrator
Evgenia Lisitsyna, illustrator
Nadezda Borisevich, mixed media artist, Seattle, WA
Yana Goncharova, illustrator
Ekaterina Belyaeva, animator
Anastasia Gorelik, illustrator
Maria Russkikh, designer.
Venya Ezhikov, animator
Natalia Zarali, artist, designer
Natalya Galchenko, illustrator
Yulia Shchigal, illustrator
Ekaterina Mineeva, illustrator
Natalia Avdeeva, curator
Shemelina Natalia, illustrator
Marina Dmitrieva, 3D animator
Andrey Levy, designer
Sofia Kiyashko, animator
Anna Budanova, director
lizaveta Mikhailova-Belotserkovets, artist-designer-poster
Maria Remizova, illustrator
Luda Dyachkova artist
Varvara Kutuzova, spectator
Anna Kuzina, animator
Alena Dushenkova, illustrator
Igor Sapozhkov, artist
Mityukevich Anastasia, illustrator, designer
Prokhor Zhurakovsky, animator, director
Olga Marieta, illustrator
Ksenia Gavrilova, animator
Irene Sparre, Danish animation producer
Alexandra Bizyaeva, director
SIGN UP: Want to read more free articles like this? Sign up for Our Newsletter
Read More About: