The Hangman at Home XR by Michelle and Uri Kranot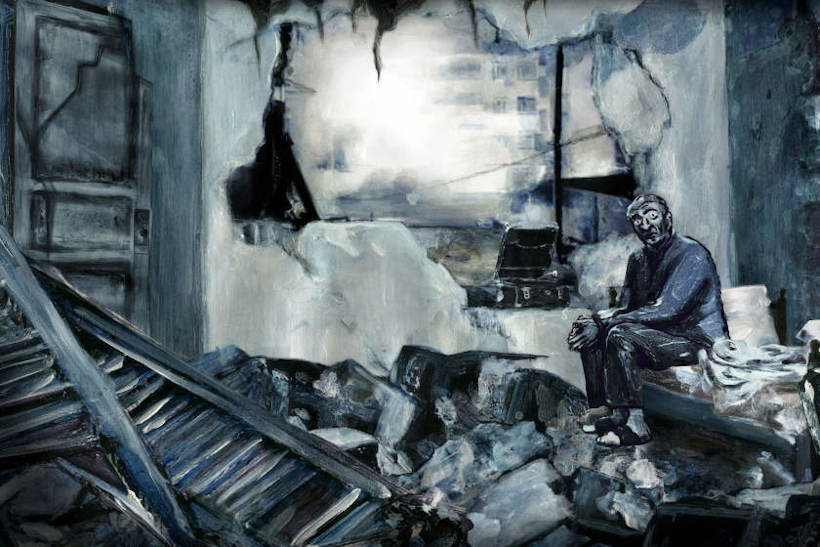 Michelle & Uri Kranot investigate modes of film immediacy and participation almost since their Hollow Land installation. Their Nothing Happens project (2017, VR, installation and short film) was presented at Venice Film Festival -among other selections.
In their WIP Presentation during Annecy Festival, they unveiled the project (in post-production) The Hangman at Home,  both a 14-minute short film, a 25-minute single-user VR experience (what Michelle and Uri Kranot call the 'at home' version of The Hangman at Home), and a multi-user VR performance/installation. It takes its inspiration from the well-known poem The Hangman at Home by Carl Sandburg. The project is a co-production between Late Love Production (Denmark) National Film Board of Canada, Miyu Productions (France), and Floréal Films (France).
The  VR, single-user experience project has now been selected and will premiere in the VR Expanded competition of the 2020 Venice Film Festival.
What does the hangman think about when he goes home at night from work?
"The Hangman at Home" is an interactive animated experience exploring themes surrounding acknowledgement and the awkward intimacy of humanness. Told in five interwoven stories; each situation presents a person, or persons in a delicate moment: fragile, playful, terrified, contemplated, confused, curious… We are all very much alike in these moments – alerting us to question our own responsibility and responses. - Synopsis
Zippy Frames caught up with Denmark-based Michelle Kranot  after the Annecy presentation. "Carl Sandburg is a performer, a very important figure in American literature" she states " I think he's now becoming even more relevant; people in Europe are looking at America and they now care what's happening over there".
Sandburg and his poem has become an occasion to talk about issues of accountability and responsibility in a project which has so many layers of construction -let alone meaning. Here the question of 'how it was made' gives a glimpse to 'to what purpose it was made for'.
"First we storyboarded the whole thing", Kranot explains. "We shot the live action with non-professional actors on a green screen with the prop. The material was manipulated, and printed on paper. The whole thing was painted with acrylic frame by frame, so all the characters are actually fully painted".
Artist Juliette Viger (also worked on Nothing Happens) assisted in the character painting, and Morten Andersen, a longtime collaborator of Uri & Michelle Kranot was the technical director. Subsequently, the work was digitized and shot. Uri Kranot did most of the key frames, both Uri & Michelle worked on most of the 2D animation from Denmark in the artistic research-friendly environment of The Animation Workshop. The rest of the work was sent to the Miyu Angouleme studio in France, which worked with TV Paint. They focused on the character contours, hands and facial expressions. "As opposed to Nothing Happens,we wanted to take the characters' look a step further, slightly more cartoonish and exaggerated. You can highlight the different attributes of the different characters; it's a film about intimacy and gesture, it really needed to have more tactility. "

The 14-minute hand-painted short film had its character images  composited back onto paintings (the film's backgrounds). "In the film we cut between sequences, whereas in the VR they each play out from beginning to end. So, the narrative structure is different", Kranot mentions. The VR project also involves many interactive sequences not to be found in the short film, plus 3D animation.
Yet, the whole VR thing is no spectacle, but an experience -and a theatrical one. "Our approach to theater is essentially what motivates the film, and obviously in the VR", Kranot continues. "We're not inventing the wheel here: theaters have been around for a long time, and I think we need  to be a little bit more informed about the theatrical performance of experience because it gives its very human qualities".
"Somewhere between installation and performance, we're looking at work that is participatory". This is a mode of thinking that permeates both the new work and its founding questions. How do you react when you watch on your big screen wars, bombings and hangings? "It's about our collective responsibilities", Kranot notes. "It's not about hanging people for their crimes, it's about the crimes of institutions, crimes of government, and how we are complicit in those from our own homes. Drinking our coffee quietly, staying out of trouble".
Michelle & Uri worked jointly towards the project. They know their work (they've been doing it for 15 years now). Still, The Hangman at Home (unlike Nothing Happens) was conceived and worked in its various instantiations in parallel from the very beginning. Both Michelle & Uri storyboarded; Uri took over the layouts, Michelle was responsible for the art direction and color (plus the keyframes for the painted layer). Uri in turn made the keyframes for the 2D animation, plus editing and compositing.
The Hangman at Home proved to be a production challenge. Producer Lana Tankosa Nikolic (Late Love Production) explains how this integrated vision was a funding puzzle - especially since the production pipeline could not in principle correspond to that of a classical animated short -in short, things changed during production. She still insists it's "one of the most beautiful puzzles she worked upon".
Along with Miyu Productions and the National Film Board of Canada, Katayoun Dibamehr and Avi Amar (Floréal Films, FR) gave their own insight how the film is designed as a multi-user XR experience, using "autonomous helmets", which allow participants to be tracked without limiting their movements in terms of each other.  "My big advantage is that I have no idea", Michelle Kranot confesses. " I don't know how to make it, which allows me to dream. It gives me the freedom to come up with things  that are impossible. Apparently they're not impossible when you try to make it work or when you have enough money to carry out how to bring a team from around the world to help you."
The Hangman at Home still waits (June 2020) for its final sound mix, and the multi-user VR version needs to be completed. Michelle & Uri Kranot are also trying to adapt their single-user, 'at home' version in terms of size: "some people's homes aren't as big; we need to make an adaptation that allows for smaller spaces than 3x3m." Distribution-wise, the pandemic has also put its own toll on interactive works, and has proved to be another puzzle on filmmakers and producers, who need to find the appropriate exhibition interaction venue.  Kranot has also a word of caution for the exploitation of the work.
Distributors want  to know how in these times of pandemic are we planning on releasing a VR piece. I think we need to look at this in a different way than a shelf life of two years of distribution. I apologize for not being too modest, but I believe that this piece is timeless. It should be looked at not in the context of where it's released, and how many tickets are sold, but in the context of a body of work. If we look at this piece, and don't think about its shelf life (as a product) but as a work of art, that gives us just a little bit more breathing space, and maybe a different perspective on distribution - MIchelle Kranot
MIchelle Kranot has precious Annecy memories (this is where the duo of Michelle and Uri Kranot was first formed), and she would really want to show The Hangman at Home project performed at the Annecy Castle (Château d'Annecy).

The impulse to make films is similar to the impulse to paint. We want to capture a composition, and this is composition over time.  We have the advantage of working over time and making sequential art; but each and every single image should be as powerful as the one that came before, and the one that came after that. - Michelle Kranot

This power comes in turn from a single idea that motivates The Hangman at Home project: your actions have consequences, and this is their power. We're eagerly waiting for those.
Venice Premiere Specifics (2-12 Sep 2020)


The Virtual Reality works in this edition of the Venice Film  Festival will no longer be shown  in Venice Lido on the island of Lazzaretto Vecchio, but will be available to enjoy entirely online, The accredited viewers of the VIFF will have access to all titles, a special VR Accreditation will also be issued. All selected VR contents will accessible to viewers 14+.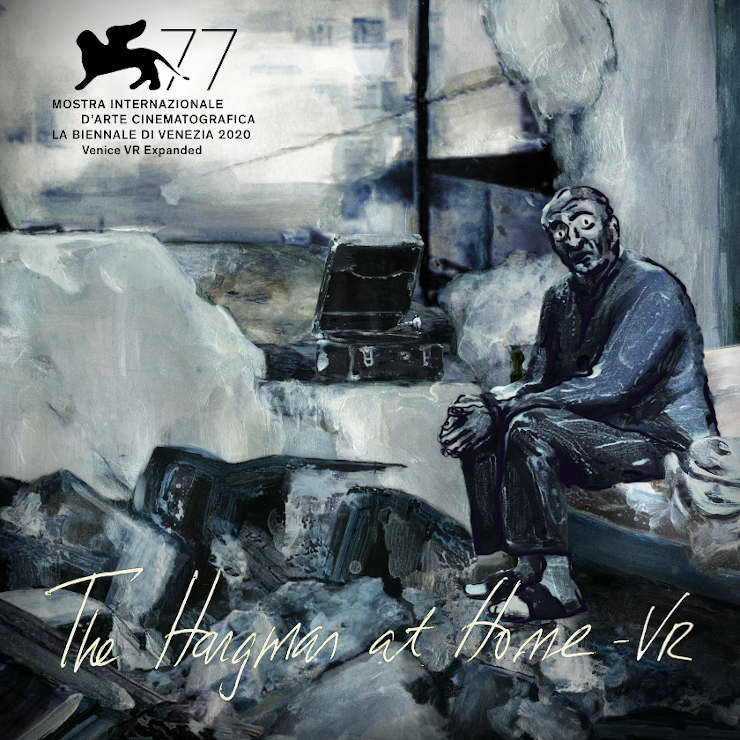 CREDITS:
The Hangman at Home, 2020
DIRECTOR: Michelle and Uri Kranot
PRODUCERS: Lana Tankosa Nikolic (Late Love Production, DK), Marc Bertrand (NFB, CA), Emmanuel-Alain Raynal and Pierre Baussaron (Miyu Productions, FR), Katayoun Dibamehr and Avi Amar (Floréal Films, FR)
GENRE: VR project and short film
LENGTH: 25 min and 14 min
TECHNIQUE: 2D and 3D
COUNTRY: Denmark, Canada and France
SIGN UP: Want to read more free articles like this? Sign up for Our Newsletter