News
Regina Pessoa Designs the International Animation Day 2020 Poster

The international Animation Day is a worldwide celebration of animation, held each year 28 October, and organized by ASIFA International Animated Film Association.
For the 2020 celebration, the chosen artist was the creator of a Tragic Story with a Happy Ending, and Uncle Thomas: Accounting for the Days, Regina Pessoa.
In her own words:
In these times of uncertainty and astonishment, this day seems uncertain and distant, maybe no so important in the panorama we live in today…
However, it is our day, it remembers us what we are and what we used to do before all this situation and give us also hope and purpose for what we wish to be able to do "when everything goes back to normal" - Regina Pessoa
Read more about the concept of iAF 2020 Poster Creation

Emitting from a magical hat, the light of animation illuminates the world, celebrating International Animation Day 2020 and the 60th anniversary of ASIFA (Association Internationale du Film d'Animation). The hat is held aloft by Abi Feijó, creator of International Animation Day and former president of ASIFA. With this image, Regina Pessoa's IAD poster draws our attention to the magic and history of animation.

Regina gets her visual inspiration from painting (which she studied before encountering animation), alternative comic books, and literature. "I was fascinated by the possibility of adding movement to the rich visuals and textures that I was developing in painting," to intersect with the arts of cinema language, sound, music, and writing. In her films she thus turned to the personal, so to tell the stories of her lived experiences, common themes that can be universally recognized – being young and afraid of the dark – but from her unique perspective. This approach fuels her still; "I continue to explore that path, taking inspiration from my own childhood and the people around me," such as her eccentric Uncle Tomás, whose hat Abi holds.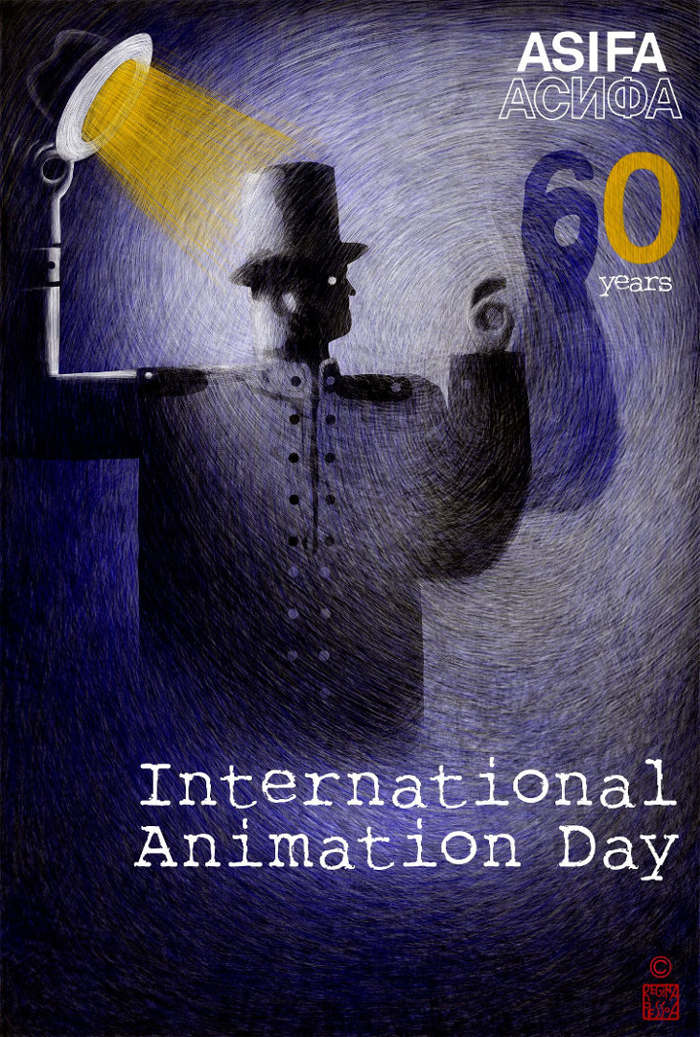 And so the poster references histories that are personal and those that may be familiar but in danger of fading. "I think that more than ever it is necessary to teach the history of art and animation to young generations… What paper and pencil are and the power they represent… that an abstract concept existing only in the mind/idea/imagination might be physically and materially materialized through that perfect communication/connection and domain between brain and hand/body." For Regina then, the short animated film is a "precious kind of laboratory" in which boundaries of technique, narrative, and content are explored.

Highlighting the play of light and shadow, the duration of ASIFA as a meeting place for lovers of animation, and the celebration of International Animation Day, the poster encapsulates a wish expressed by Regina, "that animation can be recognized and respected by the general public as the great art form that in fact it is."


text by Bob Swieringa: writer, instructor of animation history at Grand Valley State Univ., and board member for ASIFA-Central USA.
SIGN UP: Want to read more free articles like this? Sign up for Our Newsletter
Read More About: