News
3 Reasons Why: The Adventures of Mark Twain (1985)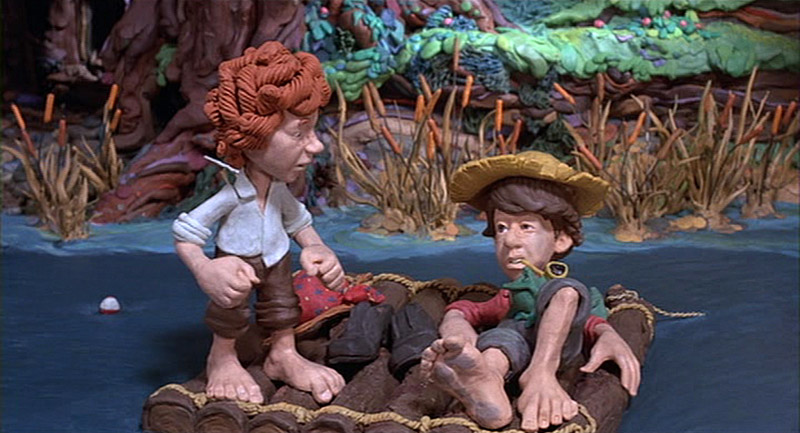 Will Vinton (1947-2018), the father of claymation technique (his specific method of clay animation, which he trademarked), was the recipient of  Academy Award for Closed Mondays (along with Bob Gardiner), a delirious spoof an a drunk's night into a closed museum. Vinton made his own name (and studio) with a series of other acclaimed shorts and works, including Disney's Return to Oz (1985) special effects contribution.
In early 80s, Vinton took the undertaking to make a feature film, The Adventures of Mark Twain. The film was eventually released in 1985 to critical acclaim (but also to an embarassing review by New York Times, "it is like watching a shelf of animated knickknacks"). And the first US claymation feature did not fare well at the box office, either - that means, it was not seen. Interviewed Will Vinton details the tribulations of its official release -even though the film later (as the whole of Will Vinton's work) was been a staple of animation festival retrospectives.
3 Reasons Why:
1. Will Vinton Made The Right Choices
Presented with the Mark Twain material by his executive producer, Hugh Kennedy Tirrell, Vinton did not choose the affable The Adventures of Huckleberry Finn (1885) - and only used some extracts of its predecessor novel, The Adventures of Tom Sawyer (1884). Instead, he made both those heroes clay puppets; he included Tom Sawyer's love interest, Becky Thatcher, as well as Mark Twain himself, and embarked on a wholly different material. The Celebrated Jumping Frog of Calaveras County, The Diary of Adam and Eve, Captain Stormfield's Visit to Heaven, and, above all, The Mysterious Stranger, were his inspirations and the basis of the script Susan Shadburn wrote.
His budget limitations ($1,5m) made Vinton (also the film producer) to make the film with a meagre 17/18-member crew in a former barbershop at Portland, Oregon, which was turned into a studio. But smaller budget here also meant more time (almost 4 years) to actually develop and sculpt the characters, work on the script and storyboards etc, get a team feeling spirit from the likes of Barry Bruce (character designer and lead animator), Mark Gustafson of Fantastic Mr. Fox), and more talented people.
2. The American Soul Breathes in Clay

This oft-repeated truism of aesthetics that should match content, here it actually enriches rather than fetters the work. Mark Twain had a sardonic humour, which goes hand-in-hand with his faithful depiction of old American life (as he himself immortalized it); The Adventures of Mark Twain create a whole clay-sculpted film, which bends according to desire and episode: not fully, not in a completely realistic manner, but leaving instead a feeling of warm stylizing. A humble animation material, earthly colors, and the average John Doe's who need to go on adventure have (thankfully) nothing in common with either a fairy-tale or a European fantasy of dragons and princesses -both feet are on the ground. But, on the other hand, signs of stylization include the waterfall which never seems to be in full flow the way you expect it to be, the clouds morphing into Mark Twain's face, and the wonderful winces of both Adam and Eve (a reference acting video was shot as previs material): a style expressed but not imposed.
3. It Is Still Daring Enough
How many people in animation can put Satan on the big screen and local theaters, and get away with it? Recent comments on YouTube express awe at the 'creepy' and 'sinister' character of the Mysterious Stranger sequence. Vinton did not want to make a film for kids, but it is not easy to avoid such associations when your film employs two of the greatest American boy heroes on board. But both Vinton and Shadburn did not play down the significance of the piece, which is a nihilistic parable on the state of the world. And, of course, the mask of clay, which breathes and retreats in each single instance, makes the angel of Death itself in need of a cure -not an overarching Lord of Darkness at all, but rather a living testament of a complete failure.
Order The Adventures of Mark Twain dvd from Amazon
SIGN UP: Want to read more free articles like this? Sign up for Our Newsletter
Read More About: