Shorts
8 Bullets by Frank Ternier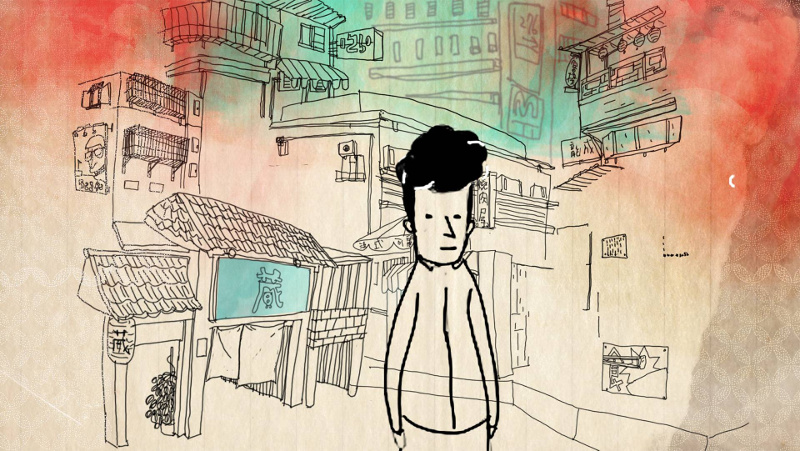 Having premiered at Cannes Directors' Fortnight, 8 Bullets (8 Balles) by Frank Ternier (@idealcrash.fr) bulids a post-apocalyptic world out a extremely dramatic story.
Gabriel, a man in his thirties, is immersed in his memories: his daughter was shot in the leg, and his wife died after a hostage situation. He is now a prisoner of painful memories that lead him astray.
Ternier does not consider himself an animation director, but more of a director of the moving image which mixes different materials to serve his creative purpose.
This certainly shows in the 13-minute short, which uses split-screen environments, a modernist use of narrator sounds and voices inside your head and a fragmented (but very well-constructed) background environment, which only points to one word: trauma. The revenge act here is given between non-linear but legible flashbacks, and a bit of surrealism ensues with swimming fish representing the Evil.
Food (as in his earlier short, Le Di@ble en bouche) is here the sign of something else going awry, and only rotoscope is entilted to show the "actual" past crime. Reality is here relegated to a black-and-white fluid representation.
Without being overtly experimental in theme, 8 Bullets makes its traumatic story a well-arranged and always fresh pictorial experiment on human loss and guilt. It is experiential at its best.
CREDITS:
Production : L'image d'après, Maud Martin, Annabelle Gangneux
Script-Direction : Frank Ternier
Designs : Shihhan Shaw
Animation : Laurent Moulin, Xavier Rubel, Frank Ternier, Shihhan Shaw
3D Modelling and animation : Laurent Moulin
Compositing : Frank Ternier
Music : Frédéric Duzan
Voice: Camille Trophème, Laurent Seron, Stéphane Gasc


Read More About: