Shorts
A Handmade Reality: Interview with Carla MacKinnon, director of O, Hunter Heart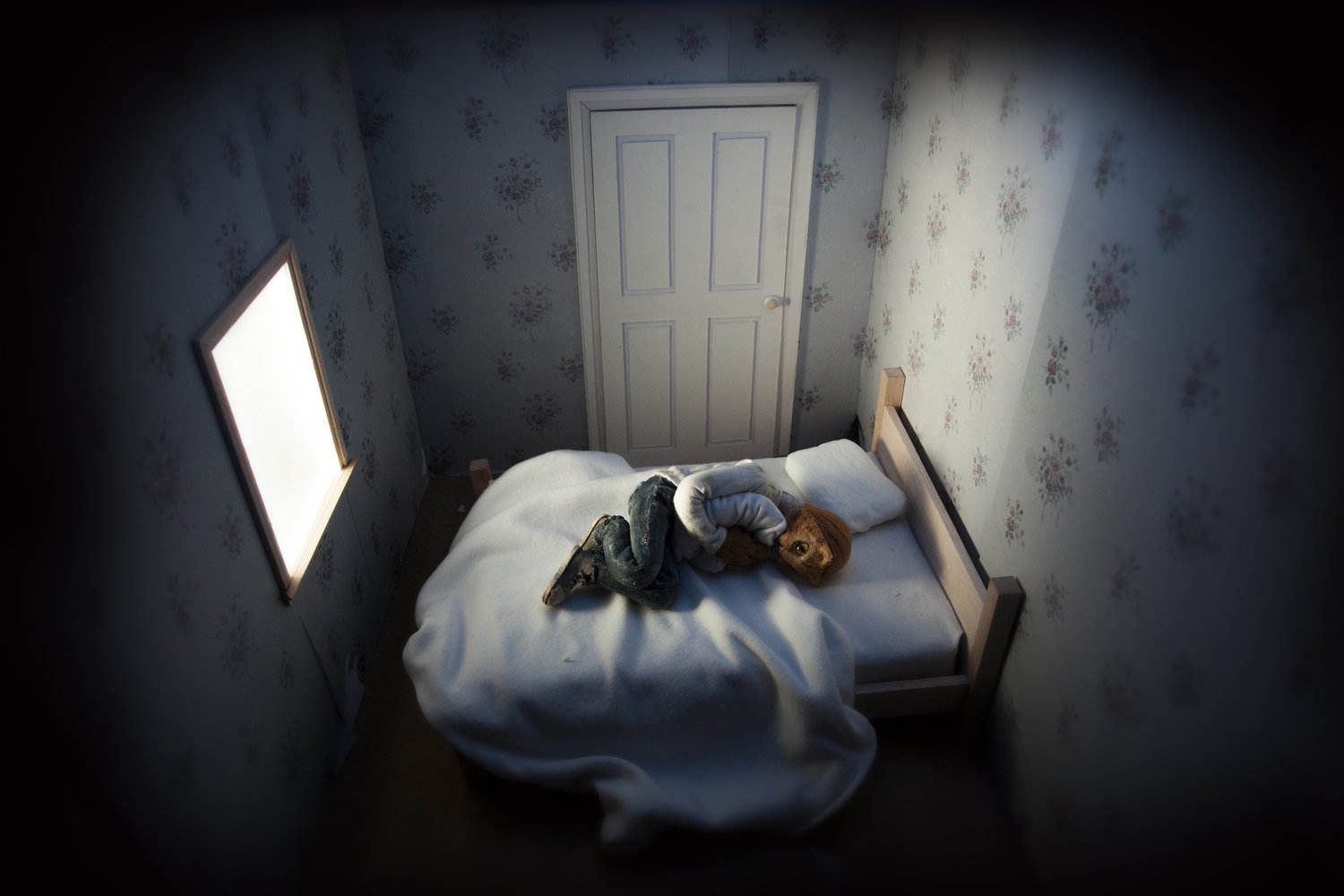 Having watched Carla MacKinnon's O, Hunter Heart at Encounters Festival in the autumn, I wanted to look deeply into her conceptual process, and to understand how the strong, emotive themes had developed into such challenging and atmospheric imagery. In conversation, McKinnon describes how the film's narrative, depicting a couple locked within a toxic relationship, was developed out of multiple interviews, with participants revealing deeply personal stories of falling in love; an obsessive love; the beginnings of an affair; short term, very intense relationships. Participants revealed a madness, shared by all, usually hidden away, deep within each individual, revealing a craziness, of feelings undimmed even 40 years after a brief but intense love affair.
In the film, a house is used as a key signifier, in the form of a miniature dollhouse, and a home/portal through which we, the viewer, enter into the narrative. O, Hunter Heart started out through short, nightly writing sessions: beginning with a love story about a cat and an owl, the story each night was re-imagined, exploring multiple directions; versions became highly divergent, involving ever-weirder tangents; over time, MacKinnon became increasingly fonder of the many characters within separate narratives. This development process really took shape once she started to collaborate with the musician, Hannah Peel, and German animator Christian Schlaeffer. The project then developed through gathering multiple real-life stories through interviews; MacKinnon found that certain elements kept repeating: abusive relationships, coercion and control, with the cat and owl characters taking on multiple types of behaviour within each narrative.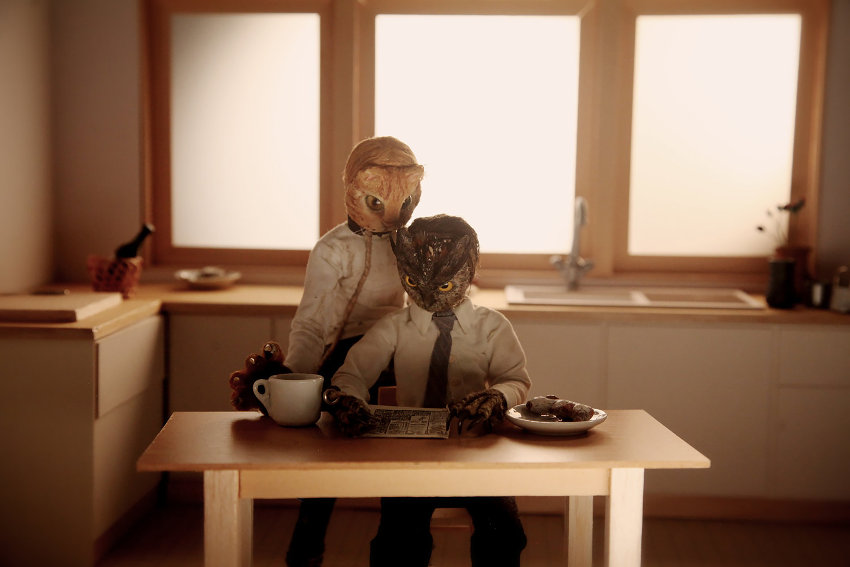 MacKinnon describes the house as a symbolic container wherein feelings and love stay preserved inside. In the film, O, Hunter Heart, house functions symbolically as a portal to the heart, a transition point from external experience to internal subjective response, with a highly emotive sequence drawing us back through the house and exiting the character's interior. The film's tactile use of materials builds a disturbing, adult-oriented story of abuse and coercion. 
MacKinnon describes the open-ended possibilities of animation as a balancing game, between the general and the specific: she cites how Don Herzfeld uses simplistic stick figures to tell stories relaying a very realistic situation. In contrast with live action, which has a very established and culturally embedded language and signifying elements, MacKinnon feels that within animation there is a culture that embraces experimentation, and artists are able to test out and extend the language and formal possibilities.
MacKinnon describes how through combining stop-motion and digital processes, her aim is to create curious cinematic spaces and dreamlike atmospheres, at once suffused with tangible, material reality.
Technically, she shifts seamlessly between stop-motion and CG, and this questioning of process-driven boundaries appears to be important in her own research. Her chapter in the 2019 book The Crafty Animator investigates how stop motion processes, through connecting to childhood memories and through a handmade, auratic quality (in the sense outlined by Walter Benjamin), may be deployed as a sign for authenticity. The research explores how this signifying process may be commodified by large-scale studios, as a commercialising trait. MacKinnon's PhD research, at Arts University Bournemouth, looks at production contexts of animated documentary in the UK.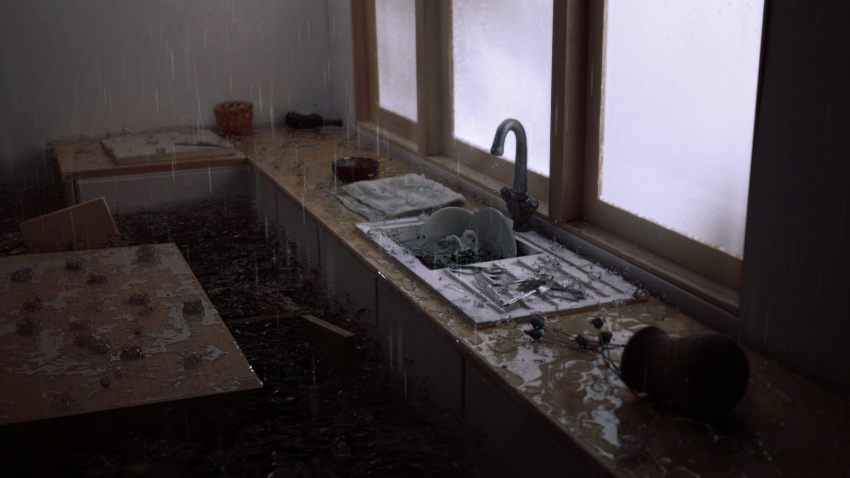 MacKinnon is developing several projects including an experimental work about trauma, post-natal depression and poltergeists. Again drawing a story from real life interviews, MacKinnon hopes to work in a way that explores the real experience of intense personal events, by allowing a supernatural presence to exist even within a psychological narrative.
MacKinnon has made a significant contribution to innovative new forms of animation, focusing on serious, adult-oriented themes but exploring new methods for conceptualising the sensitive content. Her work speaks through tactile, material-driven atmosphere, and also develops disturbing and affectingly emotive atmospheres. We will look forward to featuring her new work in future articles.
Contributed by: Joseph Norman
SIGN UP: Want to read more free articles like this? Sign up for Our Newsletter