Shorts
Above Alan by Dani Fish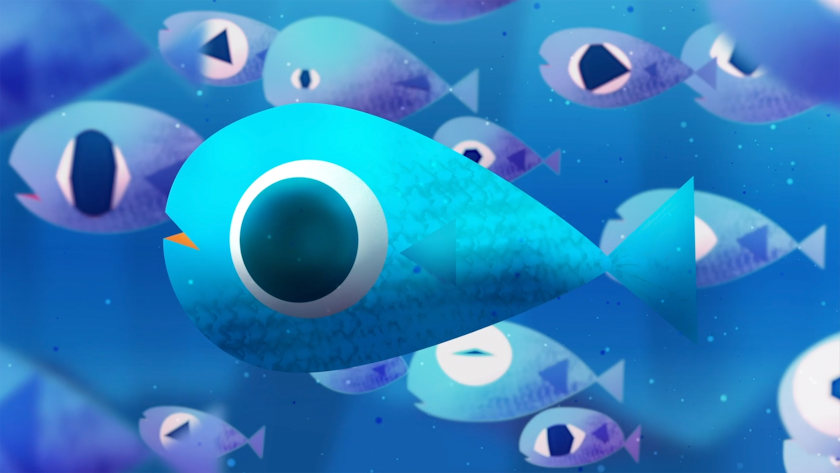 Sicilian-born animation artist and motion designer Dani Fish crafted an animation short about a fish that simply had too much time swimming at the bottom of the sea. Its willingness to go "above" will be filled by contrasting testimonies and unexpected results.
Zippy Frames talked to its director, and Royal College of Art graduate
ZF: What was the inspiration behind Above Alan? A real event or a fictional idea?
DF: I come from Sicily, an island in southern Italy at the center of the Mediterranean sea. Since I was a child I have been living in close contact with the sea and the creatures inhabiting it, and my fantasy has run wild imagining stories about the underwater world. My first experience writing stories was a comic book series I drew and shared in my elementary school class whose protagonist was a blue fish very similar to Alan. When the time came for me to create a graduation short film I knew I wanted to share some of that world.
Watch Above Alan:

ZF: Why do you place the film in the bottom of the ocean with ancient ruins, and not just fish, big and small?
DF: I wanted the story of Alan to happen in a world where humans are not visible. But still, I wanted it to be set in our real world so that the viewer could imagine the story unfold in the sea most familiar to them. The ancient ruins are the proof that humans are, or were…, present in Alan's world. Also, the ruins help to thematically connect the animated roman mosaic style with the colourful sea world.
ZF: Who wrote the script and the dialogues in rhyme? Did you have the structure of contrasting narrations from the start in your film?
DF: The script was written by me, the idea was to have the film feel like a bedtime story read by a parent to their children. The voice actor David Benson gifted the film with an amazing performance interpreting the narrator and all the different characters, exactly like a caring dad would perform different voices to really make the story feel alive. At the beginning, I knew I wanted Alan to meet different characters that would tell him different versions of the same story, but it was when I had the idea of making the story about the curiosity of what's above the water that I knew what those character should talk about.
ZF: Did you animate in After Effects? Any decisions in character design you had to make/ adapt?
DF: The film was entirely animated using After effects except for the "times immemorial" sequence. For that one I have actually animated a real Roman mosaic from the ruins of Pompei, that the Archaeological Museum of Naples kindly granted me permission to include. I animated with the animation software Spine, generally used for game development, to bring life to those drawings made around 2000 years ago.
Animating with After effects surely has peculiar strengths and weaknesses; with experience you tend to understand what its limitations are and design everything in your film accordingly. All the characters were designed with their specific movements in mind trying to make the best out of their limited rigs.
ZF: How did you process the film in terms of your studies? Is this your graduation film, and did you have help in the process? How long did it take you?
DF: Above Alan was my graduation film for the Animation Master degree at the Royal College of Art of London, I graduated in 2019. Through the year I received support by many tutors that guided me through the creative process, while leaving me completely free to express my creativity. They helped me find my voice and my language.
I worked alone on all the story and visual aspects of the film, but I had the help from other fellow students for everything audio. The amazing Hayat Selim from Royal college of Music composed the original score for the film, and Harry Parsons from National film and television school was super helpful and professional with the sound effects and final mix.
ZF: Any challenges faced?

DF: Of course production itself was a very challenging creative process. But I think the hardest obstacle came from the pressure and expectations we inevitably put on these projects that take so much time and energy. After completing the film I was so proud and happy about it, and for the first time, confident I had done a good job. Seeing it rejected by most festivals and not having to opportunity to show it around gave a huge blow to my self esteem as a director and an artist.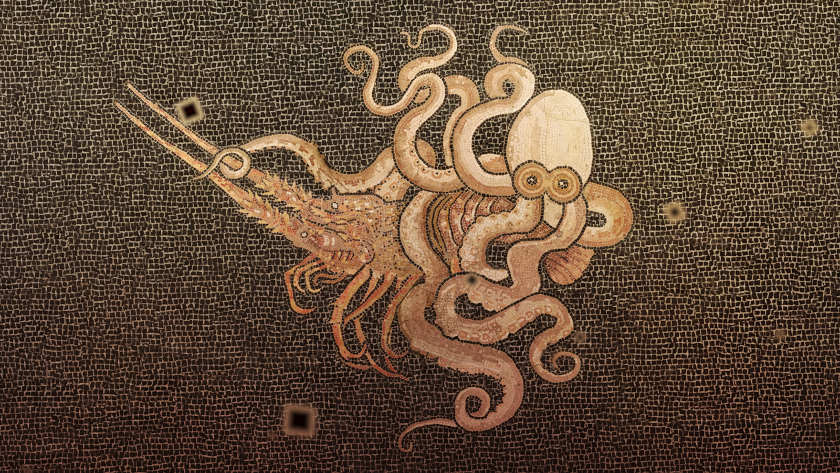 With time though, I managed to analyse my growth with more kindness towards myself and that allowed me to re-evaluate so many things. Everyone's path is different and we should always look back to our progress and achievements with pride.
ZF: Is your film about self-determination vs. the authorities? How would you describe your own film?
DF: I would say my film is about the immensity of the unknown and our restricted point of view on it. As much as we like to think we know so much about reality, in every aspect, we can only see it from our little underwater perspective. Beware of people who claim they have figured it all out! And yes, in most cases, those people coincide with the authorities.
Film Review (Vassilis Kroustallis)
Above Alan is an interplay of myth and prejudice, of the willingness to do something for yourself and how much trust you put in others. It seems that the 'authorities' are revered, but not really to be trusted in this playful and energetic variant of a fish at sea. Rhymes here complement Alan's various adventures, and the visual environment works like an ancient game of divination -only it concerns a very specific, life-and-death experience. A film whose lack of 'know-it-all' experience works in its favour.
About Dani Fish
Born in Sicily in 1994, Daniele Piscitello, also known as Dani Fish, is an animation director and motion designer currently freelancing in London. He studied animation at IED Milan and Royal college of Art in London. His practice is split between creating his own original stories for short films and video games and animating other people's designs like the British illustrator Katie Scott or French artist Alix Bortoli.
Dani Fish on the web.
SIGN UP: Want to read more free articles like this? Sign up for Our Newsletter
Read More About: