Shorts
Albatross Soup by Winnie Cheung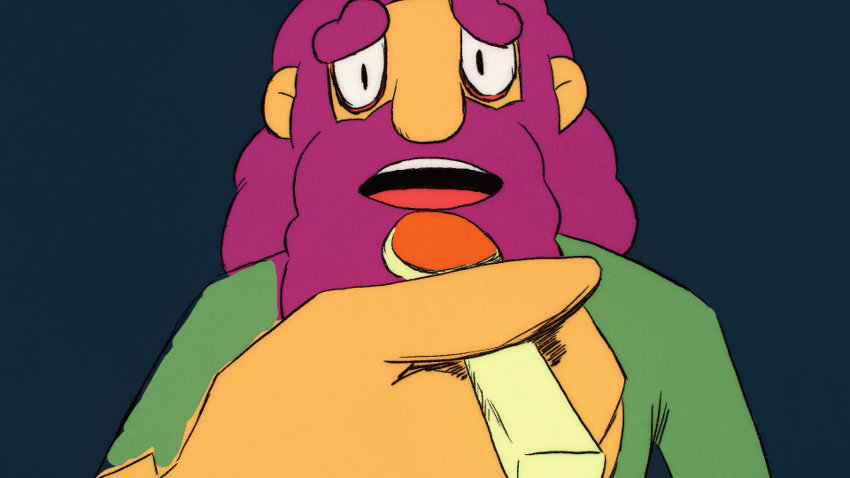 The whole idea for New York-based filmmaker Winnie Cheung came when she was interviewing a friend on his UCLA doctoral thesis in neuroscience and metacognition.  With only a few key pieces, they needed to complete the story by asking only "yes" or "no" questions.
Not long later, this idea became a full-scale interview project: 50 participants were interviewed on the animation short's topic. With the help of New York Times audio producer Alexandra Young, the whole documenting process came into fruition.
A man gets off a boat.He walks into a restaurant and orders albatross soup. He takes one sip... pulls out a gun, and shoots himself to death. So...why did he kill himself?
It took 3 years to complete the 2D film Albatross Soup (animation director: Masayoshi Nakamura, based on illustrations by  Toronto artist Fiona Smyth). The result is a welcome roller coaster of images and words getting progressively more rapid and frequent, having a kaleidoscopic interlude (to breathe properly), before advancing to the final solution.
Clear in its intentions and possessing an articulate storyline (despite its necessary complexity), Albatross Soup has its visuals aid and acting as a necessary refuge  from information overflow. An array of saturated colors, convey a sense of mental confusion -but psychedelia is always aligned to the story here. Albatross Soup is a very radiant example of tranforming a very complicated riddle into an amusing animated journey.
Winnie Cheung is a Hong Kong born, Queens raised, Brooklyn based filmmaker. She frequently collaborates with artists across various disciplines, using illustration, animation, and dance to place the corporeal body within surreal spaces. She has directed films that have screened at Sundance Hong Kong, Marfa Film Festival and Fantasia International Film Festival with support from the Jerome Foundation. Additionally, her work as an editor has appeared at Tribeca, San Francisco International Film Festival and exclusive online outlets including Nowness, Vimeo Staff Picks and NYTimes Op-docs.

CREDITS:
Albatros Soup
A Picture Farm & Cause + Effect Production
Executive Producers / Jason Zemlicka, Jamie Hubbard
Director / Winnie Cheung
Illustrator / Fiona Smyth
Animation Direcor / Masayoshi Nakamura
Music & Sound / Dan Rosato
Color / Corey Ryan
Audio Producer / Alexandra Young
Producers / Allie Hess, Leslie Yoon
Co-editor / Tessa Greenberg
Additional Animation / Amy Xu, Gracie Rothey
Musician, Cellist / Lester St. Louis
Assistant Editors / Regina Spurlock, Matt Egan
Additional Color / Chris Paz, Claudia Perez, DeAnita Redwood
Voice Over / Vit Horejs
Titles / Courtney Andujar

SIGN UP: Want to read more free articles like this? Sign up for Our Newsletter
Read More About: